In this article:
How Much Do Yoga Instructors Make?
20 Ways To Make Money As A Yoga Instructor
Teaching In-Person
Working Off The Mat
Monetizing Social Media
Teaching Online
There seems to be a common theme among yogis….
…at a certain point in their journey, passion for the practice grows. They see how great yoga is for their own health and well-being and they feel like they want to share it with others.
Perhaps teaching is on the horizon?
But then there comes the question of making money as a yoga teacher.
Is it possible to earn a decent living when you teach yoga? And what is the average yoga instructor salary anyways? How do you maintain a healthy cash flow as a yoga teacher?
Well, being a yoga teacher isn't such a straight path, so it's hard to answer that (look at me!).
A yoga career is more likely to have lots of twists, turns and creative detours.
But I think that's what makes it so interesting and exciting!
Along with the traditional paths, there are many who pave their own way. Whether you want to teach full time at a yoga studio or be a nomadic teacher, this handy guide can help steer you in the right direction.
If you want one-on-one guidance, my 300-hour yoga teacher training does exactly that. It's like this entire blog post in an organized, individualized program. Check it out here: 300-Hour Online Yoga Teacher Training
How Much Do Yoga Instructors Make?
The pay scale for yoga instructors will vary wildly depending on how you choose to apply your knowledge. There are some common paths that yoga instructors follow and some other not so common paths.
Don't worry, I can break those down for you to make things a bit more clear.
According to 2018 data from the US Bureau of Labor Statistics, the average salary for a fitness instructor is around $19 per hour. This comes out to just under $40,000 a year if working full time at a gym or yoga studio teaching group classes.
If you want to branch out and teach private lessons, you will make considerably more per lesson, but you may not teach as many classes. The hourly rate you charge will vary depending on your location, skill set, and type of yoga certification.
But the national average for a private lesson is between $70 and $80.
All those numbers aside, great yoga teachers are earning a living (or making a LIFE, depending on how you look at it) all over the world.
And what is better than connecting people with the yogic lifestyle as an actual job?
Your opportunities to earn a living as a yoga instructor are endless and can far surpass minimum wage…
…by a lot.
The best part?
You can use your yoga certification to create your own path. You can live the life that you want for years on end, all while pursuing your greatest passion.
Here are some ways that you can think beyond the mat and make money doing what you love.
You might also like: 10 Things You Must Do After Your Yoga Teacher Training
20 Ways To Make Money As A Yoga Instructor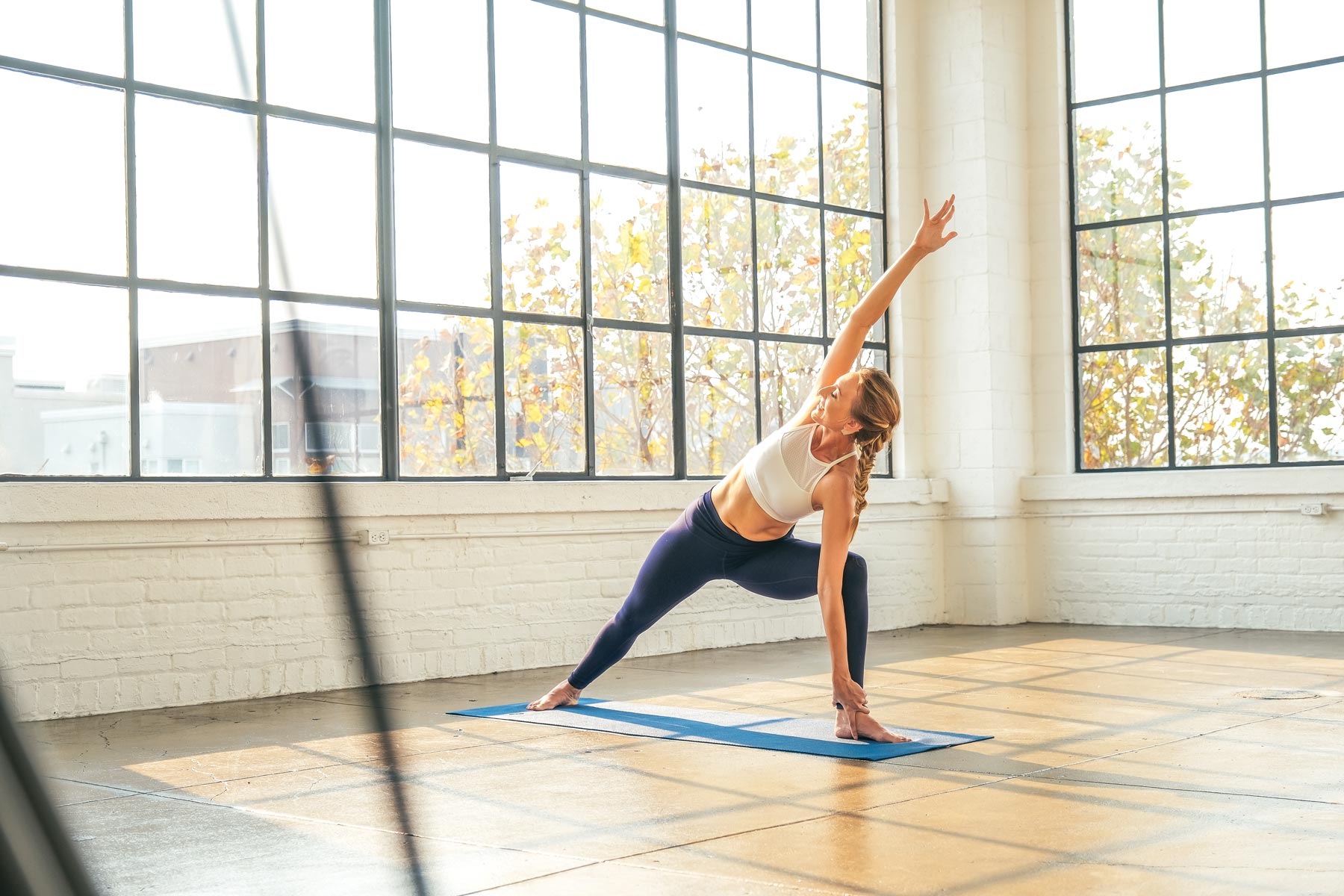 So how much do yoga instructor make anyway? Well, that depends on how they choose to teach classes, their years of experience, their RYT status, and, as with all industries, who you know.
But don't worry. The yoga community is large and growing. Once you make a single connection, the whole world will open up to you 🙂
No matter how you choose to earn a living spreading the yogic lifestyle, though, do yourself a favor and get liability insurance. It's not usually necessary but is super helpful when it is. (I've got a great deal for you through BeYogi.)
You might also like: How to Be a Yoga Instructor: 6 Things You MUST Know Before You Begin
Teaching In-Person:
1. Teach at a gym or studio
The most common way to work as a yoga instructor is to teach at a yoga studio. It is a great option and can be done on a full or part-time basis. It's also a great way to bulk up your yoga instructor resume. However, if this is your sole source of income, it may lead to burnout. While you can earn anywhere from $30 to $100 per class, you often end up hustling around town to teach classes at multiple studios and gyms. It is best to diversify and consider other revenue streams.
2. Teach private lessons
After teaching at a studio or gym for a while and gaining some regular students, you may begin to get some private clients. You'll be able to set your own hourly rate, a lot like a personal trainer, and so you'll make more than a group class. And as an added bonus, they can be worked around your schedule.
3. Teach corporate yoga
More and more companies are noticing the benefits of yoga and mindfulness. Some have even started to offer it as a benefit to their employees (yay!). Whether at a corporate retreat, a team-building event, or just a lunch break, you can teach yoga and meditation to busy, stressed-out employees. Adding companies to your client list can help you diversify your income stream and client base.
4. Teach at a hotel or resort
Many hotels and resorts now offer yoga classes to their guests as the yoga travel industry begins to explode. While your students may be temporary, it will be a good way to gain experience (and probably in an idyllic location). You can teach all kinds of yoga styles, from hatha yoga to restorative yoga, which is especially popular among weary travelers.
For new teachers, consider offering free yoga classes at a hotel or hostel. If they are happy, it may lead to a paid position down the road.
You might also like: Can I Teach Without a Yoga Alliance Certification? (Yup)
5. Offer your services at a daycare or after-school program
Children's yoga is gaining in popularity as its benefits are realized. Offering classes at a local daycare or after-school program can bring yoga to kids who might not otherwise get the opportunity. If you are not yet certified to teach kids yoga, there are many online and in-person training programs to choose from. As far as yoga instructor jobs goes, this is perhaps the most fun option out there 🙂
6. Hold yoga pop-ups
When you are new in your yoga teaching career, this can be a great option. Pop-ups give you the chance to gain experience outside of a traditional studio setting. Since yoga can be done anywhere, you can get creative with where you hold classes. Parks, beaches, rooftop lounges…the sky's the limit! Meetup.com and Facebook groups are perfect for establishing yourself and organizing yoga pop-ups wherever you are.
You might also like10 Best FREE Facebook Groups For Yoga Teachers:
7. Travel and teach at retreats
Are you a wanderlusting yogi? Then teaching at yoga retreats might be for you. There has been a huge increase in the number of yoga and wellness retreats in recent years, so there are plenty of options to choose from in both the US and around the world. You can teach yoga, make some money and see the world all at the same time. You can either reach out to a yoga center to ask if they're hiring or join YogaTrade to see teaching jobs pop up all around the world.
8. Host your own retreats
As you work in the industry, you will gain a network of regular students, fellow teachers and other wellness workers within the yoga community. Once you have these solid connections, you can choose to organize and facilitate your own retreat. Organizing a retreat is great for those planners out there who have a desire to create something of their own.
Upload your yoga retreat to a site like BookRetreats.com and start getting paying students who are willing to travel for the practice of yoga.
9. Offer workshops
Many people who are attracted to teaching yoga also have other areas that they are passionate about. Putting together your own unique workshop is a way to supplement your income while combining your talents. You can offer a yoga and meditation workshop, a workshop on the yogic lifestyle, or a style-specific workshop. Yoga therapy, aerial yoga, yoga nidra, Ayurvedic diet, and sound healing workshops are especially popular.
You might also like: 13 Types of Yoga Teacher Tax Deductions (And Other Tax Tips)
Working Off The Mat:
10. Write for yoga blogs and publications
There are other ways to share your yoga knowledge. Why not take a break from the mat and write about it? There are so many yoga and wellness blogs out there looking for contributors. You can supplement your income and get out of your leggings for a bit.
You can search for writing opportunities on YogaTrade or look online for publications who are hiring writers (pssttt.. we are hiring yoga writers all the time!). One easy way to find these publications is to do an easy Google search. Put in the search bar 'allintitle: yoga + contribute' or 'allintitle: yoga + submissions' to find sites that are looking for guest contributors.
11. Write a book or ebook
If you are passionate about writing and are looking to do a more extensive project, you may consider doing a book or ebook. There are even ways to self-publish an ebook, which can make it more accessible to do. Writing can provide you with a passive income to supplement your teaching on the mat.
12. Start a podcast
Another way to share your yoga expertise with people off the mat is to talk about it. Recent statistics show that 26% of Americans are listening to podcasts regularly. So why limit your role as a certified yoga instructor to your geographic location? With the rise in podcast popularity, many studios are now renting out their spaces for recordings. (Many online fitness trainers are already doing this.) Creating a podcast is now easier than ever.
13. Build a brand
This will take time and marketing savvy, but if successful, it can be very lucrative. Once you have an established brand, there are a lot of different ways that you can make money. One way is to offer retreats or training programs under your brand name. Another is to launch a yoga app.
Or, you can choose to completely create your own style of practice. Think of how Corepower yoga created a signature style, which is more reminiscent of a fitness class than a meditative yoga practice. While you don't have to follow in their footsteps and become a group fitness instructor, you can definitely improve your salary figures by learning from their business design. Create a fusion style, brand it and market it.
14. Manage a yoga studio or retreat center
It may not exactly be teaching, but you will still be immersed in the yoga culture. There is a lot of work that goes on behind the scenes at a yoga center or studio. Whether it's administrative tasks, sales or marketing, these are all ways that you can make money off the mat.
15. Organize yoga retreats and teacher trainings
Maybe planning is your thing and you prefer to stay behind the scenes. There is a lot that needs to be done to organize a yoga retreat or yoga training, especially those that are held abroad. Some positions might include monetary compensation, whereas others will offer free accommodation and food for your service.
Monetizing Social Media:
16. Become an Instagram influencer
For those social media savants, a business account on Instagram can substantially add to your revenue stream. Influencers on Instagram are typically users who have over 10,000 followers along with a good amount of engagement (likes and comments). When you are at this level, you are likely to get offers from companies to post content or endorse products via your Instagram photos. While some yoga influencers only get free products, others can earn upwards of $25,000 per post. (I know)
Some might argue that this capitalizes yoga, but I would say it depends on how you use it and what you advertise. Keep your endorsements to things that you actually believe in and don't lose sight of your values.
If creating videos calls to you, then you may consider starting a YouTube channel and using that as a platform to teach yoga online. Once you get around 250,000 views and a good amount of subscribers, your videos will be desirable to advertisers and start generating income for you. ..
…that's how I got started 😉
I'll be writing an in-depth post about how to start a YouTube channel pretty soon, so keep an eye out! Or sign up for my newsletter to get it right in your inbox.
You might also like: 10 Truths About Becoming a Yoga Instructor (That Nobody Talks About)
Want more tips and all-things-yoga right in your inbox? Sign up for my Ritual newsletter below 🙂
Teaching Online:
18. Teach online yoga classes:
Online yoga platforms are growing in popularity. These subscription-based sites offer a variety of classes from different instructors. Since there will be people remotely taking your classes from around the world, it can definitely help you establish your name and reputation as a teacher. YouTube is an excellent launching platform. Though it may take some time before you can begin to monetize your content, there's nothing like free advertising to a worldwide audience.
19. Offer paid content/subscriptions on your website
If you don't want to rely only on YouTube, you can create a section on your own website that has yoga classes and even lectures. Adding a paid subscription option can help you to further monetize on your website and create a passive income stream. Create a section for yoga videos that is only accessible through a subscription. I do this with my Uplifted program and many other instructors offer exclusive online yoga classes as well. And if you're worried about the competition, know that the yoga and fitness industry has room for all of us!
20. Create your own online training program
Once you are more experienced, you can begin to share your expertise by offering your own teacher training program. You can develop one that is Yoga Alliance certified or you could even create your own signature training program. I offer a 200-hour yoga teacher training program that covers yoga postures, anatomy and physiology, yogic philosophy, and teaching methodology. I also offer a 300-hour yoga teacher training program that helps my students gain teaching experience and create a business of their own…
…like a personal business mentor for whatever option you choose as a yoga instructor!
The most important thing to do when you are starting your yoga career is to have clear values and align yourself with them in all aspects of your career. Teaching yoga is not about making buckets of cash. But, if you teach with passion and align yourself with your values, you will be met with abundance.
X
Sneak Peak into My 300-Hour YTT - FREE Videos, Info Session, Bonuses!