Hi, friends! How are you? And how goes your adventure of choosing a yoga teacher training?
If you're reading this, it must be still going haha!
Remember that this contemplation period is part of the training process itself! And all the time and effort you put into your choice of training will be paid back by making a better choice for you! Plus, it shows your dedication to your own learning and growth, which will help you get so much value from your certification course.
These posts are to help ease the research overwhelm that could be happening!
If you still aren't sure if you're ready for a yoga teacher training, you might want to learn more about what to expect in a 200-hour program here.
Still don't really know what a "200-hour" even means? No worries! You can head here for all the deets on the yoga number jargon.
Now if you're ready to start looking at specific schools, you're in the right place right here as we'll compare two top online yoga programs.
In this post, we'll be looking at Uplifted Yoga Academy and Online Yoga School Yoga & Ayurveda Center.
Online Yoga School Yoga & Ayurveda Center is all about relatability, inclusivity, affordability, and accessibility and has a physical location in Pennsylvania.
Uplifted Yoga Teacher Training  is known for being the first online training and is led by a wellness business maven who believes yoga is here to help claim the throne as the leader and healer of your life.
We'll touch on why online trainings rock, then check out some key training aspects side-by-side and take a deeper look at each school, including their pros and cons, using the information available on the school websites, some third-party reviews, and the Yoga Alliance website.
Why Choose Online Yoga Teacher Training?
It's a radical time we're in, folks, where we get to do so many amazing things from our own homes! But there's no one-size-fits-all of, well, anything​​—including training formats. So there's not necessarily a "best" but more of a "best for you" when it comes to choosing between a fully virtual program, an in-person training, or a hybrid of both. A fully online training could be a great fit for you if:
You're money minded.

If cost is an important factor for you, online trainings let you save money on childcare, taking time off from work, and travel costs like flights, accommodations, eating out, and gas.

You're busy.

Haha okay, I know we're all busy, but some of us have more wiggle-room in our schedules than others. If you're one of those less-wiggle-roomers, an online course allows you to train more within your existing routine so you can maintain your life and livelihood.

You like to learn at your own pace.

Compared with in-person trainings, online programs are brilliant because they let you hit pause, rewind, and watch things again. This is fantastic for you if you tend to feel rushed (or slowed down) in group learning settings, or like you can't get all your questions answered and spend as long as you'd like on your favorite or the most mystifying subjects.

You like to be able to revisit materials.

If you love to have references handy and not be worried about documenting everything with notes, photos, and videos, online trainings are great as many offer you long-term or lifetime access to the course content so you know it's there to revisit and support you at any time.

You are interested in teaching yoga online.

If you're interested in having a business, hobby, or side-hustle that lets you work from home, doing an online yoga teacher training will help prepare you for being able to offer yoga online after graduation. Some online trainings even offer special modules just on online teaching!
The Stack Up: Uplifted Yoga vs. Online Yoga School: Yoga & Ayurveda Center 200 Hour Yoga Teacher Training
| Feature | Uplifted | Online Yoga School |
| --- | --- | --- |
| Lifetime Access to Course Materials | Yes | Yes |
| Curriculum Includes Business Training | Yes | Yes |
| Graduation Rate | 96% | Not available |
| Study Model | Self-paced pre-recorded plus interactive live cohorts | Fully self-paced |
| Payment Plans Available | Yes | Yes |
| Refund Policy | Non-refundable (but you can preview the program before buying) | Non-refundable |
| Completion Deadline | 18 months | None |
| Lead Teacher(s) and Credentials | Brett Larkin E-RYT 200, RPYT, YACEP & Kristin Leal Anatomy E-RYT-500 | Steph Ball-Mitchell, E-RYT-500, RPYT, RCYT, YACEP, CAADC |
| Printed Manual Included | Yes | No |
| Synchronous Completion with Other Students | Yes | No |
| Max Student Group Size | 45 for live calls; 6-10 for study groups | No max, numbers vary |
| Tuition Includes All Reading Materials | No (~$75 extra) | Yes |
| Certifying Online Since | 2015 | 2020 |
| Price | $2850 | $395 |
| Yoga Alliance Overall School Rating | 4.83 | 4.82 |
Uplifted Yoga Teacher Training: An Overview
The Uplifted Yoga Teacher Training is all about supporting trainees in blending the old and the new: deeply integrating the ancient teachings of yoga and being able to "walk one's talk" as a yoga practitioner or teacher as well as how to thrive as a wellness entrepreneur. Uplifted is known as the training you go to when you're ready to invest yourself and give yourself that loving push to do your inner work and get out of your own way both personally and professionally. Students love the unique training cornerstones of adapting yoga asana to everyBODY, developing and teaching your own signature meditation practice, the importance of fascia and how to work with it, taking yoga beyond the mat, and how to build your own yoga business and brand.
3 Key Features of Uplifted Yoga 200-Hour YTT
What you get with the Uplifted Yoga Teacher Training is a program that has been specifically crafted over 7 years to help students get a high-quality training online, to graduate, and then go on to teach yoga profitably while living a yogic life. You can read more about what sets Uplifted apart from other online trainings here.
In the meantime, here are three key features of the program:
Study with a group.

The Uplifted school's online training experience has shown them the power of community support, and the benefit of training with a consistent group of friends. Their cohort model means that everyone is on the same page during live calls so that trainees can engage more deeply with the material, each other, and their own process.

Small class size.

Add to training with a consistent group, that this program has a maximum of 45 students on the live calls and study groups of 6-10 students. You can feel confident you are getting about as small a group as you can get with an online training. This makes the Uplifted 200-hour course great for those who don't want to be just another number or name, but who thrive in smaller group settings that let them feel seen and heard as they stretch into the identity as a teacher and practice to find their voice. .

High-graduation rate.

There's a reason high school teachers used to say, "If we don't make you take tests, you won't learn it!" Maybe we didn't believe them then, but many of us do now. It's easy to start things with the highest of ambitions…aaaaand then it's also easy for life to get in the way and distractions or setbacks to cause us to lose steam. Moving through the 4 month transformational live call experience, where you implement and go deeper into your home study curriculum, provides the encouragement that many of us need to make sure we ingest, process, and embody the information. With the Uplifted's cohort and high-touch model and the founder's personal mission to get you to graduation, the Uplifted training is for those who want to ensure they complete their training and put their education into action.
Pros and Cons of Uplifted Yoga 200-Hour YTT
Pros
Cohort groups

Small group sizes

Graduation (nearly) guaranteed
Cons
Graduation deadline

Less schedule flexibility (must commit to a 2-hour live call once per week)

Higher price point
Uplifted Yoga 200-Hour YTT Pricing
The Uplifted 200-Hour Training is at a higher price point for online trainings along with just a couple others in the virtual yoga training world. Courses at this price point typically have invested a lot of time and money into offering high-quality video content, having high-level trainers, guest experts and authors, on-point personalized student support, a honed structure that's been proven to work, and seamless graduation process (no tracking your own hours or figuring out what to do on your own). The price also reflects the more high-touch model of the cohort group and greater amount of live content.
Example payment plan:

$712.50 up front then $712.50/month for 3 months
Fall in love with my 200-Hour teacher training or …

X
Experience 3 Training Videos from Inside My 200-Hour Online YTT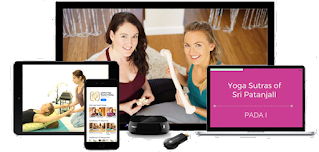 Online Yoga School: Yoga & Ayurveda Center – An Overview
What draws students to Online Yoga School is its affordability, the ability to go at their own pace, and the warm, down-to-earth vibes of the instructors that lead by example. This school originated (and still operates) as an in-person studio that aims to provide the same quality of in-person trainings in their online space. Trainees also appreciate the active Facebook community that brings high-vibes from around the globe and the accessibility of the lead instructor via text.
3 Key Features of Online Yoga School: Yoga & Ayurveda Center's 200-Hour YTT
Online Yoga School has a physical studio location in Pennsylvania and an affordable virtual studio with classes 7 days a week. Online Yoga School students love the emphasis on inclusivity and that even while self-paced, they can attend live weekly Q & A calls. Trainees enjoy the in-depth yoga philosophy and anatomy lessons, the 100+ postures that are covered, and how instructors help with real-life examples of theory application. Three other features that distinguish this program are:
A fully flexible schedule.

To make their training more accessible, the Online Yoga School utilizes a fully self-paced model so you have no scheduling constraints getting in the way of your learning.

No deadline.

For those who are training to deepen their yoga practice and grow their knowledge in a low-pressure way, having no deadline allows you to engage with the material in your way and focus on what's important to you.

Affordability.

Not only does Online Yoga School have a lower price point, but they additionally offer scholarships as well as bundle the 200-hour training with other courses at no extra cost to increase the value even further. The training cost also includes all training materials.
Pros and Cons of Online Yoga School: Yoga & Ayurveda Center's 200-Hour YTT
Pros
Work within your schedule

Low pressure

Affordability
Cons
No consistent peer groups

Less incentive to graduate

No printed manual
Online Yoga School: Yoga & Ayurveda Center's 200-Hour YTT Pricing
At $395 for the online 200-hour training (sometimes bundled with other courses also), the Online Yoga School training is at the lower end of the training cost spectrum. There are many online trainings currently on the market at similarly low price points that make their margins work by having higher enrollment numbers and utilizing more pre-recorded content.
Example payment plan:

5 x monthly payments of $85
So Which Is Better: Uplifted or Online Yoga School: Yoga & Ayurveda Center?
First of all, the idea of "better" is based on you!
If you're into going fully at your own pace in a low pressure way and working within a smaller budget, Online Yoga School could offer you just the freedom and value that you're looking for.
If you have more room in your budget, want to ensure that you graduate, discuss yoga with the same virtual friends each week, and prefer a smaller cohort group experience, then the Uplifted program could be a perfect fit.
I hope this helps! I'm so excited for your yoga training journey that can be transformative whatever you choose. Happy training shopping, my friends!
Take my quiz to find out which YTT is best for you:
Next Steps
Check out my YouTube channel and find some yoga classes that you can try out for yourself!
Attend a 200 YTT info session to see what else you'll learn in my online teacher training.
X
Experience 3 Training Videos from Inside My 200-Hour Online YTT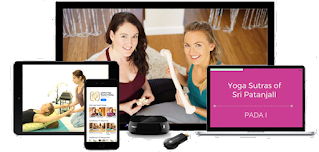 X
Experience 3 Training Videos from Inside My 200-Hour Online YTT