Daunting.
This is the word I imagine most of you would use to describe the process of choosing a yoga teacher training program amidst the sea of training types and yoga styles that are out there.
I mean, you might even still be wondering which level of training even comes first!?
I 100% get it!
And just like anything, when it's too big to handle whole, you gotta break things down into bite-size portions and work your way through slowly.
That's why we're going to keep it simple in this post and just compare two top-rated online yoga schools so you can start to narrow your list down and find the right school for you.
The two programs we'll check out: Uplifted Yoga Academy and My Vinyasa Practice.
My Vinyasa Practice is known for its affordability, accessibility, go-at-your-own pace model, and huge selection of online training offerings.
The Uplifted Online 200-Hour Yoga Teacher Training is known for its intimate cohort model, high certification rate, and certifying teachers who embody yogic teachings while having the business savvy to build their yoga brand.
So let's get to it!
We'll keep things to the point with a side-by-side comparison of key things to consider when choosing an online training. Then we'll take a more in-depth look at what sets each school apart, the pros and cons of each, and that ever important aspect—money!—all based on the available information for each school as well as their reviews on the Yoga Alliance website.
Why Choose Online Yoga Teacher Training?
First, if you're still unsure about whether to choose an in-person or online training, let's take a look at why online training is an amazing option these days.
Affordability.

Enjoy the cost savings of training from home as it lets you save on flights, accommodations, eating out, gas, childcare, and taking time off from work.

Flexibility.

Online training programs typically allow you to work at least somewhat within your own schedule so you can still have a career and a personal life while you train.

Adaptability.

Being able to pause, rewind, and revisit recorded content means you'll never feel like you missed something or are getting left behind. Instead, you'll feel confident that you are taking away all that you want and need from your program.

Availability.

Many online trainings give you long-term or lifetime access to the course content and virtual resources. This means you don't have to worry about note-taking and recording the important parts, but can relax knowing that you can come back to the material at any time in your yoga and teaching journey.

Preparation.

Online yoga appears to be a trend that's here to stay. So if you're thinking about teaching, doing an online yoga teacher training can help prepare you to offer your own online content after you graduate.
The Stack Up: Uplifted Yoga vs. My Vinyasa Practice 200 Hour Yoga Teacher Training
| | Uplifted | My Vinyasa Practice |
| --- | --- | --- |
| Lifetime Access to Course Materials | Yes | Yes |
| Curriculum Includes Business Training | Yes | Yes |
| Graduation Rate | 96% | Not available |
| Study Model | Self-paced pre-recorded plus interactive live cohorts | Fully self-paced |
| Payment Plans Available | Yes | Yes |
| Refund Policy | Non-refundable (but you can preview the program before buying) | Full refund within 30 days |
| Completion Deadline | 18 months | None |
| Lead Teacher(s) and Credentials | Brett Larkin E-RYT 200, RPYT, YACEP | Michelle Young C-IAYT, E-RYT 500 |
| Print Manual Included | Yes | No |
| Synchronous Completion with Other Students | Yes | No |
| Max Student Group Size | 45 for live calls; 6-10 for study groups | No max, numbers vary |
| Tuition Includes All Reading Materials | No (~$75 extra) | Yes |
| Certifying Online Since | 2015 | 2020 |
| Price | $2850 | $850 |
| Yoga Alliance Overall School Rating | 4.83 | 4.8 |
Uplifted Yoga Yoga Teacher Training: An Overview
Uplifted Yoga is known for offering the "original" online yoga teacher training that's been certifying students virtually since 2015. Students of Uplifted aren't just there to certify or deepen their practice, but to experience a profound personal shift – incorporating ancient wisdom into their life, healing a wound, overcoming an injury, deeply personalizing their practice to better support their life off the mat – and they want to do that in a sacred container with the same students each week. Plus, get coaching and feedback from Brett herself. That's another thing, Uplifted trainees love the passion, energy, dedication, and online business know-how of Brett Larkin, the founder and lead trainer, who still teaches live in the training. The school is known for its attention to detail, breadth and depth of content that focuses on overall well-being through yoga, its supportive community, high-touch model, and high graduation rate. Students also love the training's five unique pillars that help them get a one-of-a-kind yoga education:
The Pose Is Not the Goal

(attuning asana to each individual)

Meditation Matters

(create and teach your own signature meditation)

Myofascial Release

(understand the anatomy and metaphysics of this unifying system to enhance holistic wellness)

Yoga Beyond the Mat

(using the ancient science of yoga to solve whatever problem you're facing right now)

Be Your Own Boss

(tips from the trenches, directly from Brett, on how to teach and make money).
3 Features That Set Uplifted Yoga 200-Hour YTT Apart
With the Uplifted training, you get to benefit from their 7+ years of experience running online trainings and figuring out what works to develop the best yoga teachers via online learning. This makes the training a totally different experience than all the other yoga teacher training that came online in reaction to COVID in 2020. This training balances the personal development aspects of yoga with the teaching and business side. It supports you in integrating the yogic teachings into your daily life while also helping you have a profitable teaching career. While you can read more here about what makes the Uplifted program so different from all the other online trainings that came later, here I'll focus on three features that set this training apart.
Cohort model.

Many online trainings deliver the bulk of the content via pre-recorded videos and supplement with some live calls. The advantage of the Uplifted method is getting to go through your whole training journey with the same group of peers so you can better support each other every step of the way. This sense of community support deepens connection and can help spur you on to graduation.

Graduation (nearly) guaranteed.

Some people can do well without much accountability, buuuuut many of us have learned in the last couple of years that we need a little loving push to complete things online. Having a completion deadline, cohort model, and Brett's personal commitment to help students complete the training, all contribute to the Uplifted's impressive 96% graduation rate. That makes this program a great fit for those who want to ensure they go all the way and put their learning to use after graduation.

Printed manual shipped to you.

A lot of us are consuming a lot of virtual content these days. And while it can be convenient and cost effective, we all spend so much time looking at screens that it can be a sweet relief to rest our eyes onto some real paper, am I right!? And if you've ever tried to use a digital manual before, you know it's a pain to complete any homework or worksheets, and it doesn't have that nifty index that allows you to flip through analog pages.
Pros and Cons of Uplifted Yoga 200-Hour YTT
Pros
Cohort model
High rate of completion
Printed manual shipped to your door
Cons
Must commit to a 2-hour live call once per week
Higher cost
No refund option
Uplifted Yoga 200-Hour YTT Pricing
In the online yoga training world, the price point of the Uplifted 200-hour training is on the higher end of the spectrum alongside just a couple of other online teacher trainings. Their goal is to attract students who are serious about yoga, serious about connecting with each other, and serious about graduating. With this type of investment, you're paying for their 7+ years of experience in online training, high caliber of teaching staff (many famous yogis and published authors in the training), top-notch training materials, likelihood of graduation, quality business education that helps you payback the training cost through teaching yoga, cohort and high-touch model, and having a greater amount of live content.
Example payment plan: $712.50 up front then $712.50/month for 3 months
Fall in love with my 200-Hour teacher training or …

X
Experience 3 Training Videos from Inside My 200-Hour Online YTT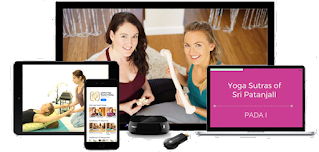 My Vinyasa Practice: An Overview
My Vinyasa Practice originated as a brick-and-mortar studio in Austin, Texas (where students can still go and train) before it grew into its own online training hub during. It's known for its values of authenticity, accessibility, and affordability and its mission of spreading yoga. Students love the price point and abundant choice of courses.
3 Features That Set My Vinyasa Practice 200-Hour YTT Apart
My Vinyasa Practice has been offering online trainings for several years on Teachable and has figured out their own formula for success. Stand-out features of the My Vinyasa Practice trainings include free coaching built into the training cost, 24/7 support via chat, email, or phone, and lead trainers with the highest credentials in the yoga world right now (E-RYT 500 or CIAYT). Other things that stand out in the side-by-side comparison include:
Affordability.

The My Vinyasa Practice trainings have a low initial price point plus a 50% discount when you pay in-full. They additionally sometimes bundle other self-study training courses along with the 200-hour so you get even more value for your money.

Fully refundable.

A full, money-back guarantee within 30 days of purchase lets you invest in the My Vinyasa Practice 200-hour with the comfort of knowing you have nothing to lose if the training isn't a fit for you.

Fully flexible schedule.

With no cohort group or completion deadline, this training is for those who want to expand their knowledge in a low-pressure way and freely study at their own pace. It's also great for those who do well at completing things without accountability. And are willing to track their own hours to graduate.
Pros and Cons of My Vinyasa Practice's 200-Hour YTT
Pros
Affordable
Money-back guarantee
100% at your own pace
Cons
Less incentive and accountability towards training completion
No consistent peer cohort group
No printed manual
My Vinyasa Practice 200-Hour YTT Pricing
At $850 for the online 200-hour training (sometimes bundled with other courses), the My Vinyasa Practice program is at the lower end of the training cost spectrum. There are many online trainings currently on the market at similarly low price points that make their margins work by balancing their low cost with high enrollment numbers and a rolling enrollment model that allows for a greater use of pre-recorded content.
Pay in full option: $425 (50% off $850)
Example 4-month payment plan: 4 x monthly payments of $233.75 (includes 10% finance fee)
Example 6-month payment plan: 6 x monthly payments of $155 (includes 10% finance fee)
So Which Is Better: Uplifted or My Vinyasa Practice?
Okay, let's be real, the word "better" is always subjective, meaning it's really about who it's better for.
The Uplifted training, with its completion deadline and cohort model is great for those who crave community engagement and accountability, and who are willing to invest a bit more for a high-touch experience and getting to graduation seamlessly.
The My Vinyasa Practice 200-hour training offers an accessible price point and a fully self-guided model, so it could better serve those who don't necessarily want to connect with others live, who are seeking a more budget option, who are willing to do the leg work of tracking and submitting their own hours, and who do well without accountability.
Now remember that these are just two options!
You can check out more schools here and read more about what to expect with a 200-hour yoga certification course to help you make an informed decision that's right for you.
And remember to enjoy the process–it's part of the journey too! No matter which training you choose, you won't regret investing in yourself with a yoga teacher training. Plus, you can always do multiple yoga teacher trainings!
Next Steps
Check out my YouTube channel and find some yoga classes that you can try out for yourself!
Attend a 200 YTT info session to see what else you'll learn in my online teacher training.
X
Experience 3 Training Videos from Inside My 200-Hour Online YTT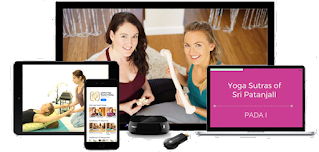 YOU MIGHT ALSO LIKE
X
Experience 3 Training Videos from Inside My 200-Hour Online YTT