You've just graduated from your 200 hour Yoga Teacher Training! Now let's put your amazing skills to work! Did you know you can make $5,000 a month teaching yoga?
Whether you chose to become a yoga teacher to help others through yoga or you wanted to earn some passive income, you can be well on your way to a successful yoga business journey!
But wait. . . how do I do that? Let us guide you towards a profitable online yoga business that allows you more financial freedom!
You've just graduated from your 200 hour Yoga Teacher Training! Now let's put your amazing skills to work! You may be eager to launch an online yoga course, earn passive income, or open a digital yoga business.
YES: You can make $5,000 a month (or more) teaching yoga – purely online! My graduates have achieved this.
But wait. . . HOW?
Let me guide you towards a profitable online yoga business that empowers you with more financial freedom.
Or if you prefer to hear one of my students talk you through this in her own words, watch this video below about how my student Arielle is earning $10k a month teaching yoga online.
How To Make 5k A Month As A Yoga Teacher, Step-By-Step
You have a dream of earning money as a yoga teacher and are so excited to start your yoga business! But where? Well, let's break it down!
Start for Free! Yes, free!
Yes, I know you want to earn more money. But in order to have a successful online yoga course, you need to hone your voice and grow an audience.
I suggest picking a social media platform and posting there consistently. My fav is YouTube, but you may like TikTok or Instagram better. Check out my free guide with video lessons on how to teach online through your own YouTube Channel.
Watch this quick video where I talk all about how to launch a YouTube Channel:
Don't skip market research
Taking the same example of being on YouTube, make sure that you take a look at other yoga teachers channels to see what kinds of videos and niches have worked for them. Remember, although there are many teachers online, you have something unique to offer your potential audience. . . YOU!
Studying other pages of teachers who inspire you will help you get a sense of how to market yourself. It's important to understand the competitive landscape so you can highlight your core differentiators.
Perhaps you've had a chronic health condition, and that makes your perspective unique. Or had both a vaginal and C-section birth, and that's what makes you an ideal prenatal teacher. Highlight what makes you authentically you and serve your student.
Doing this simple step of research plus determining your differentiators is the same proven framework used across many industries. It will allow you to create impactful content which will lead to yoga students feeling compelled to follow you and your teachings!
Blend your personal, professional and "yogi" life
Many of my students want to start their new identity as a yoga teacher in secret, starting new social media accounts. This means you're in vacuum, alone, and it makes it VERY hard to grow an online yoga business. Instead, start sharing with your current networks, coworkers and friends that you now teach yoga (even if it feels scary).
Think about when you started to practice yoga and what spoke to you. If you love a certain style of yoga and have thought of yoga sequences that are meaningful and fun for you, you can bring that style online mixed with your personality, in a way that would resonate with your friends or coworkers!
Let's say yoga is your side hustle (for now). Try to blend what you already know in your professional life with your yogi lifestyle. Maybe you're a physical therapist, teacher, or personal trainer. Think about ways to incorporate yoga with your current client base or students.
Say you're a personal trainer, you could easily have your clients follow a couple of yoga sequences before the session starts to keep their bodies open and stretched out. As a teacher, you could incorporate breathing and mindfulness into sessions.
From there you could develop your own methodology and high-end signature program and be on your way to make $5,000 a month.
Co-create with your audience
You've heard it asked by yoga creators on YouTube, probably even in studios that you've been to – "What would you like to see more of in my videos/sessions?"
This is a key question that yoga teachers and creators alike will ask and that is because it helps to keep their in-person online community engaged and audience coming back.
You can't create an amazing high-end offer to get to $5K a month if you don't know your students' pain points. What they REALLY want and would be willing to pay premium prices for.
The yoga students feel heard and appreciated knowing that they have a say in what you're teaching them. It gives a "made for you" feel to your offerings. To maintain audience growth and gain loyal followers, you'll want to incorporate the comment or question in your videos or in-person sessions, "what would you like to see more of in my sessions?" "What are you struggling with right now?"
For inspiration, check out my Instagram account and see which posts have the most comments!
Create a membership or subscription product that doesn't rely on your live teaching.
Taking the YouTube channel example again, you've probably seen creators use a monthly yoga membership option. This will be so beneficial for you once you've gained that loyal group of followers. You'll be able to offer this membership or subscription to those who want and crave more from you. You'll be able to upload more personalized videos for your followers and have various tiers to the subscription.
Leveraging this tool, you'll be able to create passive income and use that money to start selling more high ticket offerings.
Sell a high ticket offer
As a yogi and consumer, you know that you get what you pay for. While creating an online business, you'll want to keep a running list of business ideas that you want to share and bring to your students. If you want to teach yogis to become teachers, but have a niche style in mind, then maybe yoga for expecting or trying mothers, then you can create online courses based around that subject.
While your YouTube may offer some prenatal videos for women to participate in, you'll be able to create specific online classes with prenatal women in mind.
Once you've created the course and have your t's crossed and i's dotted, you can begin the launching and sales process.
Refine it on sales calls as you get feedback
Remember that feedback from consumers is incredibly important. After all, they are your target audience and the ones that will help your business and dreams come to fruition. If you are in the launch process, make sure to get a feel for what consumers would expect from an online course that would be worth their time and investment.
These comments will help you further develop online classes and business. If you've successfully ran through your first course and are moving on to the second course, make sure to go to the students who graduated your first class to give their feedback so you can make any tweaks or adjustments.
Those adjustments will help make your classes and online offerings that much more valuable leading to you being able to make $5,000 a month.
What A Business Year As a Yoga Teacher Looks Like
You've gotten your feet wet in the yoga teacher space, have found comfort in what you do, and you've hit some of your sales income goals. The membership and engaged community you have now craves more. Your online business is gaining traction and people are loving what you teach online! It's time to take a look at planning out your year and continue the business journey to have a profitable yoga teacher program.
January and July would be great months to have your community participate in an online yoga challenge. In February, you could launch a new tier to your membership.
May and October could be retreat months where you take your community somewhere domestically or even internationally.
During the months of March and August, you can launch your online classes using the months before and after to market for them.
Let's take a look at a couple events you can plan for and a way to gain traction for all that you offer.
Running Free Challenges
Let's start the year off right! Get out of your comfort zone a little, maybe with your first ever online challenge! Maybe you're in the therapy world whether it's for mental or physical health, you can create a challenge specific for the online community you've built—you may even gain some new followers!
For launch success of your online yoga challenge, you'll want to account for a few things to help make this challenge a success and leave the students wanting more.
The duration of the challenge
How long will this challenge last? If it is your first, you may want to keep it short and sweet – about 7 days. Once you get this first one under your belt maybe plan for a 14-20 day challenge the next time around – maybe mid year.
The challenge theme
Themes themselves are just fun to have! For an online yoga challenge though, they are necessary to keep the community engaged and coming back each day. Staying with the therapy example, you can create a challenge around the theme of healing.
Other ideas can be growth, positive shifts, New Year New Me, or Same Me New Goals. Whatever you decide you'll want to make sure that your audience has a certain mindset going into the challenge that they can hold on to as they process to really make the changes they want to commit to.
Schedule or layout of the challenge
Rather than throwing videos out there each day, have a purpose behind each video. As a personal example, when I announced the Chakra Challenge, I already had the days laid out to correlate to each of the chakras. You can do much the same with your challenge.
If your first challenge is based around physical healing in the body you can break up the days to focus on certain parts of the body so that by the end of the challenge, your students have worked and stretched out each part.
If you've chosen more of an inner self healing and growing theme, you can have the days broken into sub-themes like forgiveness, letting go, bringing in new energy, etc.
Sales page for the challenge
For any challenge you do or offering you have, it is important to create a compelling course sales page. Something that will catch the students attention and get them to ask what the challenge is about and what they can gain from participating.
A free challenge will get attention but what will hold their attention and get their commitment is the why behind the challenge.
Marketing the challenge
Use social media! If you're posting YouTube videos, make sure to incorporate a blurb about your upcoming challenge with "the link in the description box below for more information".
Get creative with your posts on Instagram, maybe teasers of your challenge. They can be as vague as a daily post of a butterfly from the caterpillar up to a beautiful butterfly. With any post, you'll want to create excitement and a sense that THIS is what they need to participate in it.
Community engagement before, during and after the challenge.
When you've started to market your challenge, make sure you stay engaged with your community. Answer their questions and get them excited! During the challenge hold discussions under a post or do a live event where they can not only connect with you, but ask you questions. Students may even give you new ideas.
Once the challenge is over, keep the engagement going and ask participants what they thought. This is also important for any new followers you've gained so they feel connected and heard.
Building an email list
With the challenge and membership sign ups that you have, you'll be able to create your email list. This list is another way to engage your community and ensure that you continue to make more money. 🤑
As you know people get lost in all of the posts that are made between Instagram, Facebook and even TikTok. Your following may miss the posts and end up missing out on the experiences you offer. Having a running list of your students' emails will help mitigate any FOMO! The list also helps to keep your students engaged.
Tips For Hitting $5,000 Per Month
We've already spoken about ways to contribute to earning $5,000 a month in income online, but let's talk about some of tips to help you do so. It is true that with any successful online business, you need to be in the right mindset of creating that successful business. To do this you'll need to be able to network and be open to investing in your future as a profitable online yoga business.
Niche Down!
Too often we find that new teachers want to do EVERYTHIING right away once they get their 200 hours under their belt. As you should, it's so exciting to be a brand new teacher with amazing goals and dreams! But, it is important to find a niche that you want to cater to. No one can do everything their hearts desire.
Finding your niche will do a few very beneficial things. It will allow you to put your all into your products leaving them to be the best that they can be. It's an old saying but quality over quantity is always the goal.
Catering to your niche will also attract the people that are serious about what it is you offer. Videos within my 300 Hour training about this can be found here.
Work with a coach on your money mindset and self-limiting belief.
It's important that you in a sense stay a student. You will always continue to learn and evolve throughout your professional career. It should be a concern when you stop learning. This is where investing in yourself as a business owner is important. You should utilize consulting services as well as a financial advisor to make sure that the path you're on is both financially beneficial and realistic.
Think of it as having that outside perspective or someone with clear glasses being able to offer guidance. If you are a 200 hour yoga teacher, think about investing in a 300 hour course, or marketing education. Investing in these kinds of tools will help you to gain incredible knowledge on subjects like email marketing, create intentional content, and can help you with real life scenarios that you'll see in your day to day work life.
Unless you have a marketing background it can be difficult to know where to bring or to know if you're taking the right steps. Many workshops offer weekly live coaching sessions where an advisor helps to guide you in your business.
If you are an Uplifted Yoga 300 Grad, then you know the importance of co-creating with other wellness entrepreneurs. Investing in your business will help you be on your way to make $5,000 a month.
Remember, success takes time and doesn't happen overnight. Arielle's story, as mentioned earlier, is a testament to this fact. It took her years to achieve her goals. Similarly, it took me three years to earn six figures. Therefore, it's important to be patient with yourself and seek out resources that can aid you in your journey. You can watch the video at the top of the page to see how another yogi achieved their goals step-by-step.
Fall in love with my 300-Hour teacher training or …
X
Sneak Peak into My 300-Hour YTT - FREE Videos, Info Session, Bonuses!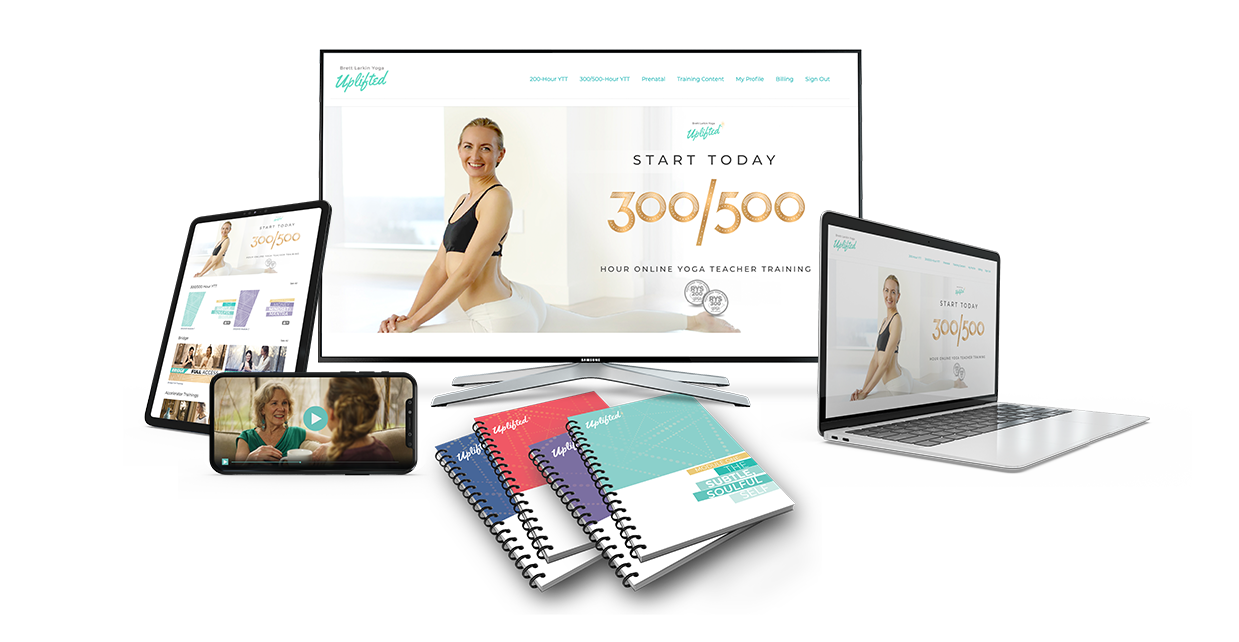 X
Sneak Peak into My 300-Hour YTT - FREE Videos, Info Session, Bonuses!