Online learning is quickly becoming the new normal…
…and the same goes for a tradition yoga teacher training program.
Now you can easily find a yoga teacher certification course online, mine included.
Personally, I think that's amazing! Now you don't have to fly half-way around the globe for a life-changing experience with a group of like-minded people…
…now you can have all of that right from the comfort of your own home (and schedule).
The problem?
This opens up tons of room for training courses that are low quality and oftentimes downright scammy.
Because of this, it's more important than ever to do your due diligence and investigate any online training courses that you're interested in. Before you review the list though, I highly recommend reviewing the average cost of yoga teacher training courses today to get a sense of industry standards and out-smart the scammers that promise you the world for pennies!
In this post, I'm going to cover the eight things I think you should consider when selecting an online YTT and how to assess a program's depth and credibility.
By the end, you should be able to confidently select a yoga teacher certification course that not only prepares you to teach yoga but also gives you an in-depth understanding of yoga philosophy as a whole.
You might also like: How to Be a Yoga Instructor: 6 Things You MUST Know Before You Begin
1. Who is the teacher?
Before you even begin looking at the curriculum of the training program, first look at who will be teaching it. Who is offering the program and what's their point of view? Do they see yoga as just a physical practice? Or something more?
If there's not one person or one face behind the training, that, to me, is a major red flag. It means the training doesn't have a strong lead teacher or a specific point of view. So find out who the lead teacher is behind the training.
Why?
Because who you study with is super important. You're going to teach like them and sound like them when you become a yoga instructor yourself.

We all start off mimicking our teachers as we slowly develop our own voice and teaching style, so you want to make sure you like the voice of this person, understand their point of view and know who they have studied with.
It might even be helpful to take a class with them, preferably many times.
It's never been easier to post and share classes online, so if the teacher or school behind the training doesn't have any public yoga classes available for you to test out and try, that is another red flag.
Because anyone can promise you an amazing yoga experience, but how will you know for sure unless you can test it out for yourself?

2. Make sure it's a full 200-hour training if you are serious about teaching yoga.
If you're just dabbling in continuing education or not really sure if you're ready to teach, then maybe a cheap training that's only a dozen or two dozen hours is fine. But if you want an online yoga studio experience and an in-depth understanding of yoga, then be sure to check that the training program is truly 200 hours.
How?
See if there is 200-hour content built into the curriculum, which means that there's actually 200 hours of video and interactive content.
After all, there's a lot of knowledge to go over in a yoga instructor course, like yoga philosophy, pranayama, meditation, yoga anatomy, how to teach yoga and develop a teaching style, and how to market yourself to a yoga center.
In a comprehensive program, you'll also examine each yoga asana and the different styles of yoga, like prenatal yoga, power vinyasa yoga, hatha yoga, or Iyengar yoga.
You will also study ancient yogic texts, like the Yoga Sutras of Patanjali and the Hatha Yoga Pradipika.
There's A LOT to be covered in a yoga intensive course, so if an online yoga school promises an RYT certification without fulfilling the full 200 hours of study, then it's a scam.
I can't tell you how many students come to my program because they were disappointed in the breadth, scope or curriculum of their first 200-hour yoga instructor training, both in-person and online. Make sure to email in and ask if it's a true 200-hour curriculum.
Helpful Resources
3. Evaluate the level of interaction with the yoga school or instructor.
The third thing I'd look for in an online training program is the level of interaction you have with other students and the yoga instructor. Is there any?
Yoga is complex and you're likely going to have questions. Being shipped DVDs or just passively watching videos is probably not enough to get yourself ready to teach yoga.
A lot of online YTTs I see offer a FB group, mentor, or optional calls. In my experience, this isn't enough. Moving through training material with a consistent group of peers is what makes yoga teacher training transformational. I find students need accountability and compassionate support, from me and one another.
If you'd really like to learn, rather than memorize, it's important that you get to explore the topics with a set group of peers and deepen your understanding every step of the way.
In our trainings, we force you to practice teaching each other on our interactive live video tool and mobile app. I have interactive live calls three times a week with my students. We're talking about their points of confusion, but also bonding as a group.
I'm not just passing off teaching material. I'm passing off my own knowledge and understanding of yoga, my teaching style, and the steps I took to be ready to teach at any yoga studio or school that would have me.
Fall in love with my 200-Hour teacher training or …

X
Experience 3 Training Videos from Inside My 200-Hour Online YTT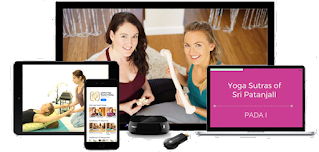 4. Check to see if there is a manual.
The fourth component I'd make sure to understand, whether for an online YTT or in-person training, is the MANUAL. Is there a manual? Not just assigned reading books that you can easily buy off Amazon, but an actual proprietary manual with all the yoga postures and poses, anatomy of the body and how to teach the yoga postures accordingly, common misalignments and contraindications. Once a teacher training program ends, that paper manual becomes your most valuable resource. A yoga teacher training without a proprietary manual is a major red flag.
The manual is something you're going to want to reference as you start teaching yoga and deepening your own practice of yoga. You'll also super appreciate having a yoga instructor manual to look things up for years to come.
5. Understand Yoga Alliance and the yoga certification you receive.
Yoga Alliance is a private, nonprofit entity that is optional for teachers to pay to join. Many yoga teacher training courses boast their Yoga Alliance affiliation, though it is rarely worth the extra cost. If you choose to sign up, you have to pay membership fees every single year in exchange for using the RYT acronym after your name and having access to their membership benefits. Many successful yoga teachers choose not to do this, others do.
Yoga Alliance is not sanctioned by any local, state, or federal government, but many people still look to it as a sign of legitimacy.
While its worth is up for debate, it's important to be aware of their requirements as you seek yoga certification because an online yoga teacher training program cannot provide an RYT yoga teacher certification unless it meets the requirements for in-person training.
Right now, Yoga Alliance has temporarily sanctioned online teacher training in 2020 (for the first time in history) via a temporary COVID-19 provision. The temporary provision offers no guidelines or accountability for online training formats. The result is new, unmonitored yoga teacher trainings flooding the market each day stating they are "Yoga Alliance Approved." I'd make sure the online YTT you choose has a curriculum that is Yoga Alliance approved, but dive deeper to see how long they've been specializing in online education. Is this their first online training ever? Or do they have the infrastructure and experience to power high-quality online learning?
You might also like: What is Yoga Alliance and Do I Need an RYT Certificate to Teach Yoga

6. Is there an exam?
Yes, none of us like taking tests, but to me, the requirement to pass an exam means the training wants to ensure its graduates are high-quality teachers.
Think of it this way: would YOU want to be taught by someone who never had their level of knowledge or yoga practice tested? If the online YTT you're considering doesn't have an exam or states on the website that passing the exam is 'guaranteed,' that's a major red flag that a training that doesn't have any integrity, and just wants your money.

7. Are there practicum hours?
In conjunction with the exam is the yoga teaching practicum. Is anyone actually going to see you teach yoga and give you feedback? Getting compassionate constructive feedback is SO important for new teachers. If the online ytt you're doing doesn't require that you send in a video of you teaching, that is a red flag and a huge missed opportunity for you to get personalized feedback.
After all, how can you become a certified yoga instructor if your lead teacher or yoga school hasn't actually seen you instruct yoga?

8. Look at the alumni network.
Alright, my last tip for sussing out online yoga instructor courses is to dig into the alumni network. How many people have taken this online training and do they vouch for it? Are these real experienced teachers with photos? Or are they anonymous quotes and testimonials?
Is there a strong alumni network? Meaning there are alums who are helping one another get jobs and advise one another driven by a strong sense of community? How many alumni are successfully teaching online? Or does the online training not have a strong community or alumnae network as a part of what they offer?
Get to know me a bit more in this FAQ session all about Uplifted Yoga:
Looking to the graduates of an online certification program can shed a lot of light on the quality and legitimacy of the program.
The truth is that yoga instructor training online WILL be 100% normalized over the course of the next 10 years, so it's a great idea to be an early adopter and do it now, as long as you've done your research.
It's important to know that you'll be getting a high-touch, high-quality training with a teacher you really trust.
Because yoga is more than just the asana practice. It's the yogic philosophy, teaching methodology, pranayama breathing, meditation, and understanding the four different types of yoga.
It's a beautiful personal practice that should not be skimped on, especially when done online.
These are my tips for you when checking out an online training and now I'd love to hear from you. Let me know in the comments if YOU're considering YTT online, if so why, and what you're most excited or nervous about.
So much love. Namaste.
Next Steps
Check out my YouTube channel and find some yoga classes that you can try out for yourself!
Attend a 200 YTT info session to see what else you'll learn in my online teacher training.
X
Experience 3 Training Videos from Inside My 200-Hour Online YTT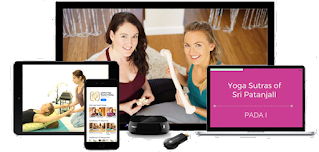 X
Experience 3 Training Videos from Inside My 200-Hour Online YTT