So, you're considering doing a 200-hour yoga teacher training?
Can we first just pause, let that sink in, and say…
HOLY COW! That's amazing!
I mean it's kind of a big deal, right? To make space in your busy life, follow your passion, and become a student and beginner again? I say heck yeah it's a big deal because those things aren't so easy once we start full-time #adulting. So, first and foremost, I hope you see yourself for the bada$$ that you are for making this life-bettering decision! If you want some tips on just how to prepare yourself for this incredible adventure you can head here.
Okay, so you've decided you want to do a training—check!
Now to figure out which school deserves your bada$$ness (actual word!)…and that's what I want to help you with here.
This post will cover online yoga teacher trainings specifically and we'll start by looking at some of the reasons why they can totally rock.
Then we'll take a look at two top-rated online yoga teacher trainings based on their available content and Yoga Alliance verified student reviews. I'll share a side-by-side comparison of some of the important program elements to consider, an overview of the schools, and the pros and cons of each.
Up for review this time are Yoga Farm Ithaca and Uplifted Yoga Academy.
Yoga Farm Ithaca is a non-profit on a mission to share skills, tools, and healing techniques that help students feel more connected and fulfilled.
Uplifted Yoga Academy offers a high-touch training focused on helping you embody yoga philosophy and earn a real living teaching yoga.
Alright, onto the rest!
Why Choose Online Yoga Teacher Training?
Preparing to do a yoga teacher training brings up a lot of questions!
I'm gonna use my best psychic skills and say that some of them are:
Are online trainings legit? Can you really get as good of an education online as with an in-person training?
The short answer:
Yes!
And, as a yoga teacher who believes in walking my talk and practicing satya or truthfulness—I offer online trainings so I'm clearly biased!
Now, I'm biased AND I'm all about you choosing what's best for YOU!
That being said, as you consider what's important for you in a teacher training program, here are a few of the things that are amazing about online trainings:
Honor your needs.

Do you prefer to spring out of bed early and start getting things done? Or would you rather study late into the night? An online YTT lets you do either…or both! (But take care of yourself please LOL.) Whether you need full quiet, like to learn at the coffee shop, or need to watch content while cooking dinner for your kids, online trainings allow you to choose the best way to get things done for you.

Forget about FOMO.

With virtual courses, all the material is easy to revisit as its all recorded so you'll never miss a moment of valuable teaching!

Save some skrilla.

Online trainings save you some of the expenses that come with in-person courses like taking time off work, childcare, parking, flights, transportation, meals, and accommodation, so no matter the price of your online certification, you'll get to save these added costs.

Integrate IRL.

It can be wonderful to fully remove ourselves from our routines and do an immersive training somewhere. And sometimes the return-to-real-life-transition is tough and fresh graduates struggle to integrate what they've learned as they get back to daily life. Doing a training from home allows you to immediately apply what you learn so you can integrate yoga into your daily life…which is kinda one of the main points of training, right? Online trainings help you do this seamlessly.
The Stack Up: Uplifted Yoga vs. Yoga Farm Ithaca 200 Hour Yoga Teacher Training
| | Uplifted | Yoga Farm |
| --- | --- | --- |
| Lifetime Access to Course Materials | Yes | Yes |
| Curriculum Includes Business Training | Yes | Yes |
| Graduation Rate | 96% | Not available |
| Study Model | Cohort, hybrid live/ pre-recorded | Cohort start, self-paced |
| Payment Plans Available | Yes | Yes |
| Refund Policy | Non-refundable | Prior to training start (with a fee) |
| Completion Deadline | 18 months | January 31, 2024 |
| Lead Teacher(s) and Credentials | Brett Larkin E-RYT 200, RPYT, YACEP | Christopher Grant RYT 500; Daniela Hess RYT 500; Jeannie O'Neill E-RYT 500 |
| Print Manual Included | Yes | No |
| Synchronous Completion with Other Students | Yes | No |
| Max Call Size | 45 for live calls; 6-10 for study groups | None |
| Individualized Posture Feedback | Built-in | On request |
| Tuition Includes All Reading Materials | No (~$75 extra) | No (3-4 books required to purchase) |
| Year Established | 2015 | 2017 |
| Price | $2850 | $1099 |
Uplifted Yoga Academy: An Overview
Developed by an online-yoga-business maven, Uplifted Yoga Academy has been offering virtual yoga teacher trainings since 2015. The students who come to Uplifted want structure and support towards graduation, lots of interaction with the lead trainer, and the ability to build a sustainable career teaching yoga. Uplifted tends to be less for the casual yogi who just wants to learn a bit more about yoga, and more for the student who wants to invest in a comprehensive curriculum that covers everything from embodying yogic philosophy to yoga business so that they can confidently share yoga with the world. Students love the organized and accessible content and the personability and generosity of the inspiring lead trainer.
3 Key Features of Uplifted Yoga 200-Hour YTT
The Uplifted training is known for their one-of-a-kind format that combines the best aspects of virtual and in-person trainings: being both self-paced while having structured and regular live interaction with a consistent group. Upon registration, students immediately get access to all the material primarily in the form of digestible, less-than-30-minute videos. Then the multiple live weekly "Mastery & Implementation" calls cover specific topics as opposed to being Q&A sessions for students who are all at different points in the curriculum as is the case with most online courses.
Other things that set the Uplifted program apart include:
Limited group size.

The Uplifted school caps their enrollment so that live calls are maxed at 45 students and study groups are 6-10 so that you get more one-on-one time with trainers and peers.

Synchronous completion with other students.

The Uplifted YTT features a cohort start, which means you're not alone on your journey but get to sharpen your yoga skills along with a consistent group—just like a live training! And the bonus is that if you do end up needing more time (AKA "life happens"), then you have 18 months to complete the course.

High graduation rate.

Uplifted Yoga Academy has a 96% graduation rate! Most schools don't seem to track this statistic, but with Uplifted's years of experience and time spent honing their best practices, they wanted the data to see how they're doing and it's the highest percentage you'll find for a fully online training. Their cohort and hybrid live/pre-recorded model, plus the lead trainer's personal promise to help you get to graduation mean, when you sign up for the Uplifted program, you WILL become a certified yoga teacher—woot!
Fall in love with my 200-Hour teacher training or …

X
Experience 3 Training Videos from Inside My 200-Hour Online YTT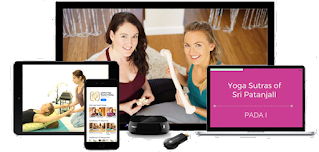 Pros and Cons of Uplifted Yoga 200-Hour YTT
Pros
More one-to-one support
Connection with your cohort
Paved path to graduation
Cons
You can't hide in small group calls
Limited start dates
Might not be for those who aren't ready to get certified
Uplifted Yoga 200-Hour YTT Pricing
As you probably noticed, the Uplifted certification course is not cheap and is one of the higher cost online trainings out there. What you're paying for with this certification is the "high-touch" format that walks you through the curriculum and gives you personalized feedback, unparalleled yoga business education, and ample access to the lead and other trainers that have extensive expertise in the business and practice of yoga as well as with leading online trainings.
Example payment plan:

$712.50 up front then $712.50/month for 3 months
Yoga Farm Ithaca: An Overview
Yoga Farm Ithaca is known as the ''most 'in-person' online training" and is a non-profit, charitable 501c3 organization with a mission to reduce the epidemics of anxiety, depression, and loneliness through spreading yoga. Students appreciate the welcoming vibes, the emphasis on self awareness and inner work, the support in embedding yoga into life off the mat, and the teachers that embody yogic philosophy.
Note: Yoga Farm Ithaca offers three different online 200-hour certifications and this post will discuss the Radiant Warrior™ Trauma Informed Hatha Yoga, Vinyasa Yoga and Mindfulness training as it best compares with the Uplifted Online 200-Hour Yoga Teacher Training.
3 Key Features of Yoga Farm Ithaca's 200-Hour YTT
A stand-out quality of the Yoga Farm Ithaca school is their passion for helping students live better through yoga. They support trainees in using yoga to navigate personal challenges, gain clarity, improve their relationships, and lead more purposeful, joyful lives.
Three more distinctive elements of Yoga Farm Ithaca's Radiant Warrior™ 200-hour program are:
Low cost.

Yoga Farm Ithaca makes yoga teacher training accessible and inclusive by offering an early bird discount, a "join with a friend" discount, and a "community" discount for educators and those from marginalized populations or receiving financial assistance so more people have the ability to deepen their practice.

Fully self-paced.

With the Yoga Farm Ithaca training you start with a cohort group and from there you get to go at your own pace! When you attend any of the 20+ live weekly calls, you can get questions answered for where you are in the curriculum.

Refundable before training start.

The option to get a full refund minus a small admin fee before the training starts lets you relax knowing that if something comes up that prevents you from participating in the program, the financial loss is small.
Pros and Cons of Yoga Farm Ithaca's 200-Hour YTT
Pros
Lower price point
Go at your own pace
Limited refund
Cons
Less incentive to graduate
No structure in live calls
Refund only prior to training start
Yoga Farm Ithaca's 200-Hour YTT Pricing
The Yoga Farm Ithaca online 200-hour training falls in the middle of the yoga teacher certification cost spectrum. Behind this price is that it is a sort of "medium-touch" course where the cohort model and high number of live call options provide more support than you'll typically find with low cost trainings (<$500).
Example payment plan: $219/month for 6 months
So Which Is Better: Uplifted or Yoga Farm Ithaca?
If you're looking for a mid-range training in terms of both price and interactivity with an emphasis on personal growth, then the Yoga Farm Ithaca online 200-hour Radiant Warrior™ training could suit you well.
If you're seeking a highly interactive program with a comprehensive curriculum and lots of business training, Uplifted Yoga Academy might be the school for you.
I hope that was helpful, and until next time, keep practicing!
Next Steps
Check out my YouTube channel and find some yoga classes that you can try out for yourself!
Attend a 200 YTT info session to see what else you'll learn in my online teacher training.
X
Experience 3 Training Videos from Inside My 200-Hour Online YTT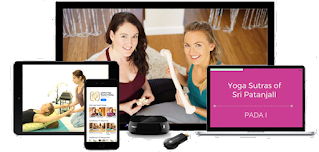 YOU MIGHT ALSO LIKE