Gosh, doesn't it feel good?
To finally decide to follow your bliss (or borderline obsession LOL) and decide to take your practice to the next level?
I'm so excited for you as a 200-hour training will absolutely change your life! (If you're still a bit confused by all this 200-, 300-, 500-hour jargon, you can head here for some clarity.)
Now, while I personally think all teacher trainings are transformative because yoga is a transformative practice, your personal transformation and potentially your career, will of course be impacted by the training you choose, and so it's important to pick a training that's a great fit for you.
That's why I'm sharing this post that will help you get to know two specific online trainings: Akasha Yoga Academy and Uplifted Yoga Academy.
Akasha Yoga Academy shares traditional, breath-based Hatha yoga rooted in Asia and aims to help you understand who you are on a spiritual level.
The Uplifted YTT helps you live your best life through embodying yogic philosophy and to make a viable career out of teaching yoga.
The rest of this post will cover why online training can be a great option, the pros and cons of each program, and a quick reference, side-by-side chart of key training aspects, all based on the schools' available content and reviews from verified students on the Yoga Alliance website.
Let's get to it!
Why Choose Online Yoga Teacher Training?
Over the last few years, many of us have been surprised to discover that doing things online can be fabulous!
And while there's no one right choice for everyone, an online yoga teacher training could be a great choice for you if:
You like to go at your own pace.

We all learn best at different speeds and yet in-person trainings have to go at the pace that best accommodates the whole group. Virtual content gives you the freedom to move quickly or slowly through the material as you choose.

You have a full schedule and still want to train.

Students coming to online training are typically thrilled because they've wanted to train for years but haven't been able to fit a YTT into their lives. If taking 3+ hours off away from your job or tribe is tough, let alone 3+ weeks, that's no problem! Online certifications let you do you AND become a yoga teacher too.

You're interested in teaching from home.

If you're embracing this digital age we're in, being on the receiving end of a virtual program will help you be able to teach online. Some online trainings also include modules on teaching online in their curriculum.

You want a good deal.

Cost can be a barrier to becoming a certified yoga teacher, especially when we add in the flights, transportation, room and board, and taking time off from work that come with destination trainings. Even local in-person trainings might require us to pay for things like childcare and parking. If you're interested in making the cost of training more manageable, online programs are a great way to go.
The Stack Up: Uplifted Yoga vs. Akasha Yoga Academy 200-Hour Yoga Teacher Training
| | Uplifted | Akasha Yoga Academy |
| --- | --- | --- |
| Lifetime Access to Course Materials | Yes | Yes |
| Curriculum Includes Business Training | Yes | Yes |
| Hours of Business Training | 10+ | 4+ |
| Graduation Rate | 96% | Not available |
| Study Model | Cohort, hybrid live/ pre-recorded | Fully self-paced |
| Payment Plans Available | Yes | Yes |
| Refund Policy | Non-refundable | Non-refundable |
| Completion Deadline | 18 months | Within 1 year of purchase |
| Lead Teacher(s) and Credentials  | Brett Larkin E-RYT 200, RPYT, YACEP | Burkhard Langemann E-RYT 500, YACEP; Kirsten Reiss E-RYT 500, YACEP; Devdas E-RYT 500, YACEP |
| Print Manual Included | Yes | No |
| Synchronous Completion with Other Students | Yes | No |
| Tuition Includes All Reading Materials | No (~$70 extra) | Yes |
| Year Established | 2015 | 2012 |
| Price | $2850 | $1700 |
| Yoga Alliance Overall School Rating | 4.83 (459 reviews) | 4.91 (160 reviews) |
| Years Doing Online Trainings | 7 | 3 |
| Required Attendance of A Weekly Live Call | Yes | Yes |
| Live Practice Teaching  | Yes | No |
| Number of Live Weekly Calls | 3 | 14 |
| Content of Live Calls | Follows curriculum | Q&A or asana practice |
| Student Enrollment Cap | Yes | No |
Uplifted Yoga Academy: An Overview
The Uplifted Yoga Academy's online 200-hour training is a high-touch, all-round course with an emphasis on personal transformation and yoga business created by mom and successful yogipreneur, Brett Larkin. It's been Brett's personal aim since starting to offer online trainings in 2015 to merge the best of in-person and online trainings. Hence this school being known for providing the intimate, interactive, community-based, and transformative qualities of in-person trainings PLUS the convenience and flexibility of online programs.
Yoga Alliance student reviews speak about loving Uplifted's detailed and thorough content, the high quality materials, learning with a cohort group, the safe environment for growth, the approachability and encouragement of the teaching team, having ample time with the lead trainer, and feeling confident to teach yoga after graduation.
3 Key Features of Uplifted Yoga 200-Hour YTT
While an online YTT could easily be tossed into that pile of virtual courses you've purchased in the last few years where it will sit, unfinished, collecting dust and dying a slow digital death along with 85% of online courses purchased…Uplifted's founder is determined not to let that happen with this certification. Her commitment to help get you to graduation has led to Uplifted having the highest graduation rate on the market—96%!
In addition to being able to trust you'll graduate, other unique aspects of this training are:
Live practice teaching.

Online yoga teacher trainings tend to have you upload a video of yourself teaching, if they evaluate your teaching at all. Uplifted realizes there's nothing that prepares you to teach live like teaching live! They are one of the few, if not the only, online YTT to ensure that you practice just that. That's why students who graduate from this program feel confident teaching right away as they've gotten to work through those very normal live-teaching-nerves!

Real classroom feel.

Most fully self-paced online YTTs have ongoing enrollment with no structure for the live calls. This means when you join a live call it is a different group and number of students each time and the content varies. The Uplifted program gives you a real classroom feel as they have a cohort start and cap their student enrollment to guarantee you get lots of individual attention and get to bond with a consistent group of fellow students and progress through the material together.

Boss business training. While there are many things that set the Uplifted 200-hour YTT apart, their 10+ hours of business training is truly unparalleled. Most YTTs hardly touch on the business of yoga while Uplifted includes the expertise of Brett Larkin herself who created an award winning YouTube channel and one of the first online trainings, plus experts in marketing and yoga insurance. Students also get to learn about everything from social media and spirituality, to yoga retreats and branding, so they graduate ready to rock their particular flavor of yoga biz.
Fall in love with my 200-Hour teacher training or …

X
Experience 3 Training Videos from Inside My 200-Hour Online YTT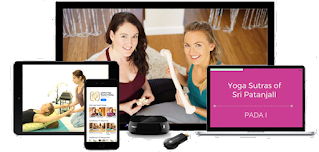 Pros and Cons of Uplifted Yoga 200-Hour YTT
Pros
Practice teaching live and get real-time feedback

Real classroom feel

Be confident in being your own boss
Cons
Can't "hide" with live practice teaching

Could be too structured for some

Too much business for those who don't want to teach
Uplifted Yoga 200-Hour YTT Pricing
If the cost of the Uplifted training gave you sticker shock, I get it! The relatively high cost of this course compared with other online YTTs comes from Uplifted's confidence in the value of their program that's been refined, tested, and proven over seven years. Between the expertise, high-level of feedback and interaction, streamlined process to (nearly) guarantee that you graduate, and well beyond business 101 training, the Uplifted team knows their program's worth.
Example payment plan:

$712.50 up front then $712.50/month for 3 months
Akasha Yoga Academy: An Overview
Akasha Yoga Academy is known for its authentic teachings from dedicated lead trainers who have been practicing full-time and based in Asia for 15 years, plus a supporting trainer that's been practicing yoga for 35 years. They share a traditional Hatha yoga practice and want to help you use self-knowledge and yoga philosophy in your daily life to overcome doubt and fear so you can live from your heart and step into your potential with passion and purpose.
Student reviews praise the life changing self-work incorporated into the program, the down-to-earth teachers filled with love and joy for the present moment, the high level of support, having a personal mentor, daily interactive Zoom calls, and the deep serious content being contrasted with fun.
3 Key Features of Akasha Yoga Academy's 200-Hour YTT
A standout element of the Akasha yoga course is the personalized training schedule. When you sign-up with Akasha Yoga Academy, a team member helps you take a realistic look at when you want to graduate by, how many hours per week you can dedicate, whether you prefer to study small amounts everyday or in intensive periods, etc., and then shares a suggested schedule to help you flow smoothly and efficiently through the training in 1-12 months depending on your needs.
Other notable features of the Akasha online program include:
Years of experience with in-person training.

Akasha Yoga Academy has been certifying teacher trainers since 2012. They bring their in-person expertise into their online training so you can benefit from their years of experience without going to Bali.

Lots of live calls.

With two live Zoom calls everyday, the Akasha online YTT has one of the highest numbers of live weekly calls on the market. This means that nearly as soon as you have a question you have a chance to hop on a call and get it answered and can interact and practice as much as you want!

Low cost.

With a mid-range price point and frequent discounts, the Akasha Yoga teacher training reduces the financial barrier to deepening your practice and becoming a certified yoga instructor.
Pros and Cons of Akasha Yoga Academy's 200-Hour YTT
Pros
Experience leading YTTs

Abundant live calls

Affordable
Cons
Less experience with online training

Live call topics are variable

Less motivation to graduation
Akasha Yoga Academy 200-Hour YTT Pricing
Akasha Yoga Academy sits in the middle of the spectrum in terms of pricing along with a handful of other online YTTs. This mid-range cost comes from this program's mix of high-value elements such as Akasha's years of experience with online training, 14 weekly live calls, and mentorship program, and the lower-touch aspect of a fully-self paced format without a cohort group or structured live calls.
Example Payment Plan:

$600/month for 3 months
So Which Is Better: Uplifted or Akasha Yoga Academy?
If you're most interested in yoga's traditional spiritual roots, want to study with teachers steeped in the Asian tradition, and seek a medium-touch and cost program, Akasha Yoga Academy could be a fantastic fit.
If you're curious about embodying yoga's ancient teachings while applying them to your modern life and want support in becoming your own boss, Uplifted might be the way to go.
Selecting a training that feels like a YES for you is a huge step in this journey! You can also head here for other ways to start preparing for this amazing adventure!
Next Steps
Check out my YouTube channel and find some yoga classes that you can try out for yourself!
Attend a 200 YTT info session to see what else you'll learn in my online teacher training.
X
Experience 3 Training Videos from Inside My 200-Hour Online YTT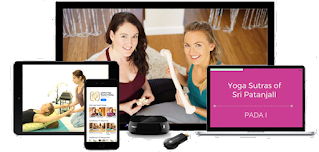 YOU MIGHT ALSO LIKE
X
Experience 3 Training Videos from Inside My 200-Hour Online YTT