Have you ever thought about signing up for a Yoga Teacher Training (YTT) course, but just didn't know where to start? What is the difference between all of them?
I didn't know where to start on my yoga teacher training journey. I felt so confused when I first started looking into online yoga teacher training courses. I spent a lot of time trying to figure out what it all meant and which course would be best for my personal circumstances.
Let's look at the different Uplifted yoga teacher training courses, what order is best to take them in, what they involve, and other alternatives besides yoga teacher certifications.
Ready to dive in with me? Let's go!
Uplifted's Yoga Teacher Training Courses
Uplifted Yoga offers a wide variety of premiere online yoga courses for personal development, and several different online yoga teacher training (YTT) . They're all transformational!
Uplifted Yoga offers three types of yoga teacher training certification:
I needed to find an online yoga training because of my work schedule, and at the time, Uplifted offered the only truly online yoga teacher training. Uplifted has been offering online yoga teacher training since 2015, years before everyone else went online – it's the one and only original!
The 200-hour and 300-hour YTT courses cover styles of yoga that most people normally think of when going to a typical yoga class, including physical movement on a mat, breathwork, and meditation.
The Kundalini YTT course is more esoteric and spiritually oriented, and only covers the Kundalini style of yoga.
We'll clarify the differences between each course, but first let's go over what they have in common:
All are Yoga Alliance certified

All are taught by trauma-informed instructors, and the 300-hour and Kundalini YTT courses have dedicated modules on teaching trauma-informed yoga.

All include a pre-recorded component, a detailed manual/workbook, and approximately 4 months of interactive live calls, which are the heart of the trainings.

A module on teaching yoga to children is covered in the 300-hour Hatha/Vinyasa and the 200-hour Kundalini courses.

All are offered online, with encouragement and accountability with the same cohort of peers throughout the length of training. You will progress with the same group of students each week of your YTT journey.

All courses have lifetime access to the course content and recordings of the live calls.

Uplifted 200-hour and 300-hour YTTs cover the Hatha/Vinyasa yoga traditions, as well as modules on the fascia system and Restorative, Prenatal, and Yin yoga.

Uplifted 200-hour and 300-hour YTT courses feature world-renown experts and authors. This is one of the many things that makes Uplifted YTT unique and exceptional. (What Makes Uplifted YTT Different)

Kundalini University YTT is taught by Brett and Guru Singh, who have over 50 years of Kundalini yoga experience and teaching. He is an artist, published author and musician.
Phew! That's a lot to take in. So what does this all mean? How do I know what path to take?
Let's break it down, then look at some different scenarios and paths:
What's in the 200-Hour Yoga teacher training course?
Uplifted 200-hour YTT is the best possible foundation for both your personal yoga practice and for learning how to teach yoga. It provides an understanding of how to better manage your body and your brain through yoga, and how to get more out of your time on the mat. It's the perfect place to learn poses for injuries or your unique personality, and how to teach that to others.
This course provides a baseline of yogic philosophy and knowledge, the yoga sutras, pranayama (breathwork), and meditation. The detailed pose reviews and class sequencing are the building blocks to many styles of yoga. It provides a strong anatomical foundation for yoga poses (asana) with Kristin Leal, author and master anatomist.
The primary styles of yoga covered are Hatha yoga and Vinyasa yoga, with modules on Yin Yoga, Restorative Yoga, and Prenatal Yoga as well. It presents teaching methodology that can be used in a huge variety of yoga styles.
Guest teachers include:
Sahara Rose, best-selling Ayurveda author

Tom Myers, author and myofascial expert

Kassandra Reinhardt, Yin Yoga E-RYT 500

Kelly Mchugh, marketing expert

Laura Binczak, yoga insurance specialist
Pre-Requisites
A solid personal yoga practice is required. Ideally, this is a daily practice before this yoga instructor training even begins. This is a full 200-hour level yoga instructor training and no prior training is required. This training course is for yogis who aspire to become a registered yoga teacher.
Program Requirements
Watch all pre-recorded content and complete the manual/workbook.

Commit to attend at least one live call per week for the 16 weeks of the training. This ensures accountability and provides encouragement from your peers. This is a guided, real-time experience where your cohort graduates at the same time.

Complete the online multiple-choice test and submit a 20-minute video practicum of you teaching a student (don't worry, we'll guide you through the whole process!)
Yoga Alliance Certification Details
Uplifted Yoga is a Registered Yoga School with Yoga Alliance. Any graduate of Uplifted Yoga Teacher Training who chooses to register with Yoga Alliance will be able to use the initials RYT (Registered Yoga Teacher) with their name. Registering with Yoga Alliance is optional and is up to each person to decide for themselves.
Fall in love with my 200-Hour teacher training or …

X
Experience 3 Training Videos from Inside My 200-Hour Online YTT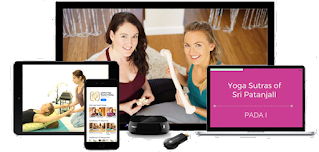 What's in the 300-Hour Yoga teacher training course?
Do you already have a 200-hour YTT certificate and want to take things to the next level? Are you ready to get into serious action around your teaching? Are you an anatomy geek and want to know even more about yoga anatomy than you learned in 200-hour YTT? Do you want to know how to teach yoga online? Do you want to start (or grow) a profitable yoga business? This is the next step on your journey.
The Uplifted 300-hour Yoga Teacher Training program takes yoga education and teaching yoga to the next level. It is also a high-level business mastermind, which is why it's such a great value. And you're getting your 300-hour certification at the same time! There is no other yoga training that includes a more comprehensive business and entrepreneur mastermind module. It's like getting a master's degree in yoga and entrepreneurship at the same time. How-to videos include all the tech instruction and details needed to teach online yoga.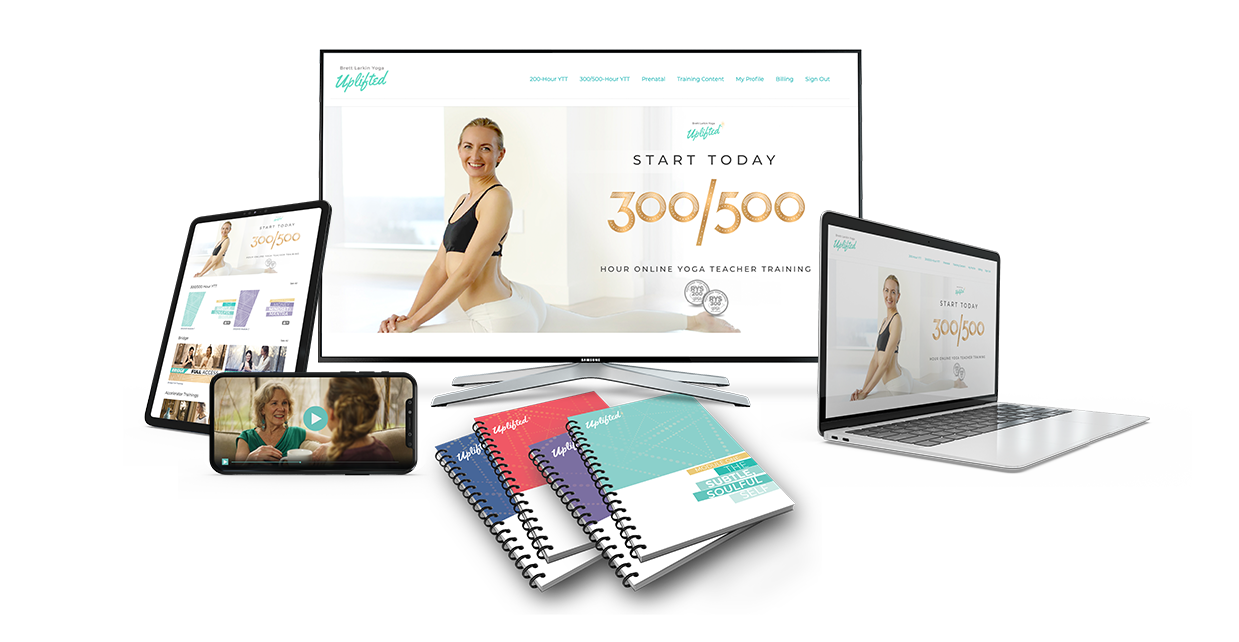 This is the best step after 200-hour YTT for those who really want to deep dive into the fascia system and attend live calls with Kristin Leal, author and master anatomist. It goes deeper into anatomy, fascia, body mechanics, and learning hands-on myofascial release techniques. This is designed to help you take your privates, corporates and retreats to the next level.
There is also an entire module of the Chakra system with pre-recorded content and classes by Anodea Judith Phd, one of the foremost world experts on Chakras. Tantra yoga philosophy is presented by Yogiraj Alan Finger.
Other guest teachers are:
Biomechanics with Danni Pomplun

Mindset coaching with Lauren Handel Zander
Pre-Requisites
Previous completion of a 200-hour YTT program, either through Uplifted Yoga or another registered yoga school.
If your 200-hour YTT is not through Uplifted Yoga, we ask you to email us a photo of your 200-Hour certificate. It does not matter if you never registered it with the Yoga Alliance, as long as your school was a Yoga Alliance approved training.
Bonus Alert! If you join us from another yoga school, you can access all of the Uplifted 200-hour training content at a reduced rate, and receive six 20-hour Yoga Alliance continuing education certificates upon completion. The Uplifted 200-hour content is over 50% discounted when bundled with the 300/500-hour advanced yoga teacher training.
Program Requirements
Like the 200-Hour program, we ask you to commit to be live at the same time each week during the course of the live calls (approximately 4 months) so you can experience the live coaching, mastermind groups, and mentorship that are the basis of this program. The live calls with your cohort ensure accountability and give encouragement from your peers.

At the end of training, submit a 20-minute video teaching practicum of a themed yoga class using the material presented in training (details and full instructions will be provided!)

Complete all journaling exercises, quizzes, and homework in the manual
Submit a live website with a sales offer for review
Complete a 40-day practice
Complete an ethical statement
Teach 5 yoga classes (2 must be privates) paid for by your own students
This course requires you to get into action!!
Yoga Alliance Certification Details
Uplifted is a Registered Yoga School with Yoga Alliance. Graduates are eligible to register with Yoga Alliance at the 300-Hour level. Once 100 hours of teaching experience is logged with Yoga Alliance, you are eligible to pay Yoga Alliance for the 500-Hour RYT designation. As with the 200-hour YTT, registration with Yoga Alliance is optional.
For more information: YA Designation Information and Different Levels of Certification.
Fall in love with my 300-Hour teacher training or …
What's in the Kundalini Yoga teacher training course?
The Kundalini University Yoga Teacher Training is more esoteric and focuses more on mental and spiritual transformation. Kundalini is the ONLY yoga method covered in this training. If you know that you exclusively want to teach Kundalini yoga, this would be the best path for you. Right now we do not have a 300-hr Kundalini program, but we have a bridge program for those who are already certified Kundalini teachers from another school to take our 200-hour program for continuing education credit.
If you love Kundalini and want to learn more, but aren't ready to commit to the 200 hour Kundalini training, the 30-hour Kundalini Demystified course is a wonderful option paired with the 200hr Hatha/Vinyasa course. More information in the next section.
Pre-Requisites
Everyone comes to Kundalini Yoga with a different background and experience. We welcome students of all levels and abilities who are passionate about Kundalini Yoga.
Already holding a 200-hour or 300-hour YTT certificate in another style of yoga is not required to enroll in the Kundalini YTT program.
If you've already completed Uplifted 200-hour and/or 300-hour, Kundalini YTT is a natural next step for those who want to take both their yoga practice and spiritual practice deeper. It builds on the subtle body principles and moving Kundalini energy.
If you already have a daily practice of asana, mantra, and pranayama and you want to experience more healing or learn more about authentic yogic philosophy, then this is an amazing opportunity to do so.
Program Requirements
Be live on one call per week for the 4-month duration of the live calls

Teach and participate in live practice teaching sessions in your small group

Write a lesson plan for a 2-hour Beginner Kundalini workshop

Submit a 20-minute video practicum of you teaching a Kundalini yoga class (all details will be provided)

Complete an online multiple choice examination (study guide and study sessions are provided)

Complete a 40-day personal Kundalini practice
Yoga Alliance Certification Details
Both Uplifted and Kundalini University are Registered Yoga Schools with Yoga Alliance. Graduates of Kundalini University YTT are able to register for the 200-Hour RYT credential through Yoga Alliance.
What's in the 30-Hour Kundalini Yoga course?
Have you tried Kundalini yoga and want to learn more about the WHY and HOW of it? What makes it so powerful?
The 30-hour Kundalini Demystified course is not a teacher certification, but a beautiful explanation and practice of the fundamentals of Kundalini yoga for those who want to learn more and deepen their personal practice. We cover what makes this practice so powerful, what the origins of the practice are, how it works with your energy, and WHY it works.
It provides tutorials on the fundamental poses, and breaks down the mantras, breathing techniques, and bandhas. It covers not only the kriyas that you might already be familiar with, but the philosophy and energy behind them. This will take your personal Kundalini practice to a new level! This course is self-paced with no live component.
Pre-Requisites
None other than a desire to learn in depth about Kundalini yoga! This 30-hour course sets the stage to go deeper at a later date with the full Kundalini University YTT program. This course does not qualify you to register as a Kundalini yoga teacher, but it's perfect for those who want to deepen their personal Kundalini practice, or who are interested in the Kundalini YTT but aren't ready to commit to the full 200-hour course yet. The Teacher's Edition includes a $400 coupon for the 200-hour Kundalini YTT.
If you've already completed the 200-Hour Kundalini YTT Program: In this course Brett shares her own insights and takeaways from Guru Singh's teachings. The asana portion is the same as what is included in the KU YTT program, but there are 11+ additional presentations and many unique Kundalini classes that are different than the KU YTT. These are available ONLY in this course. As a KU YTT-200 or Bridge alumni, you can take the Teacher's Edition for just $195.
Yoga Alliance Certification Details – This course qualifies for 20 hours of continuing education with Yoga Alliance.
(Book a one-on-one call HERE or email info@upliftedyoga.com for information on bundling this with the 200-hour Hatha/Vinyasa YTT course).
What is Yoga for Self Mastery?
You love yoga, and you know that it can be life-changing, but you're not quite sure HOW to take what you love on the mat and apply it to every aspect of your life off the mat — your relationships, your parenting, your career, yourself!
Yoga philosophy is an incredibly powerful tool that can be used across all aspects of our lives. This course presents 3 simple yet profound steps that can be used day-to-day to improve your personal life, de-stress, feel fulfilled, heal emotionally, and be your true self. It's all about taking action in your life and using the wisdom of yoga to transform and thrive.
This course does not cover anatomy, yoga poses, alignment, or how to teach yoga. It's intended for those who want to learn how to apply yogic tools to work through personal problems and thrive on a personal level. If you have an injury or physical issues, the 200-hour YTT would be your best bet (How YTT can help you cope with a chronic condition).
Pre-Requisites
This course is about personal transformation and learning to live your yoga off the mat. Every. Single. Day. It is a deep dive into 3 yogic skills that will bring yoga into action in all aspects of your life. All that is required is your willingness to revolutionize your life and your relationships. It is not a Yoga Teacher Training course, but a personal transformation course.
Program Requirements
A desire to transform your life, personalize your yoga practice, and learn skills to help you live an empowered life. It's all about having a willingness to learn yogic skills to work through mental or emotional blocks. This program includes both a pre-recorded component that ties directly with a transformation workbook, and 6 interactive weekly live calls.
A discount code is available for Uplifted members and Uplifted Yoga Teacher Training graduates – email in for deets!
Yoga Alliance Certification Details
The YSM course counts for 24 hours of Yoga Alliance continuing education hours.
Talk to an advisor to find out about the transformative bundle that includes both the Yoga For Self Mastery course AND 200-hour Yoga Teacher Training!!
What Yoga Alliance Continuing Education Courses are there?
For yoga teachers who choose to register with Yoga Alliance, continuing education is required. (Learn more information about how to log your continuing education hours.) If you are a certified yoga instructor who chooses not to register with Yoga alliance, you would use the initials CYT instead of RYT, which is trademarked by Yoga Alliance.
Most of the Uplifted Academy courses within the Uplifted Membership count toward Yoga Alliance continuing education. These are part of the Uplifted membership – what a great way to deepen your knowledge and practice of yoga!
Separate courses for each of the individual chakras – 5 hours each

Yoga Nidra course – 6 hours

The 8 Limbs course – 8 hours

The Yamas course – 7 hours
The following stand-alone courses (not included in the Uplifted membership) also earn credits for continuing education:
The History of Yoga is a self-paced journey through yoga history. It explains the origins of yoga from thousands of years ago, how it has evolved over time, through to our current time. This counts for 5 hours of continuing education credits.
Pregnant and Powerful– The teacher's edition counts for 10 hours of continuing education credits. (See more details about this course below.)
Yoga for Self Mastery – 24 continuing education credits (see details for YSM above).
If you want to take these courses before completing 200 YTT, they don't count for continuing education because your 200hr certification is not on file yet with Yoga Alliance. Yoga teachers can log the hours if they re-watch the material AFTER 200hr YTT.
The Uplifted Business Launchpad is perfect for those who are teaching yoga and want to up-level their career with a business blueprint, templates and how-to content. It does not count toward continuing education credits.
Uplifted's Prenatal Courses
Pregnancy is a time of extraordinary transformation – physically, mentally, and spiritually. This course is a must for anyone who loves yoga and wants to use this magical time to step into your full power as a mother. It includes working with intuition, practicing the physical part of yoga in a safe way, stretching, mindset work, affirmations, and mantras — all to feel empowered. It is for all ability levels.
Pre-Requisites
Anyone who wants to have a beautiful, empowered pregnancy and birth and beyond!
Program Requirements
If you're already a yoga teacher, the Teacher's Edition will enhance your prenatal teaching. It includes many additional resources specifically for teaching prenatal yoga.
Yoga Alliance Certification Details
The Pregnant and Powerful Teacher's Edition counts for 10 hours of continuing education, but not the Yoga Alliance RYPT (Registered Prenatal Yoga Teacher) credential, which requires 85 hours.
How to Know Which Yoga Course Is Right For You?
We've covered a lot of information here, and there are so many choices!!
It can be confusing choosing what path to take, and which course is right for your yoga journey. The articles below will help to further clarify and answer questions about what Yoga Teacher Trainings are, how to find one that best suits your needs, and what the different levels of certification are:
Take my quiz to find out which YTT is best for you:
What's The Best Progression Path?
There is a LOT of information here, yikes! There are so many different courses and paths to choose from. Each of our yoga journeys is unique, and we all come to yoga for different reasons.
The main question to consider is if you want to focus on the body or if you want to start with the mind.
If you're interested in the body and possibly teaching yoga, the 200-hour Yoga Teacher Training is the biggest rock, the foundation for everything else. It teaches us how to manage our body and our brain/nervous system.
If you're more interested in working with the mind and on personal relationships and emotions, Yoga For Self Mastery is the place to start.
If you know you want MORE from yoga, but aren't sure where to begin, this QUIZ will help you figure out what direction to take.
Let's look at a couple of different scenarios that might help you choose:
Scenario 1:
Tina enjoys going to classes at her local yoga studio, but she has some physical injuries and a chronic medical condition. She knows yoga is good for her, but isn't quite sure why. She would like to learn more about how her body and mind work together in dealing with these issues, and how to use yoga to empower her even with her conditions. She's not sure if she wants to be a yoga teacher, but she's open to the possibility of it someday.
She's looked at several yoga schools and wants an online course. She chooses to invest in her well-being and take charge of her physical and mental health, knowing that the two go hand-in-hand. She signs up for the 200-hour YTT program + Yoga For Self Mastery bundle. She knows that even if she never teaches yoga, her health is important and yoga teacher training is the path for her.
Scenario 2:
John loves practicing many styles of yoga, and he is a deeply spiritual person. He wants to learn more about yoga, its philosophy, and the connections between spirit, mind and body. Along with Hatha and Vinyasa yoga, he has a regular Kundalini yoga practice. He would like to learn more about all of them. After researching the many options available, he opts for taking the 200-hour YTT program bundled with the 30-hour Kundalini Demystified course. If he chooses to continue on with the 200-hour Kundalini University YTT in the future, the Kundalini Demystified course will be a wonderful foundation for that.
Scenario 3:
Megan is a 200-hour certified yoga teacher, and teaches a couple of classes a week at local yoga studios. She wants to take her teaching to a new level, and build a career as an online yoga teacher, but she isn't quite sure how to do that. She's researched many business mastermind programs, but wants something geared specifically toward building her own yoga business. She also wants to learn more about anatomy and how to give her yoga students a more hands-on and personalized experience. She chooses to sign up for the Uplifted 300-hour YTT program because it's both an advanced yoga training AND a business mastermind course with live coaching in one.
What If I'm Not Ready Yet?
If you're not ready to commit to a Yoga Teacher Training course, but still want to learn more about yoga and deepen your personal yoga practice, the Uplifted Membership is an excellent way to make a deeper personal connection to yoga.
The membership includes a huge variety of yoga classes. There are also courses on yoga philosophy, the chakra system, many different styles of yoga, breathwork, and meditation. They are a beautiful way to dive further into the practice of yoga both on and off the mat. The monthly training plans guide you through a variety of styles of yoga, so there is something for everyone. Many of these Uplifted courses qualify for continuing education credits through Yoga Alliance for those who are registered yoga teachers. Podcasts, meditations, and affirmations are also included in the membership.
Are you ready to take the next step in your yoga journey? We would love to have you reach out to one of our Uplifted advisors if you have further questions or want to consider one of the bundles mentioned above.
Next Steps
Check out my YouTube channel and find some yoga classes that you can try out for yourself!
Download my Yoga Calendars for an at-home practice, guided by me on YouTube!
Join Uplifted for exclusive content that you can access right from the app. Take a deep dive into your practice with me this year!
About The Author | Andrea
Andrea, E-RYT and RYT-500, teaches open and private classes featuring Yoga For Real People and shares her wisdom virtually as an Uplifted Yoga Mentor. She is a graduate of Uplifted 200-hour and 300-hour YTTs, and Kundalini University YTT. She has completed certifications in Accessible Yoga, Chair Yoga, Yin Yoga, and TRX Yoga. She is also a certified Kripalu Mindful Outdoor Guide.
An incurable traveler, hiker, adventurer, backpacker, and kayaker, Andrea is on a quest to share the things that fill her heart up with the world, and to help others with physical and chronic conditions reach their full potential through yoga. You can follow her hiking travels on Blues Boots.
X
Experience 3 Training Videos from Inside My 200-Hour Online YTT