Feeling a small yet present tension in your chest?
Have the sense that your brain might just actually explode?
You most likely have what I call: YTT Search Overload.
Don't worry, it's a fully normal part of the process!
I know you thought the hardest part was deciding to do a training at all and then figuring out which training you should be doing—which it mostly is and CONGRATS btw!
And now you feel like Goldilocks on the hunt for the "just right" training. The one that calls to you and lights you up AND ticks all those boxes around scheduling, pricing, structure, format, and vibes…and it's a little tougher than you thought it would be?
I totally feel you!
To help you clarify what "just right" means for you and find your potential right-fit training, this post will provide a head-to-head comparison of just two schools so you can break this overwhelming task down into smaller steps.
I'll share an overview of each school, a side-by-side look at important training points, and the pros and cons and pricing of each one using their websites and verified Yoga Alliance student reviews.
The online 200-hour yoga teacher trainings up for comparison are Drishti Beats and Uplifted Yoga Academy.
Drishti Beats was founded by two fitness and wellness educators and shares an upbeat, music-filled, and thorough yoga education that helps you step into your own strengths as a person and potential yoga teacher.
Uplifted Yoga Academy was founded by a pioneer in the online yoga world who wants to help you become the best version of yourself through yoga and to be able to share it with the world sustainably.
Why Choose Online Yoga Teacher Training?
Online training is awesome. I know you'll have to experience it to believe it, but I'll quickly give you just a few of the reasons why:
Make your own schedule.

Online trainings provide the utmost in flexibility since (typically) as soon as you register you can start right away and work through the material as it aligns for you.

Maintain your life.

If you're a busy person with people depending on you, it's not so easy to just say, "Peace out!" to your peeps for several weeks at a time…or even several hours depending on your situation. Online courses make yoga teacher training accessible for the busy folks that just can't carve large chunks of time out of their schedules.

Save money.

There are lots of "hidden" costs that can come with both immersive and extended in-person trainings that you get to save when you study online such as childcare, parking, taking time off from work, transportation, flights, and meals. So if your budget is as snug as your schedule, online YTTs have gotchu!

Come back to the content.

I'll be honest: trainings give you A LOT of information. I mean, it's yoga school after all! But the thing that's especially great about doing your training online is you don't have to worry about scrambling to take notes or make audio or video recordings as you can simply press pause and rewind as much as you need. It makes taking in all that amazing info an easier and more relaxing experience.
The Stack Up: Uplifted Yoga vs. Drishti Beats 200 Hour Yoga Teacher Training
| | Uplifted | Drishti Beats |
| --- | --- | --- |
| Lifetime Access to Course Materials | Yes | Yes |
| Curriculum Includes Business Training | Yes | Yes |
| Graduation Rate | 96% | Not available |
| Study Model | Cohort, hybrid live/ pre-recorded | Fully self-paced |
| Payment Plans Available | Yes | Yes |
| Refund Policy | Non-refundable | Refundable with 7 days of registration |
| Completion Deadline | 18 months | None |
| Lead Teacher(s) and Credentials | Brett Larkin E-RYT 200, RPYT, YACEP | Lori Lowell E-RYT 500, YACEP; Dr. Jeremy Lowell E-RYT 500, YACEP; Asaf B. Goldfrid E-RYT 500, YACEP; Alysia Lowell E-RYT 200, RYT 500, YACEP; Ariel Lowell E-RYT 200, YACEP |
| Print Manual Included | Yes | No |
| Synchronous Completion with Other Students | Yes | No |
| Tuition Includes All Reading Materials | No (~$75 extra) | No (4 books to purchase) |
| Year Established | 2015 | 2015 |
| Price | $2850 | $1188 |
| Yoga Alliance Overall School Rating | 4.83 (459 reviews) | 4.92 (128 reviews) |
| Years Doing Online Trainings | 7 | 2 |
| Hours of Business Training | 10+ | ~6 |
| Required Attendance of Weekly Live Call | Yes | No |
| Live Practice Teaching | Yes | No |
| Content of Live Calls | Follows curriculum | Varies |
Uplifted Yoga Academy: An Overview
Uplifted Yoga Academy is kinda like the OG of online yoga teacher trainings. In case you're not hip with the 90s slang, OG means "original gangster" and is used to refer to someone who's an authentic and exceptional trailblazer. Uplifted's founder, Brett Larkin, certainly blazed some trails with her award-winning YouTube channel as well as by being one of the first to lead online trainings back in 2015.
Brett wants to save you from the challenges she faced as she carved her own path from struggle to success and that's why this school is known for its unmatched yoga business training (and student's love it!) Uplifted is also all about helping you live your yoga and create your best life. Students appreciate the organized and thorough content that goes far beyond 200-hours, the global like-minded community, the approachable and encouraging staff that is available even after graduation, the one-on-one feedback from the lead trainer, and her generosity in helping them get started with their own classes.
3 Key Features of Uplifted Yoga 200-Hour YTT
Uplifted has developed a proprietary teaching methodology over their years of delivering online yoga teacher trainings. This method includes teaching how to transform beyond the mat, a focus on fascia, creating your own signature meditation, and how to share yoga that's tailored to each unique student.
Three more distinguishing features of the Uplifted program are:
Expertise in online training.

Since the founder had early success in the online yoga space, she began offering online trainings in 2015 before it was "a thing" and everyone thought she was crazy. This has given the Uplifted team a headstart in what's now the "new norm" as they've had years to refine their content, learning platform, delivery format, and proprietary teaching methodology.

Unbeatable business training.

Most YTT students graduate knowing lots about yoga and then struggle to actually feel confident enough to get teaching jobs, market themselves, create a business, and otherwise be able to make a career out of teaching yoga. The Uplifted founder wanted to save you from her own setbacks and share with you exactly how to do these things and break through any personal blocks that are in the way so that teaching yoga can help you live your best life financially too.

Progressively structured calls.

Uplifted's experience has shown them that the best way to help get students to graduation is to walk through the material progressively in each live call—just like you would in a "normal" class. This motivates students to stay on track and having everyone on the same page allows you to go deeper with the material.
Fall in love with my 200-Hour teacher training or …

X
Experience 3 Training Videos from Inside My 200-Hour Online YTT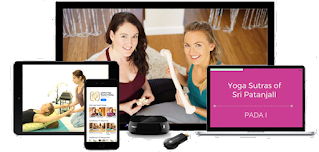 Pros and Cons of Uplifted Yoga 200-Hour YTT
Pros
Online training expertise
Become business savvy
Progressive call structure
Cons
Higher price for expertise
Business training might not interest those who definitely don't want to teach
Might be too much structure for the purely casual learner
Uplifted Yoga 200-Hour YTT Pricing
It takes confidence to price yourself high in any market, as Uplifted has done in the online YTT market where just a few high-price trainings reside. The confidence in their program comes from their years of experience in teaching online as well as in leading online trainings, the high-touch and structured format, access to the lead trainer, support towards graduation, and robust business training.
Example payment plan:

$712.50 up front then $712.50/month for 3 months
Drishti Beats: An Overview
Drishti Beats was founded by Lori and Jeremy Lowell who have over 25 years of experience in fitness and wellness education. This online training program is multimodal and delivers material across various learning modalities (visual, auditory, and kinesthetic) to better help students grasp the information. The Drishti Beats training supports you in embodying your own authentic style with confidence as the lead trainers help you tap into your talents both personally and as a yoga professional.
Trainees appreciate the structured and comprehensive material that is fully self-paced and easy to fit into their busy lives. Students also love the high level of involvement of the lead trainers who go above and beyond and mentor with ample feedback, kindness, and knowledge, and the one-on-one calls included in the program.
3 Key Features of Drishti Beats' 200-Hour YTT
A key element of the Drishti Beats online 200-hour YTT that truly can't be found in any other program is the emphasis on music. As you can tell by the name, Drishti Beats considers music a fundamental part of the yoga experience. They even create their own jams and have a Drishti Beats Yoga and Music festival! If that doesn't clue us in to the community-centered ethos and playful, upbeat vibes of this school, I don't know what does!
Other standout aspects of the Drishti Beats program include:
No completion deadline.

While the lead trainers do suggest completing the training within six months for best results, not having a deadline allows you to study as seriously or casually as you would like.

Refundable.

Being able to change your mind penalty-free within seven days of registration gives you a bit of extra time to feel solid in your training decision.

Cost.

Drishti Beats' frequent discounts and various payment plans make yoga teacher training accessible. Unique to this school is the option to pay as you go and spend $99 per chapter of the training (12 chapters total) so that you can make payment manageable and in your own timing.
Pros and Cons of Drishti Beats' 200-Hour YTT
Pros
No completion pressure
Refund window
Budget-friendly pricing options
Cons
Limited motivation stay on track
Small refund period
Less incentive to graduate
Drishti Beats 200-Hour YTT Pricing
Drishti Beats is a middle range training option in terms of cost as it's a mix of both high- and low-touch points. High-touch points are the mentorship of the lead trainers and four, one-on-one calls included in the tuition. The more low-touch aspects are not having cohort groups or structure in the live calls.
Example 3 Month Payment Plan:

$396/month for 3 months

Example Pay-As-You-Go Payment Plan:

$99/chapter (12 chapters)
So Which Is Better: Uplifted or Drishti Beats?
If you're looking for a moderately interactive and priced program that helps you be more authentically you in addition to learning about yoga, and you love music, the Drishti Beats certification program might be perfect for you.
If you're interested in a highly interactive and experienced school, having a paved path to graduation, and want to be able to earn a good living teaching yoga, the Uplifted YTT could be an excellent choice.
If you're still not sure exactly what you're into, you might want to check out a few more of the top online yoga certification options and keep preparing yourself for the training journey as you hunt for that just-right training!
Next Steps
Check out my YouTube channel and find some yoga classes that you can try out for yourself!
Attend a 200 YTT info session to see what else you'll learn in my online teacher training.
X
Experience 3 Training Videos from Inside My 200-Hour Online YTT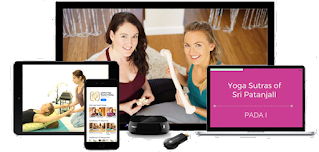 YOU MIGHT ALSO LIKE