Do you feel lost when it comes to social media? You're putting stuff out there, but you don't know if it is affecting your yoga business in a positive way. Perhaps you're running out of content ideas. Or posting, but then terrified about what people will think… so you check your phone constantly for validation. Or maybe you're burned out and posting on multiple social media accounts in the hopes you will reach more potential students.
I feel your pain.
Let's step into a more elevated perspective around your marketing.
How Can I Use Social Media To Grow My Online Yoga Business?
Let's get to the nitty gritty of yoga social media and go over:
What social platform is the best

Tools to start you marketing plan

How to create a social media posting schedule

Samples of social media posts and…

All my Pro Tips!!
Which Social Media Platforms Should You Use?
The right social media platform for you is the one you actually use and enjoy! One platform is not necessarily superior to another. That is relative, and you don't want to overwhelm yourself with trying to post all of your yoga social media on all of the different platforms. That's a recipe for burnout. To start, just work with the one you are passionate about.
If you love Instagram then you focus your attention there. Or if you're obsessed with Pinterest, have fun making gorgeous pins. Follow your passions.
As your business and community of followers grows, you'll make more money and you can hire people to help you with other platforms. Don't spread yourself thin trying to manage a bunch of different social accounts right now. Focus on growing just one in a meaningful way by posting consistently.
Once you have that decided…
Start With These Three Questions
Who:

The million dollar question right here. Who are you solving a problem for? If you're not solving a problem for someone you aren't a business. So, who is your avatar? Your avatar is the person who you are solving the problem for, your ideal client. And if you don't have one, think of a person who is a regular in your classes at the yoga studio or has said they really love the way you teach. This is base-level for the purposes of creating an action plan, but you definitely want to go deeper with your avatar and you can do that in my latest yoga niche post. Once you've read that, come back here!

Where:

Where does your avatar spend most of their time? Where are they practicing yoga? Online, or in a yoga studio? If they're a new breastfeeding mom, maybe they are spending a lot of time scrolling Instagram while they nurse. Perhaps they're seeing a postnatal chiropractor. These would be the places where you want to promote your classes.

What: Again, if we go with the new mom example, what does their google search history look like? Best breast pumps, how to sleep train baby, postnatal anxiety, what is diastasis and how to fix it. This is going to give you ideas on how to promote and make yourself a relevant yoga teacher for this particular student.
Bring this all together to create content and determine how/where you will post it. There are so many ways to work a single idea. Let's keep with this new mom looking up diastasis and how to fix it. How can you turn that into online content ideas? For example:
Blog post with pictures: write this yourself or collaborate with a guest writer, reach out to some local influencers, for your site.

Instagram multi-pic slideshow post

Facebook multi-pic slideshow post(can literally be the same as your Instagram one, or tweak it slightly)

YouTube video: provide a yoga class to work towards healing diastasis

PDF guide(this could be your opt-in for your website)
These are just some examples of how you can create content across multiple platforms. The topic is the same for all of these, the same information and the same solution, it's just adjusted slightly to whichever medium you are working with. Of course you CAN repurpose a post across all of these platforms, but that doesn't mean you SHOULD!!
Again, you want to work with the platform that your ideal client is on. If your ideal client is scrolling through IG while nursing, why waste your time on Linkedin or Twitter?
Side Note: Don't skimp on photos!! Something I wish I'd done earlier in my career is make sure I had more professional photos. You are going to repurpose those photos potentially FOR YEARS, so it'll be worth the investment.
That said, you CAN REUSE your content online. Milk your content for all the money it's worth! Sticking to the diastasis example on Instagram, think of how many different ways you can milk that topic. For example:
Best seated yoga poses to heal diastasis

Best standing yoga poses to heal diastasis

My favorite yoga poses for diastasis

How to do _____ pose with diastasis

Safe asana for diastasis

My diastasis daily routine

5 minute diastasis healing before bed
Do you get what's happening here? We've taken your avatar(ideal yoga client), reached out to her where she spends the most time(Instagram), offered her a solution(yoga for diastasis) AND created over 7 different ways to do that, thus leading her to your yoga program AND created potentially 2 weeks of social content!!!!
Now that you've spent 20 or so minutes mapping this out, I encourage you to batch create all of this content to have an actual social media schedule.
Create a Yoga Social Media Schedule
Having a social media schedule will be a GAME CHANGER!!
Remember: your email list is EVERYTHING! So your email output should be included in this schedule. You want to try and lead your social audience to your site where you can ask for their email address. This is where you are going to promote your yoga classes and make sales.
CONSISTENCY IS KEY!!! Start with a schedule that feels doable. If you go in guns blazing, thinking you're going to post to social twice a day and send out one email a week, you are going to burnout quickly! Try something more like this:
Social posts = 3x a week.

Newsletter = send out two a month.
Again, CONSISTENCY IS KEY!.
Now map this out for the whole month. This is what that will look like:
P = Social media posts
NL = email newsletter
Sample Social Media Schedule
So far we've been talking about marketing posts, but all of the posts on this schedule don't have to be marketing content. As a yoga teacher YOU ARE YOUR BRAND so you want to trickle in some personal stuff. Like you practicing yoga in the morning, a really pretty latte you got at a café, or somewhere fun you went with your kids/friends.
So, your weekly posts could look something like:
Monday – Best seated poses to heal diastasis Instagram carousel
Wednesday – Fun personal post
Friday – Testimonial from a client with results photo
A newsletter every other Saturday/Sunday.
Keep in mind, even if it's a personal share you can still always tie it back to your program. For example, "I just finished my final yoga session with the ladies in my diastasis healing group. Everyone has made such amazing progress and I'm continuing to fill my cup both literally and figuratively" along with the pretty photo of your latte. You can slip in mentions of your programs or testimonials everywhere, and you should! This will make your marketing and content feel more organic and authentic for your audience.
Yoga Social Media Posts Examples
One of the greatest ways to boost your social media platform is with engaging content. This can be tricky because you really never know what people are going to want to engage with, but now that you've built your foundation you've got a pretty good idea what your audience will like. Take for example this post:
I was not expecting this post to get as much engagement as it did. But, seeing as my avatars are all women it makes sense that something like this would really resonate with them. Not only did it perform well because of its topic, but the post itself is clean, clear, concise, and true to my brand, which has a lot to do with self care. This made it easy for my audience to resonate with and understand.
Bonus!! The information from this post directly correlated to this blog post AND this fun reel:
Do you see how I really milked that content? I can even expand on this topic and tweak it slightly for future posts if I want to. Play with your topics to see how many ways you can use them!
Pro Tips For Yoga Teachers: Yoga Social Media
Figure Out Your Buckets
Your buckets are basically the different categories you'll want your posts to fall in. What aesthetic are you going for on your page? If you are marketing to that new mom maybe you want to make sure you include family photos and anecdotes in the body of your posts. That's one bucket. Perhaps you want to include inspirational quotes to let her know she's not alone and inspire her to make change and heal. Funny memes or videos could be another bucket to break up the seriousness of everyday life. Once you've got those buckets filled you'll have a plethora of content to pull from.
Archive
Make sure to archive all of your content. You want to repurpose and reuse as much of your content as you can. Work smart, not hard!! Make sure you are saving everything in a designated space like Google Drive or Dropbox so that you can come back to it and either reuse it or gain inspiration and ideas for new content.
Have a Dedicated Folder
Be organized. Have a dedicated folder for photos, and then organize subfolders within. Same goes for email copy. You can have a running doc for specific types of sales copy or newsletters that are organized by dates and type. This will make your life so much easier. Trust me, I do this in my business and it helps my entire team!
Quarterly Planning
Plan for 3 months at a time. If that sounds overwhelming just do one month at a time. But if you can plan in advance then you can look back and optimize.
My team and I have a meeting every quarter where we look back and see what's working on our social and what's not. If you find that the family pics or videos aren't doing as well as the memes then maybe you shift your schedule for the next month and do a few less family photos and a couple more memes or marketing carousels. The world is constantly evolving, something that worked last year may not work this year. That's why it's a good idea to reflect on past work to move into the future.
Do NOT Buy Prepackaged Content
I recently discussed this on a live call in my 300hr Yoga Teacher Training. It sounds great right? Ready for you content that you can just post and not even have to think about!! Almost too good to be true….BECAUSE IT IS!!!! If you are buying generic content then how on earth is your uniqueness going to come through? How are you going to stand out and reach your ideal client? If you are using other people's content YOU WON'T!! Stick to the action steps above to produce your own content. I promise you once you plan it out and get into a rhythm it's not as overwhelming. If you need more concrete business planning help you can always check out my self paced program, Uplifted Business Launchpad.
Don't Lose Your Mind Over Likes
The internet, especially social media, is fickle. You might have a post go viral one day but then only get 500 views and no comments per post for the next 6 months! And that's okay!!!! As long as you are posting consistently you're going to get your message out there and your ideal client is going to find you. Many people never like or comment, but are watching. And these "lurkers" eventually do drop in and buy.
Don't get caught up in the surface level issues, like how many followers you have vs. your friend. Or that someone you know is advancing faster than you. Come back to your mat and YOUR yoga practice. When you practice yoga and embody the teachings to bring yourself back to center and focus on what really matters you can lead by example.
Release Judgment
Release judgment towards yourself and let go of the idea of trying to get everyone to like you. You want to be polarizing to create a strong brand. People are going to have something negative to say no matter what. Just today someone sent me a message saying I need to wear more clothing! At this point, I just laugh because I know who I am and what I stand for and my tribe supports me. And here's the thing, if you are invoking a REACTION, whether good or bad it means you have a strong voice. That's what is going to draw the right people to you.
Fall in love with my 300-Hour teacher training or …
Reframe & Connect with Other Yoga Teacher Business Owners
Remember: A social network, or social media, is all about sharing and collaborating. It's an opportunity to connect with other people. I like to think of it as the embodiment of femininity with the way information flows and the way people connect and nurture each other. That is why social is a space where caring women (like yoga teachers) shine.
This is going to be challenging, but don't be intimidated. You can't grow without discomfort. The pain of making your website, or sitting down and creating your yoga business plan will bring transformation.
It's totally normal to struggle, but everything is figure-outable.
The internet is an amazing resource and you can connect with people who have been where you are before, or are going through it now, and uplift each other by helping each other out. My 300-hr Yoga Teacher Training is the perfect place for you to connect with people on this same path, LIVE, and work together. Or, even my Uplifted yoga community has great resources, and a large community of yoga teachers and yoga practitioners to talk to and connect with through Facebook. You could always start with this post on How To Teach Yoga Online too.
Final Thoughts
Sometimes it might feel like you aren't making any progress but believe me there are people out there just watching and waiting to purchase your product. Don't expect to gain a million followers and make sales all over the world overnight. This is a long game strategy. So make sure you stay fresh in their minds and fresh in their feeds, whether you're getting a ton of likes or not.
Now that you have the tips and tools to make a social media marketing plan and be able to come up with weeks worth of content ideas for your students, I encourage you to stay true to yourself and be wholly authentic. Your new students will see that and they will love you for it. You've got this!
X
Sneak Peak into My 300-Hour YTT - FREE Videos, Info Session, Bonuses!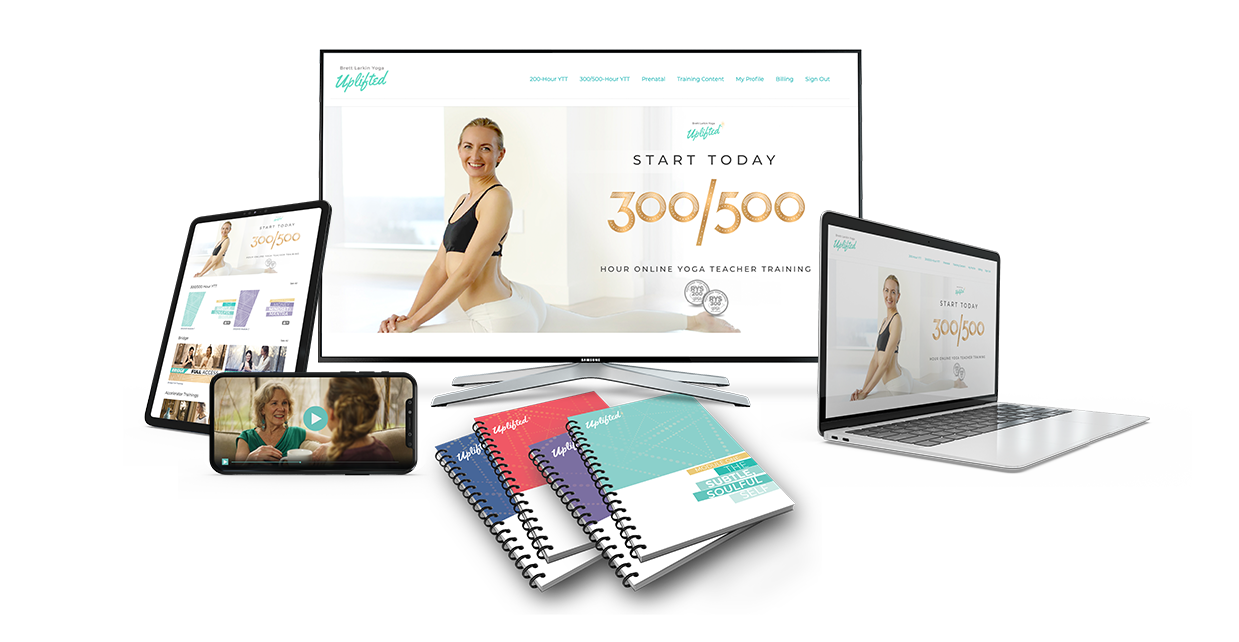 X
Learn how to do 11 of the most popular yoga poses correctly. Free video + PDF download.