It's the "wild west" out there!
Or so it's been called.
What am I talking about? The world of becoming a yoga teacher!
It's a bit "lawless" as there's no official governing body or organization that oversees or certifies teachers.
So if you're confused about whether you need to be certified by the Yoga Alliance to teach yoga and are unclear about what this whole "Yoga Alliance" thing is, you are definitely not alone!
Let's create some clarity, shall we?
What Is the Yoga Alliance?
Yoga Alliance is a voluntary credentialing system ("voluntary" is the keyword meaning not mandatory) and it has become one of the main credentialing systems that provide some minimum level of standards for yoga teachers.
It began in 1997 with teachers from different lineages discussing and implementing a suggested minimum amount of education to be able to call oneself a yoga teacher. Now, Yoga Alliance is a non-profit with a registry that recognizes yoga teacher training schools and yoga instructors that meet its criteria.
The criteria for a teacher certification program that is registered with the Yoga Alliance must include a certain set of hours in the following areas:
Techniques, Training and Practice – This is where students will learn about the yoga postures and techniques required to help improve your yoga practice. Depending on which style of yoga students are interested in, the training can focus on yoga postures that align with hatha yoga, vinyasa yoga, Kundalini yoga, gentle yoga, etc. This also generally includes other aspects of yoga, like pranayama breathing, meditation, and bija mantras.
Yoga Teaching Methodology – Even if you have all of the postures memorized, all experienced teachers must learn proper teaching methodology, which usually includes detailed information about cuing and safety.
Anatomy and Physiology – Students studying to become a yoga instructor must learn the basic tenets of anatomy and physiology as it relates to the different yoga postures taught in regular yoga practice.
Yoga Philosophy/Ethics/Lifestyle – While many people tend to focus on the physical experience of yoga, most yoga masters will remind you that a yogic lifestyle has a lot more to do with philosophy than postures. This is why most yoga teacher certification courses will have required yoga books that include the Yoga Sutras of Patanjali, the Bhagavad Gita, or the like.
Practicum – Every training certification program should offer hands-on experience so that you can become comfortable teaching yoga by the time you complete the course.
Not only that, but the trainers of Yoga Alliance Registered Schools must also meet a minimum amount of education and teaching experience. The curriculum and trainers are reviewed and if approved by the Yoga Alliance, the school can call itself a Registered Yoga School (RYS). Students that complete a training program at an RYS and pay the annual fee to register with Yoga Alliance are then listed in their online registry and can call themselves Registered Yoga Teachers (RYTs).
Now for the big question…
Can I Teach Without a Yoga Alliance Certification?
The short and sweet answer: Yes!
The long answer: It depends on where you teach.
It is up to the venue providing the class whether or not they require an RYT certification. The main benefit of hiring only RYT teachers is that it provides yoga studios some sort of semblance of regulation in the case of liability issues. So many mainstream yoga studios in the US, for example, likely require an RYT certification and lots of teaching experience before hiring you as an instructor.
But that's not the only way to earn money as a yoga instructor. There are a lot of other ways to gain experience, teach yoga, and earn cash.
Not only that, but many experienced teachers around the world don't hold an instructor certification by Yoga Alliance, yet run their own yoga center, workshops, or have an online channel where they can share their yoga practice.
You Might Also Like: What Is The Golden Chain In Kundalini Yoga?
So as you decide which yoga instructor certification program to invest in, consider where you'd like to teach.
Places that might require you to be an RYT include
yoga studios,
yoga centers,
retreat centers, and
large chain gyms and hotels.
Types of places that might not require a Yoga Alliance certification include
small gyms and recreation centers,
international hostels and small hotels,
camps and youth programs, and
some businesses.
Yoga Alliance training programs will typically be broader in their teaching of pranayama breathing techniques, meditation, and postures to help you lead general yoga asana classes. So you might also consider a non-Yoga Alliance training if you want to teach something specialized or in a certain lineage, in which case it could be better to study with the masters in that area to learn the most relevant teaching skills. For example, if you want to be a kids yoga teacher, it might be more worthwhile to do a non-RYS kids yoga training than a general RYS training.
Teach Yoga Without a Certification
So if you find yourself getting lost in the sea of possible yoga teacher training courses, don't worry. There are plenty of options for you.
Just ask yourself why you want to become a certified yoga instructor?
If the answer is to deepen your practice and you know you don't want to teach, then you can choose a teacher training program that really resonates with you, from an intensive course in Bali to online courses (like mine).
And if you do want to teach yoga, then consider what you want to teach and where?
If you wish to teach in a formal setting or something specialized like ashtanga yoga, Bikram yoga, or restorative yoga, look into the certification requirements of the places you'd potentially like to teach to help choose the training that's right for you!.
Having a Yoga Alliance certification has its benefits but it's also not the only way to become a good yoga teacher. Your teaching style and feeling ready to teach do not necessarily come from your exact certificate or level of education but are rooted in why you practice yoga and your commitment to your personal practice and self-study.
So no matter what your hope or dream is for studying yoga more deeply, there is the perfect training option out there waiting for you. Just let your imagination run wild, then do your research, and see what fabulous places it takes you!
X
Sneak Peak into My 300-Hour YTT - FREE Videos, Info Session, Bonuses!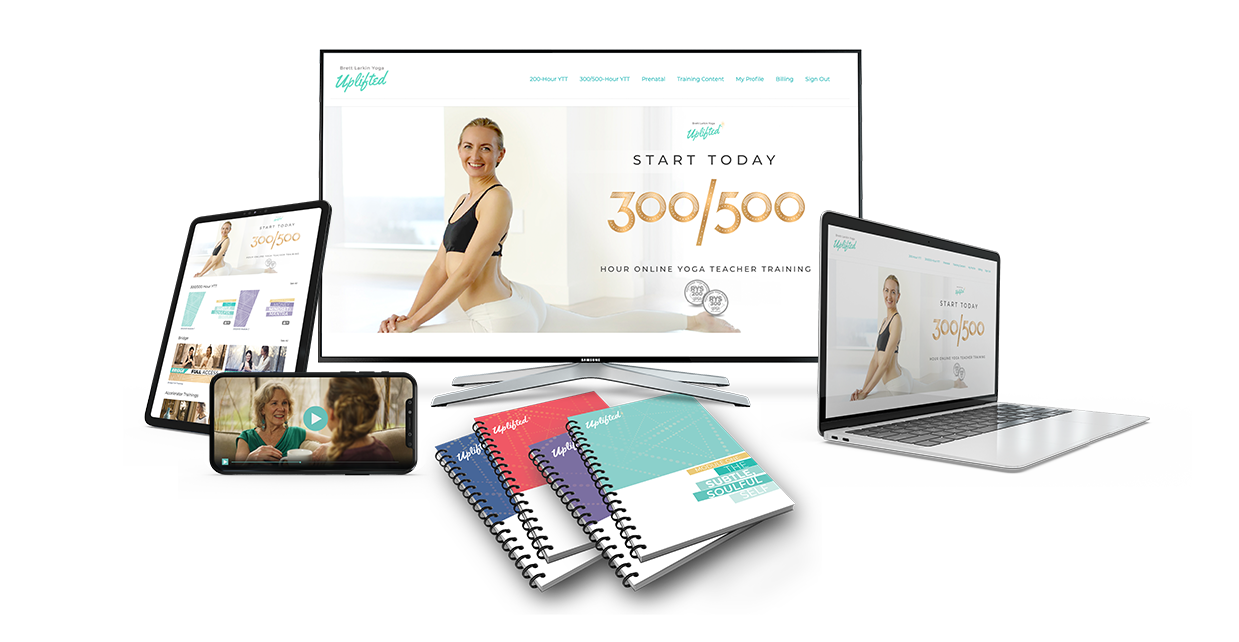 X
Sneak Peak into My 300-Hour YTT - FREE Videos, Info Session, Bonuses!