How are you feeling about choosing your 200-hour yoga teacher training?!
Excited? Nervous? Confused? Overwhelmed?
First, this is all 100% normal (phew, right?)
Second, I'd love to help you feel a bit less of those last few things!
Let's start by creating clarity around what a "200-hour training" even is and what you can expect when you sign up for one.
Now, in this post we'll compare two online 200-hour yoga teacher certifications based on their public content, brochures when available, Yoga Alliance pages, and third party reviews. We'll share the top features and pros and cons of each training then take a peek at some important training aspects side-by-side to help you narrow down your list and confidently move in the direction of your best fit training—woot!
Schools up for review this time: YogaRenew and Uplifted Yoga Academy.
YogaRenew is known for offering an abundant variety of convenient and affordable self-paced online trainings.
Uplifted Yoga Academy is all about helping yoga teachers "walk-the-talk" and embody yoga in real life while making a sustainable living teaching yoga.
Now let's dive into the rest!
Why Choose Online Yoga Teacher Training?
Feeling concerned about doing a teacher training online instead of in-person? I get it and it's valid to wonder if an online training can make a great teacher. Well, the reviews are in, folks! Check out the verified student reviews of online trainings on the Yoga Alliance website and you'll see how many students are happy with their online programs and feel ready and able to teach in-person when they graduate.
Here are a few more reasons why training online is a great choice:
Convenience.

If you're interested in or NEED to maintain your normal life while studying so you can still be present as a parent, partner, entrepreneur, or bread-winner, it's hard to top online training when it comes to convenience! There's no commuting or having to take time off from work, and much less of a need for childcare. Online trainings have pre-recorded content that you can do whenever you want and it's easier to schedule in the live sessions when you can attend from home.

Cost.

Those conveniences mentioned above also save you money! Plus, you're not having to pay the additional costs that come with in-person trainings like flights and transportation, room and board, etc.

Access to materials. Having your training materials already in a digital format makes it easy to come back and review anything that you want more time with. The ability to quickly access at any time the exact content you covered in your training is a benefit that most in-person trainings do not have.
Preparation for online teaching.

If you have been into this whole "being able to do more things from home" thing, you might be interested in teaching from home too! Being on the receiving end of online training will help prepare you to teach online and some trainings include modules dedicated to teaching online yoga as well.
The Stack Up: Uplifted Yoga vs. YogaRenew 200 Hour Yoga Teacher Training
| | Uplifted | YogaRenew |
| --- | --- | --- |
| Lifetime Access to Course Materials | Yes | Yes |
| Curriculum Includes Business Training | Yes | Yes |
| Graduation Rate | 96% | Not available |
| Study Model | Cohort, hybrid live/ pre-recorded | Pre-recorded/self-paced with live support calls |
| Payment Plans Available | Yes | Yes |
| Refund Policy | Non-refundable | Full refund within 30 days |
| Completion Deadline | 18 months | None |
| Lead Teacher(s) and Credentials | Brett Larkin E-RYT 200, RPYT, YACEP | Kate Lombardo, E-RYT 500, YACEP; Patrick Franco, E-RYT 500, YACEP |
| Print Manual Included | Yes | No |
| Synchronous Completion with Other Students | Yes | No |
| Max Call Size | 45 for live calls; 6-10 for study groups | No maximum; 5-20 stated as typical |
| Individualized Posture Feedback | Built-in | By request |
| Tuition Includes All Reading Materials | No (~$75 extra) | No (2 books to purchase) |
| Year Established | 2015 | 2015 |
| Price | $2850 | $437 |
Uplifted Yoga Academy: An Overview
Uplifted Yoga Academy was founded by a pioneer of the online yoga space who had an award winning YouTube channel for years before creating the "the first" online yoga teacher training back in 2015. The Uplifted school has dialed its approach over the years and has landed on the format that best helps students to graduate, become embodied yogis, and successful yoga teachers. This winning format is a "high-touch" model that has hybrid live/pre-corded content, direct access to and support from the passionate lead trainer, and live call options three times per week.
The Uplifted program offers an empowering, therapeutic approach to yoga asana, trauma informed instructors, an enthusiastic community, a streamlined certification process, and impeccable attention to detail. Students love getting to progress through the training with a consistent group of peers, the abundant live calls, having lots of face-time with the passionate lead trainer, and the support in becoming their own boss.
3 Key Features of Uplifted Yoga 200-Hour YTT
A standout feature of the Uplifted program is their prioritization of personalized feedback. Instead of students having to initiate and request feedback if they'd like it, feedback is an important and built-in part of the Uplifted curriculum. You get both real-time, personalized feedback on your postures and are part of watching and giving feedback to peers so that you feel confident seeing and adjusting misalignments in poses even with a virtual training.
The Uplifted business education is another renowned feature of this course as the founder, Brett Larkin, wants you to not just survive, but thrive, as a yoga teacher. With over 10 hours of business related training, Uplifted Yoga Academy delivers one of the most in-depth yoga business trainings in the YTT world, both in-person and online.
Some other key features of the Uplifted 200-Hour training include:
Completion Deadline.

Yes, having a completion deadline can actually be a good thing! Since you're investing time and money into your training, a deadline encourages you to complete the course and get the greatest ROI (return on your investment).

Printed Manual.

Online trainings tend to have online manuals, and since we have so much screen time these days, don't you love the feel of a real book? Uplifted Yoga Academy delivers a printed manual to your door so that you have a hard-copy, physical reference that you can savor as well as quickly return to for years to come.

Create Community.

The Uplifted cohort-model means you get to go on your yoga teacher certification journey with the same group of trainees. Having a consistent group of peers for giving and receiving support creates meaningful connections that will help lift you up during your training adventure and perhaps even beyond.
Fall in love with my 200-Hour teacher training or …

X
Experience 3 Training Videos from Inside My 200-Hour Online YTT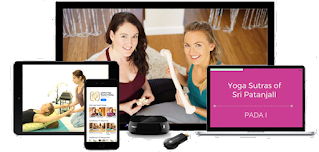 Pros and Cons of Uplifted Yoga 200-Hour YTT
Pros
Deadline to encourage graduation
Hard-copy manual
Community-building cohort-model
Cons
Pressure to complete on-time
No online manual/Limited start dates
Less schedule flexibility
Uplifted Yoga 200-Hour YTT Pricing
The price of the Uplifted online 200-hour yoga teacher training is in the higher range along with a handful of other trainings on the market. Behind the Uplifted program's higher cost are its many years of experience, high quality materials, unparalleled business training, "high-touch" model with access to the lead trainer, the lead trainer's personal promise to help you make it to graduation, and a large staff to support your learning journey.
Example payment plan:

$712.50 up front then $712.50/month for 3 months
YogaRenew: An Overview
YogaRenew was founded by two yogis who had years of experience owning an "award-winning" studio in New York and running many in-person trainings before entering the online space. The mission of this school is to make yoga convenient and affordable and so they provide self-paced, online yoga certification and continuing education courses. Students appreciate the risk-free enrollment, low cost courses, and fully self-paced programs. YogaRenew is loved for its diverse array of online offerings, the instructors' relatable down-to-earth, nextdoor-neighbor vibes, and the clear, comprehensive content.
3 Key Features of YogaRenew's 200-Hour YTT
The YogaRenew 200-hour yoga teacher training aims to give you an extra head start in your yoga career by including thoughtful bonuses like discounted yoga teacher insurance, asana class sequences, a list of class theme ideas, class playlists, asana cue flashcards, yoga resume templates, sample intake forms, and liability waivers.
A few of the other distinguishing features of the YogaRenew program are:
Affordability.

YogaRenew makes yoga teacher training accessible with their low price point as well as by offering frequent discounts.

Refundable.

Even with a low cost, YogaRenew gives you a full refund of your money within 30 days if you aren't happy with the training.

Self-paced.

With open, ongoing enrollment and all the content pre-recorded, you can start your yoga teacher training whenever you want and cruise through the material quickly or take it slow–however works best for you!
Pros and Cons of YogaRenew's 200-Hour YTT
Pros
Low cost
Fully refundable
Fully self-paced
Cons
Less incentive for completion
No printed manual
No consistent peer group
YogaRenew 200-Hour YTT Pricing
The YogaRenew 200-hour online teacher training has a low price point along with several other trainings in the online market. Low cost trainings tend to keep their prices down by having ongoing enrollment, being more "low-touch" with less direct, live support from lead facilitators, and having high enrollment numbers.
Example payment plan:

$80/month for 6 months
So Which Is Better: Uplifted or YogaRenew?
If you've gotten this far, you likely already have some feeling of which of these trainings is better for you, no?
If what you're mainly looking for in your training is a low-cost, low-pressure, and low-risk option, then the YogaRenew 200-hour training could be a great way to go!
If what you're seeking is a program that's high-touch with a consistent community, business support, and (nearly) guaranteed graduation, the Uplifted online certification could be the right fit for you.
And if you're kind of like, "Meh, I'm still not sure", you can check out seven more top online trainings here.
Happy hunting, friends!
Next Steps
Check out my YouTube channel and find some yoga classes that you can try out for yourself!
Attend a 200 YTT info session to see what else you'll learn in my online teacher training.
X
Experience 3 Training Videos from Inside My 200-Hour Online YTT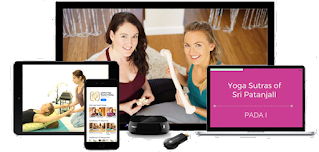 YOU MIGHT ALSO LIKE