Forget about mixing… I say business IS pleasure! I love making business a spiritual practice. I love to teach yoga in person, online, and sell my trainings. If you want to see how I achieved this with templates you can use to score you first yoga studio job, leverage social media, and more, check out my self-paced home study Uplifted Business Launchpad course.
But let's face it, the fastest and most effective way to move through your money blocks and skyrocket your biz is to work with a coach or add another modality to your wellness offering beyond yoga. I'll explore BOTH strategies in this round-up.
I only do business coaching within my 300-hour yoga teacher training (because I believe yoga and business go together like strawberries and chocolate). So if you're not in that program, or have completed that program, here's my hand-picked list for of yoga business coaches I've vetted. Without further ado:
Hate the "tech stuff?" Don't want to be chained to social media? Good news: Cate Stillman teaches one of the best, and for sure easiest to execute, profitable business models. Go from regular "yoga teacher" to 360-degree "yoga wellness coach," locally or online. Cate founded Yogahealer in 2001, and she's helped hundreds of yoga teachers get to 6 figures. Her books Body Thrive and Master of You are some of my favorite, and in her program, she teaches you how to coach others toward their dream life through her method rooted in yoga, Ayurveda, and ancient habits.
How it works
This is a 24-month-long training (imagine where you could be in two years!) to take your yoga career to the next level. You'll learn how to be a phenomenal Yoga Health Coach, all while accelerating the wellness path of your students.
Get your clients better results faster through the ten essential habits of Ayurveda. (P.S. You don't need to be an Ayurveda practitioner to take this course and teach your students!)
I love Cate's model because so simple… get just a few year-long clients at a higher price point, and transform their whole life through Yoga and Ayurveda.
This is perfect for you if…
You are excited about building your own lucrative coaching program

You want to earn-while-you-learn through dynamic group training

You crave additional Ayurveda training for a more focused you
Kelly is a POWERHOUSE yoga business coach, and her content on branding is within my 200-hour Yoga Teacher Training. Kelly is 100% focused on yoga teachers or studio owners who want to transition their careers online and have an outstanding work-life balance (so they can peace out to chill in Bali for six weeks a few times a year, like her).
Kelly has three programs depending on where you are on your business journey that will get you the skills you need to transition your yoga business online, grow an engaged community and be profitable. I chatted with her to get the 411 on each.
How it works
The Yogipreneur Launchpad is for newbie online yogipreneurs starting from zero. It's the root chakra of your yoga business (building a solid foundation)!
The Profitable Yoga Teacher is for entrepreneurial yoga teachers who have hit a crossroads with an online course or signature program. It's the sacral chakra of your yoga business (getting creative to diversify your offering)!
The Visionary Mastermind is for yoga visionaries who are ahead of the curve. It's the crown chakra of your yoga business (unlocking your highest potential to scale and maximize impact)!
Kelly is perfect for you if…
You crave the ability to create flexibility and freedom in your work

You want to gain clarity on packaging your expertise into high-impact online courses

You feel called to grow an engaged, global community of like-minded souls
Sahara is one of my besties and teaches Ayurveda within my 200-hour YTT. The passion she has for spreading the good news about awakening your Dharma is so inspiring! Her program is about helping you find your Dharma as a coach so that you can, in turn, go out into the world and train others to find their Dharma. It's meta, and it works!
This program also includes specific modules from Sahara's co-creators, Ajit and Neeta, on overcoming the biggest challenges as a business owner through marketing strategies and business skills.
How it works
The word "dharma" means your "soul's purpose, the big reason why you are here" in Sanskrit, and this is precisely what you discover, embody, and share with others in Sahara's groundbreaking coaching sessions.
Through the framework she provides with online modules and live training sessions, you emerge from the program after six months as a Certified Soul Purpose (Dharma) + Spiritual Life Coach. You receive the tools, techniques, and insights you will use to confidently & successfully coach anyone, anywhere (even if you've never coached a single person in your life!). Plus, you'll have access to a private facebook group to hold you accountable.
Sahara's program is perfect for you if…
You want to be more than a yoga teacher.. you want to coaching people toward their purpose

You want a coaching certification rooted in Ayurveda and spirituality

You want the business skills, strategy, and resources to banish self doubt and transform your own private clients
Sam is one of my hall-of-fame personal heroes. In addition to her Expert-Level Trauma-Informed Breathwork Facilitator training, she offers an incredible 400-hour coaching certification program.
After her own deeply transformational journey, Sam launched Pause with one mission: Decrease suffering and increase human consciousness through the power of breathwork & coaching.
You will become certified as a masterful breathwork facilitator and wellness coach.
How it works
It's intense, and it's incredible. The program is embodiment based and trauma-informed– designed for wellness professionals who align with the Pause mission.
This 400-hour certification program over ten months will train you in the Pause signature coaching process that Sam has used to help thousands of people worldwide.
This is perfect for you if…
You crave to take your clients to the next level using breathwork and energetic tools

You want a coaching practice rooted in breathwork and energetics

You want to go deeper and be more effective with your clients using a trauma-informed lens
Kathryn is a personal friend of mine from when I used to live in San Francisco (yes… I surround myself with a lot of amazing female friendships!) who exploded into a fantastic business coach. Her accelerator program provides her clients with brilliant, game-changing information on branding, style, and scaling.
How it works
First, you'll have the opportunity to get on a LIVE call with Kathryn and your peers to get personalized business coaching sessions on where you feel stuck and exactly what you need to move forward.
Next, be held accountable with a private and exclusive community on Facebook. Ask your questions, get 24/7 support, build new friendships, and celebrate your wins!
Finally, you'll have access to a member library filled with all recorded coaching calls, in-depth video training modules on how everything is taught, and accompanying workbook exercises.
This is perfect for you if…
You're stuck feeling like you need to "prove something" with your marketing

You feel nervous showing up as yourself, fully and unapologetically, in the online space

You have a vision of yourself rolling in success, but don't know how to get there
In conclusion…
Any one of these programs can be a life-changing experience for you, and a game-changing lift for your business. Make sure to reach out to each program if you want to try it out; many offer a free discovery call, bonus videos, or workshops before purchase to help yoga teachers take that first step toward creating the job they've always wanted.
Listen to your gut, and if any of these sound like a good fit, make sure to let them know that Brett sent you so they know you're part of our tribe. ! xoxo
X
Sneak Peak into My 300-Hour YTT - FREE Videos, Info Session, Bonuses!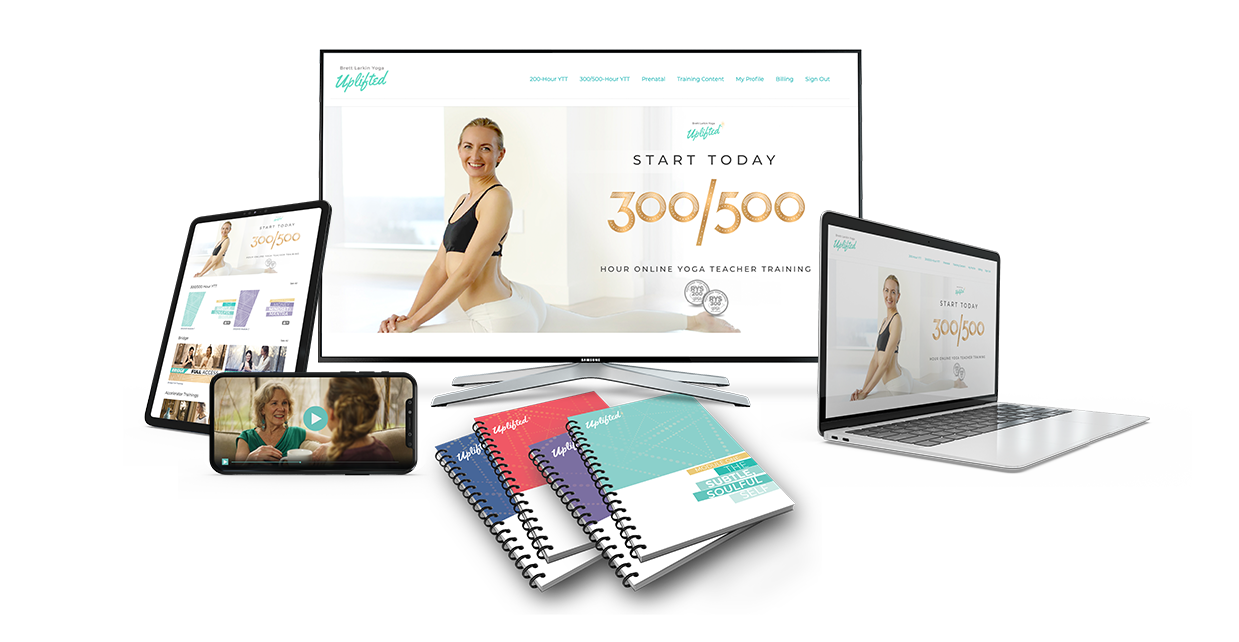 X
Sneak Peak into My 300-Hour YTT - FREE Videos, Info Session, Bonuses!