Writing a good yoga teacher bio is a lot like crafting an elevator pitch.
If you had exactly the duration of an elevator ride to pitch your greatest idea or convince someone to hire you, what would you say?
In yoga studio terms, if you had only a single paragraph to convince students to take your yoga class, what would you write?
It's hard to cram in your teaching style, your personal practice, and your yoga journey into a few sentences but I promise you that it can be done!
And it's a question that comes up a lot in my Uplifted group. Unfortunately, this kinda stuff isn't usually covered in a teacher training, yet so many yoga teachers need to know how to write a really compelling bio as a yoga teacher or healer, massage therapist. I obviously have the perspective of a yoga teacher, but this is totally applicable to anyone in the wellness industry.
So whether you're a new teacher or maybe you've been teaching for some time, but you've never really felt like you were able to write a really good couple paragraphs that represented you. I'm going to give you all my tips in this post.
In this post:
1. Look At Other Yoga Instructor Bios
2. Think About Who Will Be Reading Your Yoga Bio
3. Keep Your Yoga Teacher Bio Short
4. Brag About Yourself A Little Bit
5. Share Something Personal
Make Many Versions Of Your Yoga Bio For Your Many Audiences
1. Look At Other Yoga Instructor Bios
When someone asks for your bio, look at where that bio is going to be posted. Having an amazing yoga teacher bio is all about context and so it's important to understand the context that someone is going to see this in.
To give you an idea of what they're looking for, whether it's a yoga studio you want to teach at or a teacher training program you want to assist on, go to their website and do a little bit of research. See how the other teacher bios look, what's included, the kind of tone used, how long they are, and how personal they are.
So if a yoga studio that you're teaching at asks you for your bio, go to that yoga studio's website and look at how they format the other teacher bios. This is incredibly important because it's going to give you a very clear indicator of what they want in terms of length and style.
Another thing you might find when you're doing your research is there might be some formatting issues. For example, if the yoga studios website has a pop up over the teacher's name when you hover over it and it only shows the first three sentences of the bio before clicking to expand, then write for this limited view in mind.
Dharma Yoga, for example, uses MindBodyOnline as its booking platform, which is a super popular software that many yoga studios use to schedule and fill their classes. It also has a pop-out window for the yoga teacher bio, leaving a very limited amount of space to include your bio:
That's going to change how you write your bio compared to if you find that every single teacher has a short novel about themselves, their yoga journey, and their yoga practice.
So you kind of want to see what the format is on wherever you're sending the bio and make sure that your bio fits into that format.
It's really common sense.
You want to do this not only to 'blend in', in terms of formatting, but also to see how you can stand out. If every other yoga teacher talks about how teaching yoga is their passion, then talk about which yoga styles are your passion and why. Maybe restorative yoga saved your injured knees or Iyengar yoga made you a better teacher.
So you want to blend in terms of style, but stand out in terms of what you say.
2. Think About Who Will Be Reading Your Yoga Bio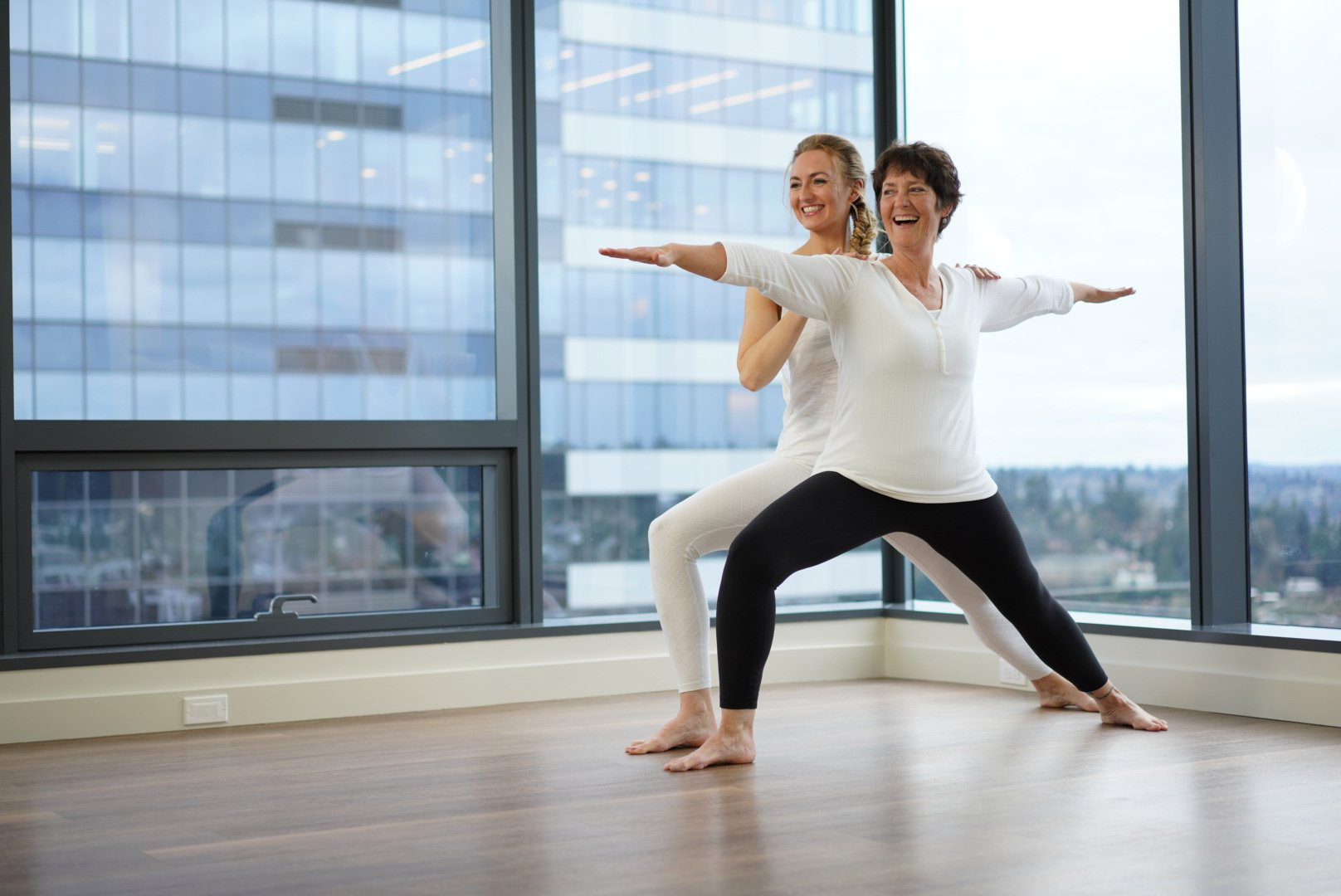 The next tip is to think about who is actually reading your bio. If you're writing for a yoga studio, then it's likely that prospective students will be reading it, deciding whether or not to take your yoga class. So you want to write to them in this case.
Or if you're assisting on a yoga teacher training, then you might want to include your experience teaching yoga and your qualifications, like RYT status or training experience.
It should be informative and let students know what they should expect from your class or training. So having your first three sentences be about your childhood or saying complicated yoga names or Sanskrit things that people might not understand perhaps might not be the best choice.
Again, these are just my tips. You can do whatever you want.
But if it were me and I was sending a bio to a studio, I'd really focus the bio, especially the first couple sentences, on making it really clear to the prospective student who's reading it what they're going to expect in my yoga class.
So, for example, my teacher bio when teaching at yoga studios would include something like, "Brett Larkin teaches our strong alignment-based Vinyasa flow to music". And you can totally add rich detail like that as well. Give students a taste of exactly what they will experience by coming to your class.
A lot of people like to include references to teachers that they may have studied with or been influenced by. I think that's great, as well as giving yoga styles like Anusara yoga, prenatal yoga, or Vinyasa yoga, just to give the students an idea of what your experience is with the yoga styles.
You want to include those details because you want to attract the right students to your class. You don't want to accidentally bring in students who are looking for healing yin classes if you actually teach Ashtanga yoga, for example.
You really want the student to be able to understand you.
So this is what the business world would call positioning. Positioning in the market sounds kind of professional or cutthroat, but it's just helpful. Otherwise, you're doing a major disservice to the prospective students reading the bio.
So my tip would be to just make sure that those first sentences are very, very informative to the student.
It's tricky because you THINK your bio is supposed to be about you, but actually nobody cares about you. They want to know what they can get from you, instead.
They want to know what your class is going to be like and what it's going to do for them.
So the best bios share information about the yoga teacher, of course, but really clearly position the teacher for a student to understand what they can expect from the teacher.
I would think of it as a marketing pitch.
I would think of it as how to attract the right students to you. And you can be creative in that, in the language you use.
3. Keep Your Yoga Teacher Bio Short
My next tip is to just keep it short. Keep it really short.
No one really reads more than a paragraph. Most people just kind of want to get a sense of who you are quickly.
Two paragraphs is okay, but I don't think you should really go beyond two paragraphs and I would really work on cropping your bio down.
You want it to be short and concise. Every sentence counts.
So keep your verbs active and keep your sentence structure tight. Eliminate any run-on sentences. Spend time with your bio and start chipping away at it.
Some things you may want to include are
your favorite yoga styles, like restorative yoga, Ashtanga yoga, Vinyasa yoga, yin yoga, prenatal yoga, trauma informed yoga, etc
your yoga journey and how it brought you to teaching yoga
your personal practice, if it includes asana practice, meditation, pranayama, bhakti yoga etc
what your teaching style is, like if you use hands-on adjustments or simply cue
how / if you use sound, music or groovy yoga playlists in your classes
Then read through your bio and really think about what is absolutely necessary to get these points across and what you can cut out. Sculpt your bio like a Michelangelo sculpture and keep chipping away at it until it's as short as it can possibly be.
It's easy to ramble on and talk about yourself. It's hard to craft something that's very succinct and powerful and really distills what's special about you in just five sentences.
So spend that time to craft it and make it short, because that will also ensure that people read it.
4. Brag About Yourself A Little Bit
The next tip is to actually BRAG about yourself a little bit! As yoga teachers, it can sometimes be uncomfortable to do, as if it goes against yoga philosophy or something.
But being a yoga teacher is like being a freelancer and you have to learn how to convince people to buy your product, which is your ability to teach yoga.
If it's difficult for you, then you might want to get a friend to help you. Ask a friend, a spouse, a parent, a partner, anyone to help you write a bio that shows off your accomplishments and who you are.
I would include, for example, that I've had millions of watch time minutes on YouTube and over 330K subscribers. It sounds really obnoxious, but it legitimizes my experience. So I want to include that in my bio.
You want to really put that stuff at the beginning, at the forefront to establish yourself as an authority. And if you don't have anything you can brag about, make something up like, "I'm known for her beautiful dance-like transitions" or something.
After all, if two students know this about you, then you can say you're known for it, right? So it's okay. You really want to put your best foot forward.
I love Kathryn Budig's yoga teacher bio for this exact reason. You can see that she lists her accomplishments without sounding pompous. Instead, she just sounds like she knows a lot about yoga (and the industry):
The reality is if you're a yoga teacher then you're also your own business owner. You're an entrepreneur. So really brag about yourself and put that powerful language in there to show yourself off.
Get another yoga teacher, friend, or professional friend and tell them to make an exchange. Tell them, I'll pump up your bio if you pump up mine. Because it does not come naturally to be able to do this for ourselves for anyone but especially as yoga teachers because this is like the opposite of our personalities to want to do that.
5. Share Something Personal
I'm sure the journey and your story of how you came to yoga is very powerful and amazing to you and it's probably interesting to a prospective student as well.
And if you can say it very succinctly, like in two or three sentences, then include it in your bio.
Did tragedy or a loss of a family member bring you to your practice? Or maybe an injury, depression, a life-changing experience brought you to your yoga mat.
Sharing little things like that helps students connect with you because maybe they've also had an injury, illness, or whatever you've had. And it'll help them connect with you in your class, too.
So keep it informative in both your story and then, most importantly, what they can expect from your class.
Are you going to chant, are you going to lead meditations at the end? Are they going to sweat? Are they not going to sweat? How does your personal journey influence your teaching style and what can they expect for your yoga class?
There are little things you can do in your language, in the first couple sentences of your bio that will really have that effect. That will really let students know. And that's really important because you're sort of shaping who you are.
I like the way Yoga Works does this for their yoga teacher bios. They give each teacher an opportunity to share what inspires them, why they practice, and why they teach.
Make Many Versions Of Your Yoga Bio For Your Many Audiences
Keeping all of the above tips in mind, make many different versions of your yoga bio so that you have them on hand for any situation.
I just want you to keep in mind and remind you and be that little voice in your ear saying, Hey, your bio is actually not really about you. It's about your students and helping the right students find you and you gotta keep it short, snappy, have it stand out, and have it fit the format of the site.
In my 300-hour yoga teacher training, I go over ALL of my yoga business tips for growing your yoga career. I teach my students how to position themselves in the market, get clients, grow an audience online, build a business plan, and more. A yoga teacher bio barely scrapes the surface 🙂
X
Sneak Peak into My 300-Hour YTT - FREE Videos, Info Session, Bonuses!