Do you feel stuck or anxious?
Is an aspect of your life not moving forward or feeling the way that you planned?
Do you feel isolated? Unfulfilled?
You sense yoga could play a role in overcoming your discomfort and dissatisfaction – to heal an injury, relationship, past trauma, and become the person you truly want to BE…
But you're not clear on HOW.
You're already dabbling in physical yoga classes (or maybe even already a yoga teacher!), but when it comes to your day-to-day life, it still feels like you're stuck in fear, shame and self-sabotage.
The serenity you find on the mat, isn't translating off the mat: into your marriage, or partnership, dating life, parenting, career, confidence or self-care. You know yogic philosophy could help with these things.
That there must be a way to action yoga's wisdom.
But you have no idea what to do in what order. And if it would even work… or be another dead-end.



You're frustrated with your lack of follow-through. With the fact that you're still numbing yourself with TV, social media, and compulsive email-checking, even though you know better.
You need a roadmap to get from "the overwhelmed" HERE to your "highest self" THERE. To go from grumpily surviving to skillfully thriving.
In my experience working with literally thousands of transformation seekers all over the world, I've discovered that every single one of you actually craves the same thing. You want to feel more fulfilled, alive, joyful, and empowered.
You want total control over your psycho-emotional state.
Take action in the face of fear.
Follow through on your desires.
Enter my tried-and-true method of how to actually live your yoga.
I wanted to expand yoga's healing brilliance into my day-to-day life, beyond the poses. Over years of in-depth study, I uncovered a practical framework to live my yoga off the mat.
You've likely experienced yoga as a physical endeavor, or even a spiritual endeavor. But the best yoga is actually a practical endeavor. My method consists of three key yogic skills you can use moment-to-moment, to overcome your real-world obstacles. This is when you practice yoga. Not just on a mat.
Yoga is not a place you go…
It's a mindset you inhabit.
Apply my 3 step method of living your yoga to:
→ …And anything that triggers you
Imagine living in an expansive state of calm, because you finally have the right tools.
First, you need to learn these three tools inside and out.
Second, you need to put them into practice in moments when it's not easy. You need to witness the power of how they work and when. So you know you're equipped: You know exactly which tool to use moment-to-moment.
Third, you need accountability and support to map these skills to your own unique life and pick yourself back up when you fall.
These three tools, in the steps above, is the Yoga for Self Mastery program:
A clear roadmap to live you yoga.
To slay your problems, step-by-step.
With accountability, coaching, and support.
WHY TRUST ME?
I'm Brett Larkin and I went from being single, debilitatingly anxious, and an insomniac with complex PTSD from a childhood surgery to…
Marrying the love of my life, conquering my crippling fears around work, finances, and success, and healing my body and past trauma MYSELF.
You may have practiced with me on YouTube, seen me on social media, or even been part of my Uplifted membership. But what you don't know is the REAL behind-the-scenes STORY and REAL TOOLS: How I honed in on three key tools, rooted in ancient wisdom, that changed every aspect of my life for the better.
It doesn't matter how many healing specialists you've seen or how many superfood supplements you've taken. Without concrete, actionable skills and a community holding you accountable, life is gonna be drama-filled and difficult. You'll be at war with yourself. But what if there was a way to end that war? To access peace?
If you're like me, you're craving a guidebook.
You want the incredible confidence and empowerment that comes from knowing exactly who you are, what you're meant to manifest in this lifetime, and how to find more peace and intimacy with others.
But you're missing the tools, practices, and education to support this metamorphosis (like a butterfly bursting out of the dark and soaring into the light).
These tools (sadly) aren't taught in yoga studio classes and are over-complicated in yoga philosophy books.
That's why I've now made it my life mission to get these three tools I learned into the hands of as many people as possible.

Every time you stay up late, sleep in, pour another cup of coffee, give in to comparison-itis ("imposter syndrome") or distract yourself with your phone, you're burying your deeper longing for self-love and self-mastery.
The people who are going to thrive on the planet over the next 10 years are not the ones building themselves up on the sinking sands of our chaotic and polarizing modern culture, but those who are honing the skills that result in self-mastery and self-contentment.
When you find that inner alignment, you become a magnet attracting the right people and circumstances to fulfill your life mission.
You're able to heal yourself, and then transmit and channel your higher purpose into the world.
That means you can supercharge your business.
Write that blog you've been holding back on.
Improve your health. Invent a new technology. Create better art.
Become a better lover, partner, and mom. Transform your relationship, without your partner's conscious effort or participation.
But you need a method. You need tools to rewire your monkey mind and tap into your INFINITE POTENTIAL.
You need a course of instruction – that's going to take you from uncertain, overwhelmed, and anxious, to courageous, supported, and content, by practicing three profound skills — with coaching on how to make them work for your unique life.
Personalize Your Yoga
NOT all yoga postures are anatomically or energetically advantageous for you (and could even be harmful) based on your body-type and personality.
Master Your Mind
Heal your nervous system with "on-the-go" 3 minute practices to nourish yourself, while deescalating overwhelm and protecting your energy.
Discover Radiance
Identify what's your energy and what's not. Discern how your unique energetic frequency differs from inherited negative thought loops.
The content within this program is profound. It's all my best material I use on myself.
I've created award-winning videos and lectures to train thousands of successful yoga teachers around the globe, but these are the interpersonal skills I use day-to-day to live the yoga I love.
This skill-based curriculum and six-week implementation experience empower you to make a massive shift in your life using the three core skills from my personal method.
You'll walk away with an education that's not only enabled you to heal yourself, but fully BE yourself. Stripping away and letting go of everything that's been holding you back. 
Areas of my life that I was feeling stuck in prior to joining took a huge transformation and I attribute so much to the mindset shift and skills I learned in this program.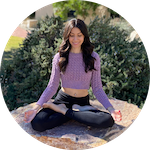 Melissa S.
Dream Interpreter
I've learned practices to change negative and controlling thought patterns, and how to focus on gratitude and joy.
I feel more like myself. I'm in less of a fog. I'm doubting myself less. I gained a renewed sense of calm and self-awareness that I had been missing.
I'm calling in a select number of transformation seekers who want to author a shift in their life using the same blueprint – the same three tools – I followed to transform my life.
Each of you will come into this experience for a different reason: to learn how to relax, relieve anxiety, sleep better, avoid a surgery, heal an injury, get pregnant, understand safe alignment, heal your marriage, discover the chakras, gain more intimacy with your partner, navigate menopause, or learn about yoga's rich philosophy…
but each of you will leave saying the same thing: "The 3 tools presented in this program changed my life." 
What would it take for you to invest in authoring your own healing journey?
Most yoga students I meet spend more on yoga clothes in a year, or vacations, than the cost of this program. Most pay happily for a $1,000 iPhone that will steal hours of their life every day. Or $60,000 on a college education in a field of study they're not even sure they like. But they won't invest $4,000 in a course providing the foundational tools, anatomical expertise, and supportive community to heal the mind, body, and spirit.
This year, I worked together with my team to make Yoga for Self-Mastery as accessible to as many people pursuing a personal transformation as possible. I know more people need these tools. Especially right now. Instead of paying $4,000 – the value of this content, start today for $499.
Enroll and Instantly Receive:
Yoga for Self-Mastery Content
"Live Your Yoga" 50+ Video Curriculum
Leverage my framework to uncover a happier, more serene YOU. Transforming your marriage, relationship to work, self-talk, parenting – even your wardrobe. Value $1,500
The "Yoga" of Dealing with Other People
Skyrocket the intimacy (or resolve major issues) with your family, friends, or non-yogi partner without their conscious awareness or participation. Value $600
150-Page Transformation Workbook
Ensure you take action with lasting results. Detailed journaling prompts, practices, and self-assessments correspond to each training video. Value $400
Weekly Skills Tracker
Chart your progress week-over-week. Watch your transformation and results unfold. Value $150
Coaching Vault
See me coach students using these three tools to achieve their breakthrough across a variety of situations. Value $500
6 Live Implementation Calls this January
Coach live with me to ensure these tools solve the biggest challenge you're facing right now (when available). Value $600
Personalize Your Yoga Practice Course
Create a physical ritual to fuel the transformation you're undergoing in the program. Value $197
Master the Basics Course
Designed for anyone coming into the program as a yoga beginner. Value $97
Lifetime Access
Never lose access to all course material and Implementation Call replays. PRICELESS!
$4,000

 

$1,497 Limited Time Discount
Or $499 for 3 months. Access all content immediately.
Flash forward to your life three months from today.
Who will you be? Will you move forward? Or will you stay the same? Will you still be dealing with the same thoughts?
What if you had a yogic roadmap, a community, and three skills rooted in ancient wisdom to support you?
What if it didn't have to be hard and over-complicated? What if easy, simple and pleasurable were better?
You deserve the right set of yogic tools to practice and a loving community to hold you in this elevated awareness.
Aren't YOU worth the investment?
To at least try?
Start this program today for just $499 ($1,497 if you choose to pay in full). 
I can't wait to welcome you in the first video, hoping you say YES! Join the rest of us who took this leap of faith, dropped the mask and decided to change the way we show up in our lives and relationships. I'm waiting for you on the other side.
Is Yoga for Self Mastery a good time/place to work through mental or emotional blocks? What if I'm at a crossroads or feeling stuck?
Yes! Bring me all your blocks in the coaching. I can't wait to connect with you! Many students tell me they gain clarity on aspects of their life beyond the yoga mat (marriage, kids, career) as they move through this program. Yoga for Self-Mastery is by nature a transformational experience. If you're feeling stuck or need a change in any area of your life, the wisdom and easy techniques of this ancient science will inspire you on your path.
I'm already an Uplifted member or Yoga Teacher Training grad – should I take this?
DOUBLE YES! A discount code is available to you. Search your inbox. Email [email protected] if you can't find it. The material for this course is totally new and the foundation for my book releasing on December 18th, 2023. Learn the exercises I use to cultivate happiness, clarity, and balance in my life.
What if I have an injury?
Enroll! This course will teach you how to adjust your yoga, your mindset, improve your physical and mental self-awareness, and empower you on your healing journey. Practicing compassion is just one aspect of you we explore, as well as how to develop a regular practice that is more than just the physical practice.
How many years of yoga experience do I need to have?
All that matters is your passion and dedication to your own transformation. This course is about turning your LIFE into a yoga studio. This is not limited to the mat and physical practice. I'll teach you three key yogic skills you can practice moment-to-moment, to overcome your real-world stress. If you feel the call to deepen your knowledge of yoga, this course will be a deeply enriching experience.
Will the course cover living a yogic lifestyle?
100% Yes! Yoga for Self Mastery covers the three skills of yoga in action (how to live your yoga), meditation, pranayama breathing, igniting your best life through movement, and bringing yogic philosophy into your daily life to SOLVE your real problems. Learn breathing, asana, and meditation techniques to continue on your yoga journey for years to come. This is all presented through the unique framework of The Skills and discovering your essence, which I present inside the program.
Can I take this course while pregnant?
Yes! What a wonderful gift for you and your baby. Of course, always check first with your healthcare provider that it's safe for you to exercise and enjoy yoga or if there is a certain posture (asana) to avoid.
How much does the program cost?
$499 a month for 3 months or a one-time investment of $1,497.
What's the refund/cancellation policy?
The first month ($499) is non-refundable. But if you take a look at the program, and decide it's not for you within the first week, you can cancel your remaining two payments, and still keep the Personalize Your Practice program ($197 value). We want you to be happy! If you have any issues with program, email [email protected]. We want to support you! 
What payment options do you accept?
You can pay with a credit card or PayPal. All pricing is listed in US dollars and payments will be automatically converted to US dollars if you are paying with another currency.
Can a friend take this course with me?
Yes, that is an amazing idea, as you'll be able to hold each other accountable in actioning the skills. Send them to this page so they can register.