Already finished a 200 Hour yoga teacher training program, huh? (Congrats, btw)
And now you're wanting to dive even deeper into your yoga practice and continue your yogic journey, right?
Perhaps you've already been teaching and want to further your knowledge and cultivate new experiences for your clients?
And you've been working hard, rigorously practicing, sweating it out, and schlepping yourself from studio to studio to teach yet another vinyasa flow class…
… but still, you aren't quite where you'd like to be in your teaching career.
You seek wisdom from others, mentors that have walked the path ahead and are holding out their hands to guide you to the next step, the next level of teaching yoga.
AND you'd also like to take your own personal practice to the next level.
Well, welcome to the 300 Hour YTT experience, my friends, where your professional career as a yoga teacher explodes into a whole new level of yoga, business, and spirituality.
Deciding on a 300 Hour YTT is an exciting but sometimes daunting process. It's understandably higher intensity than a 200 Hour course, giving you a greater depth of knowledge and business savvy to go out and grow your brand as a yoga instructor.
But where do you even begin?
Well, the first question to ask is if a 200 Hour YTT certification is adequate for teaching yoga sessions exactly as your heart desires.
Maybe you want to specialize in a certain style of yoga, like Yin Yoga or Yoga Nidra, or maybe you want to teach closer to the true yoga tradition.
Maybe you really just want to cultivate a life-changing experience for your students and your basic knowledge ain't cutting it anymore.
While it's true that a 200 Hour program prepares you to teach classes upon completion,it barely scratches the surface of ancient yogic teachings.
It's true.
In fact, within India, the birthplace of yoga, yogi students practice and learn from their mentor for years before receiving approval to teach. Students devote themselves to their practice, to their postures, and to their poses before finally reaching a level where they are ready to start teaching their own students.
Not only that, but a 200 Hour program only covers the basics about yoga (if you can imagine). The reality is that it does little to inform your deeper yogic journey or even your professional journey in the modern world.
With this in mind, the popularity of advanced teacher training courses has dramatically increased. Not only is there a high demand from students that instructors have advanced certification (um, hello, aerial yoga workshops and sound healing classes), it also offers yoga instructors the opportunity to further continue their own yogic journey.
Yup, a 300 Hour teacher training course does it all. Broaden both your wisdom and your practise through an advanced yoga certified training program.
Benefits of an Advanced Yoga Teacher Training
There is a large range of benefits to completing a 300 Hour yoga teacher training program, but these are 5 of the most notable benefits:
Benefit #1 Delve deeper into your practice
The western world seems obsessed with the physical aspects of yoga, being viewed as part of a physical regime for the body. Often neglecting the arguably more important aspects of the practice, including the mental and spiritual facets.
Popular western variations such as power yoga, prenatal, and hot yoga being a few examples of western spin-offs of traditional disciplines. When viewed from an eastern perspective, variations and practices such as these are just scratching the surface of yogic philosophy.
A 300 Hour YTT delves much deeper into the mental and spiritual side of the practice, exploring the roots and sacred nature of traditional yoga practises that developed over thousands of years in a much more expansive way. Understanding yogic philosophy has the power to transform your own life and practice while offering new depth and knowledge that you can offer your current or potential students.
Benefit #2 Deepen your yogic lifestyle
Wouldn't you love to carry those often hard learned lessons and yogic qualities gained during a yoga retreat or previous 200 Hour YTT program into your day to day life?
Imagine carrying the peace, overwhelming love, and total devotion through your daily tasks like it ain't no thang.
This is exactly what a 300 Hour YTT can do for you.
A 300 hour YTT program can reconnect you to these emotions and realisations that you probably had in your 200 Hour training. It can inspire you once again to reconnect with the reason you originally were drawn to taking up yoga.
Benefit #3 Establish your niche
As yoga continues to grow, specific yoga classes are quickly becoming more popular. A 300 Hour YTT can help you discover and establish your preferred niche or offer you the opportunity to deepen your knowledge within other yogic disciplines. Finding your niche is a fun and exciting prospect, allowing you to hone your skill sets towards certain specializations.
You may find yourself drawn towards pranayama breathing techniques, simple meditation techniques, restorative yoga, kids yoga, hatha yoga, raja yoga, ashtanga yoga, therapeutic yoga, postnatal yoga or prenatal yoga depending on your own personal tastes and experience.
A 300 Hour YTT can equip you with the skill set you need and support you transitioning into a specialized discipline. Specialization helps you stand out in the crowd and may help open up new employment opportunities.
Depending on which 300-hour yoga teacher training course you choose, you can finally specialize in something you're passionate about.
Read more: How to Choose a 300-Hour Yoga Teacher Training Course (And Why)
Benefit #4 Stand out in a growing industry
As yoga continues to gain popularity and more and more instructors fill teaching opportunities, standing out of the crowd is a pretty important part of becoming an established yoga teacher. As with most industries, employers seek experience and certifications to quickly filter out more reputable yoga instructors. In fact, some studios may require applicants to be 300 or 500 Hour certified. An advanced yoga teacher training can help you do exactly that.
Benefit #5 Create a more fulfilling and purposeful life
In this modern, fast-paced, high-stress world we find ourselves living in, a dedicated yoga practice is more important than ever…
…not only on a personal level but also on a local and global level. The more people living a balanced and wholesome lifestyle, the more love that we can share with one another. As our yogic journey continues to unfold and our knowledge broadens, so does our want for our lives to be full of awareness, understanding, health, and wellness.
That's certainly a world I want to live in!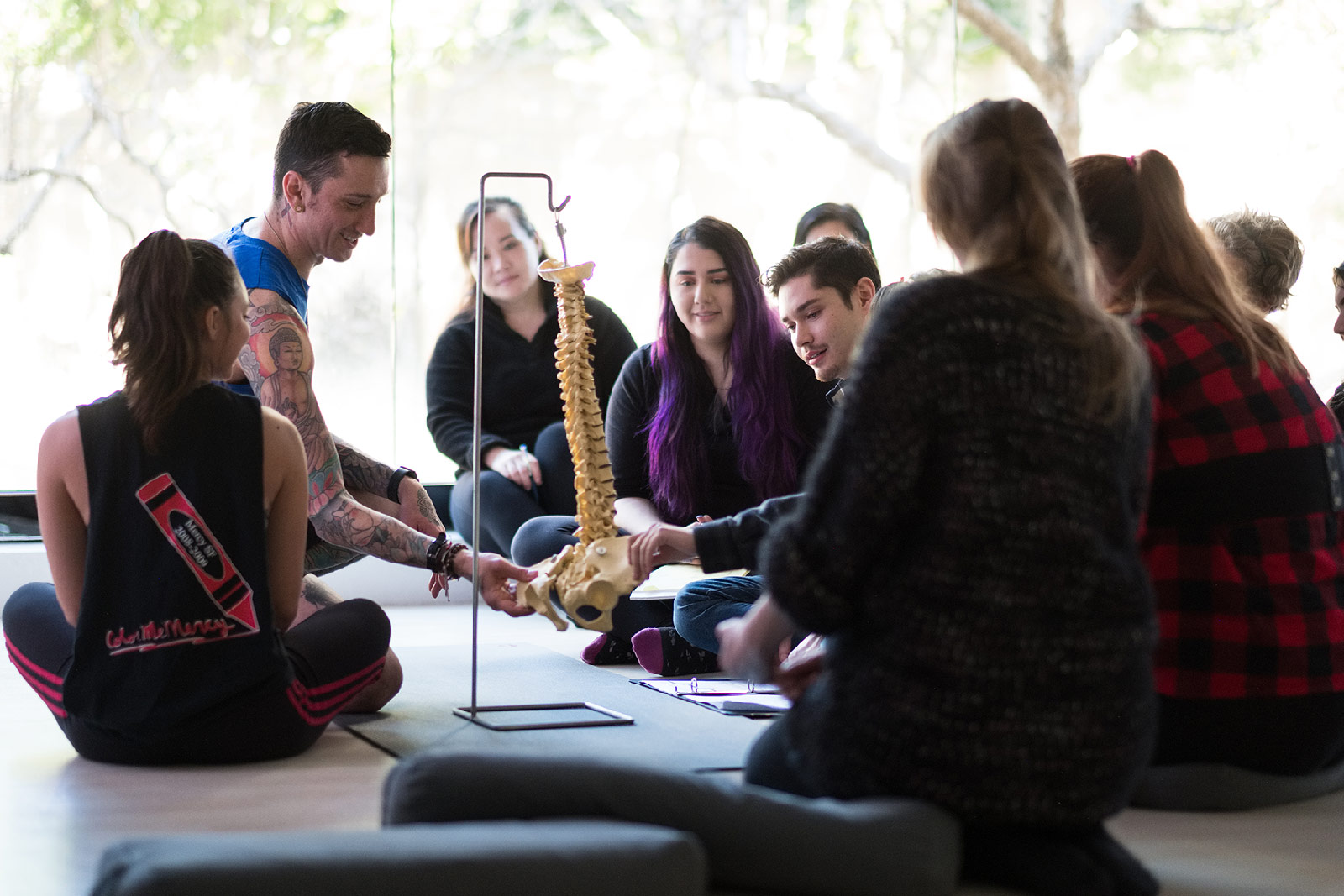 What's in The 300 Hour Yoga Teacher Training Curriculum?
A 300 Hour yoga teacher training program allows you to deepen your understanding of primary asanas. You will learn yogic philosophy and delve deeper into yogic anatomy and physiology principles. You will broaden your knowledge and practice pranayama and cleansing kriyas. Many 300 Hour YTTs also cover deeper meditation techniques. Listed below are the common standards most yoga schools include within their curriculum, which tends to follow the guidelines put forth by the Yoga Alliance.
Read my take on the Yoga Alliance: What is Yoga Alliance and Do I Need an RYT Certificate to Teach Yoga?
Techniques, Training and Practice
Minimum contact: 25 hours
Minimum mentor contact: 25 hours
Minimum total contact time: 50 hours
This aspect of your training should build upon your foundational experience and knowledge established within your previous school's 200 Hour program. Material within this part of your training should focus upon:
Asanas,

kriyas,

pranayamas,

mantras,

chanting,

simple meditation techniques,

as well as other applicable yoga techniques.
You will also cover deeper analytical training techniques and practices that you can use in your guided yoga sessions.
Teaching Methodology
Minimum contact: 5 hours
Minimum mentor contact: 5 hours
Minimum total contact time: 5 hours
This aspect of your training focuses on topics that will help you establish solid teaching techniques and teaching skills that can be used within your sessions. This typically includes lessons on how to
build strong communications skills that build strong group dynamics,

develop time management skills for both teaching a yoga class and managing your client load,

set priorities and boundaries as a professional yoga instructor,

build skills to address the specialized requirements of individual clients and special populations (ie prenatal yoga, injuries, varying abilities) that are also applicable to a group dynamic,

establishing fundamental demonstration and observational skills in assisting and correcting client movements and postures,

develop specialized teaching skills,

cultivate positive student learning processes,

and run various yoga instructor business aspects, including that of legal and marketing processes.
Anatomy and Physiology
Minimum contact: 10 hours
Minimum mentor contact: 0 hours
Training aspects with this category should cover study topics of:
Human physical anatomy and physiology, such as systems of the body, organs, etc.

Energy anatomy and physiology, such as chakras, nadis, aura wellness etc.

Topics covering the application of anatomy and physiology to yogic principles, such as benefits, contraindications, healthy movement patterns, etc.
Yoga Philosophy/Ethics/Lifestyle
Minimum contact: 30 hours
Minimum mentor contact: 0 hours
This aspect of your training should cover the following categories:
Building upon fundamental understandings, established within your RYS 200, of yogic philosophies, sanskrit passages, and traditional texts, such as the Bhagavad Gita, Yoga Sutras, and Hatha Yoga Pradipika.
Yogic lifestyle principles including the concepts of nonviolence or ahimsa, as well as dharma and karma.

Ethics of student-teacher relationships.

Establishment of seva, the concept of teaching yoga as a service and being of service to others through your own practice.
Practicum
Minimum contact: 25 hours
Minimum mentor contact: 5 hours
Minimum contact: 30 hours
Study topics that should be covered in this aspect of your training should include:
Teacher practice, not including assisting, observing, or giving feedback.

Receiving and giving feedback.

The observation of other practitioners teaching.

The assistance of students while other practitioners are teaching.
Not only that, but all 300-hour yoga teacher training programs also involve a minimum of:
300 training hours. 270 of the 300 hours must be contact hours with mentors.

80 of the 270 contact hours must be designated towards specific Educational Categories.

The remaining 190 hours are required to be distributed amongst the Educational Categories based upon the focus of your training.
After successful completion of your 200- and 300-hour YTT programs, you have the option to register your completed programs with Yoga Alliance, an international certifying body. While many argue that registering with Yoga Alliance brings credibility to your yogic resume, giving hiring studios reason to trust in your training, it's super important to note that it is absolutely not necessary.
So why have your RYT 200 or RYT 500? Well, many studios require you to be registered with Yoga Alliance for yoga insurance reasons. It also demonstrates a basic understanding of certain yoga principles.
But that does not mean that you actually know these principles, that your training was quality, or that you are a good teacher. And it's not even required in most instances, anyway. (They basically just take your money.)
Whether you're looking to make a difference in the world, by casting your light upon others and sharing your hard-earned skills in the yogic community or simply wanting to broaden your own knowledge within your practice and continue your yoga journey…
…a 300 Hour YTT will bring you ever closer to achieving your yogic goals.
X
Sneak Peak into My 300-Hour YTT - FREE Videos, Info Session, Bonuses!