So you're super into yoga and are considering doing a teacher training… fantastic!
But maybe, like many others, you're not sure where to start?
Or perhaps you've gone all the way to Rishikesh to complete a yoga teacher certification program and you're already teaching some classes (also fantastic, btw)…
…but now you want to majorly upgrade your teaching skills but feel lost in choosing your next training?
Or, heck, maybe you've heard about a "500-hour" teacher training course and are just confused as to what it is, how it will benefit you, and what it covers?
Well, keep reading, my friend, because you're in the right place!
Whether you've never done a teacher training or you're already an RYT (a Yoga Alliance Registered Yoga Teacher), learning more about the 500-Hour Yoga Teacher Training course will empower you with more information to propel you forward along your yogic path.
What is a 500-hour Teacher Training?
Let's first point out that this is not the same as being a 500-hour RYT, but it is one way to become a 500-hour RYT.
Confusing, right?
Let me explain.
A "500-Hour RYT" is someone who has completed what is essentially an introductory level and an advanced level teacher training with Yoga Alliance registered schools (RYS). There are actually two ways to achieve this designation.
The first way is to take an RYS 200-hour training, then later complete an RYS 300-hour training with either the same or a different program.
The second way is to complete both in one course that covers all the 200-hour and 300-hour content with one teacher or yoga center.
This is called a 500-hour Teacher Training Program (RYS 500) and it's what we'll talk about here.
Now let's dig into the benefits of doing this type of training and some of the things you can expect to learn so you can choose if this type of program is right for you.
5 Reasons To Do A 500 HR YTT Course
Whichever route you choose, there are several great reasons to become a 500-hour teacher. Here are five benefits that are specific to an RYS 500 program.
Reason #1 Minimize Confusion
Studying the ancient teachings of yoga and their applications in the modern world plus learning how to teach them is a lot to take on!
Add to that having to discern between differing schools of thought you might learn from a 200-hour course with one teacher and a 300-hour with another…
…it can sometimes be overwhelming!
If you know you're the type of student that doesn't do well with ambiguity and distinguishing between different answers to the same question, the 500-hour yoga teacher certification is a great option for you. Learning all the 200- and 300-hour course content from one point of view helps to minimize the confusion that can come from training with different instructors so that you feel solid in your knowledge base.
Reason #2 Fill In The Gaps From Your 200-hour Training Program
If you've done a 200-hour teacher training program but still don't understand the Yoga Sutras, get confused by mantra meditation, are rusty with your Sanskrit, or don't really grasp that whole "pranayama" thing, you're not alone!
A whole lot is covered in the 200-hour training and most people can't fully absorb all the history, philosophy, and techniques as well as how to teach all within 200 hours. The RYS 500 is a fabulous choice if you want to fill in those blanks in your yogic knowledge that are lingering from your first training. It can strengthen your foundation for learning the 300-hour material!
Reason #3 Up Your Teaching Mojo
Pssst! Here's a secret of newly certified yoga teacher's everywhere: we often don't feel ready to teach yoga after finishing a 200-hour training!
Even if you study in Rishikesh, India, read the Bhagavad Gita, and learn some Sanskrit, it's common to want more education and teaching experience before applying to your favorite yoga studio.
And that's exactly what a 500-hour course does.
A 500-hour course gives you more teaching practice and time to learn so you can boost your teaching swagger!
The confidence gained from 500 hours of study and practice can help you feel confident in guiding your students through an amazing yoga experience. Before you know it, you could be landing that gig at your favorite yoga studio or even leading workshops and yoga retreats.
Reason #4 Stand Out From The Crowd
There are A LOT of certified yoga teachers out there these days, which is wonderful!
The problem?
That makes it a lot harder to land your dream gig at your favorite yoga studio.
Having a 500-hour training on your resume could help you stand out as the 500-hour program is the least commonly offered training. It could help you land your dream job as it shows your favorite yoga center that you take your commitment to learning and teaching seriously.
Reason #5 Spend More Time With Your Favorite Teacher
A 500-hour training is an especially valuable type of course if you have a favorite teacher that you just love.
And if there's someone whose classes particularly speak to you, who better to spend 500-hours studying with?
You will leave your course with a stronger relationship with them and maybe even have a mentor for the rest of your teaching career. Plus, if their teaching moves you, a 500-hour course will help you to pass on your favorite aspects of their teaching to your students, too.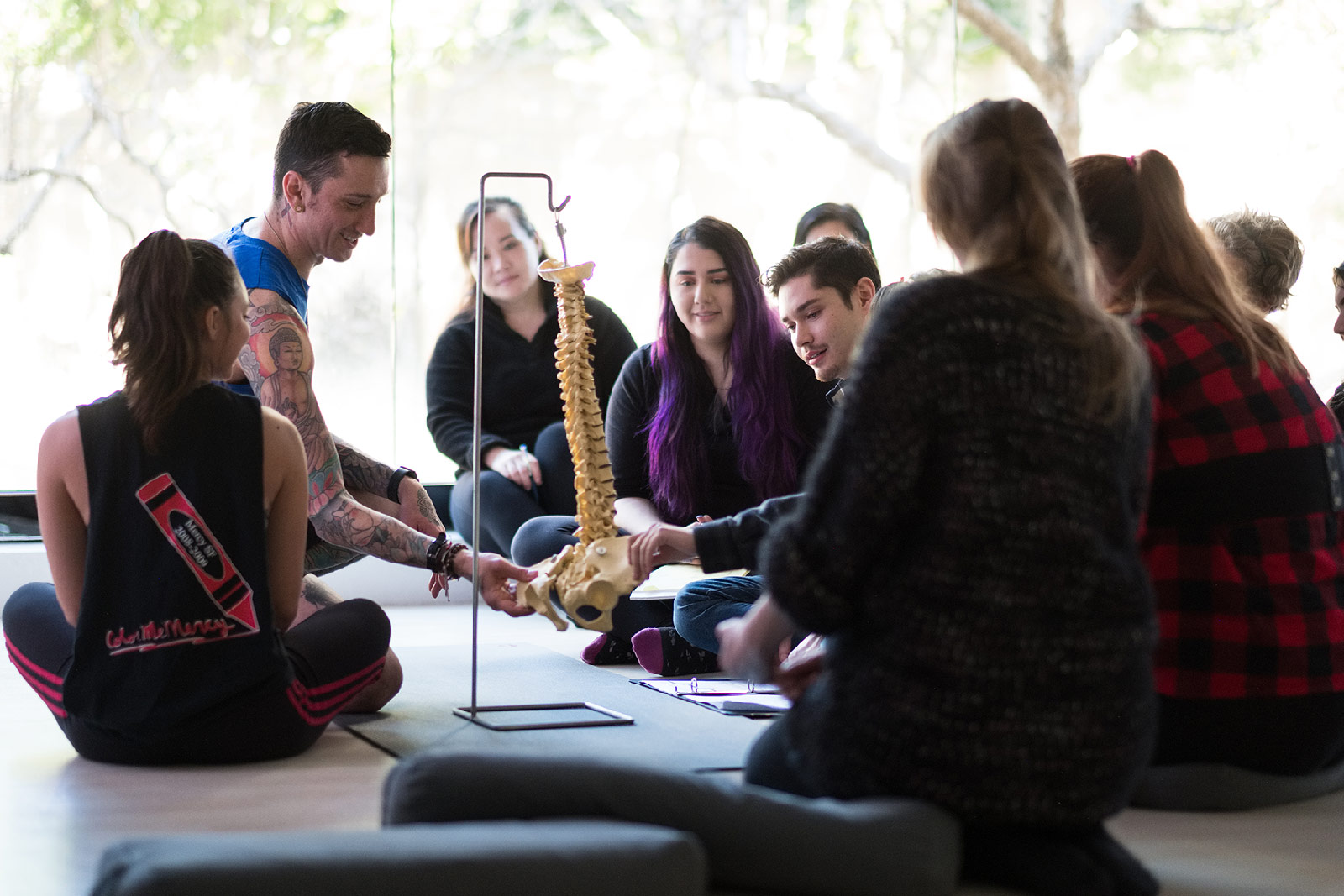 What's In The 500 Hour Yoga Teacher Training Curriculum?
Now let's take a look at the hourly breakdown of what you can expect to learn in an RYS-500 course. These guidelines are set forth by the Yoga Alliance Spirit of Standards, which is generally followed by all yoga schools.
While you don't need to be registered with the Yoga Alliance, it's common practice to follow this curriculum.
Techniques, Training and Practice
Minimum contact: 100 hours
Minimum lead trainer contact: 100 hours
Minimum total time: 150 hours
This section of your teacher training course will be the bulk of your 500-hour education and should cover a mix of personally learning yoga and meditation techniques and learning to teach them. Topics and techniques covered in this section include:
yoga asana (yoga postures),

kriyas,

pranayamas,

mantras,

chanting,

meditation,

as well as other traditional techniques.
Teaching Methodology
Minimum contact: 20 hours
Minimum lead trainer contact: 20 hours
Minimum total time: 30 hours
This part of your training is dedicated to providing a broad overview and analysis of teaching methods. This typically covers:
building strong communications skills,

managing group dynamics,

developing time management skills,

setting priorities and boundaries,

addressing the needs of individual clients and special populations (ie prenatal yoga, injuries, varying abilities),

learning demonstration skills,

developing observational skills for assisting and correcting client movements and yoga postures,

exploring different types of teaching styles,

learning the qualities of a good teacher,

understanding and supporting the student learning processes,

managing the business aspects of being a yoga instructor such as marketing and legal considerations.
Anatomy and Physiology
Minimum contact: 20 hours
Minimum lead trainer contact: 0 hours
Minimum total time: 35 hours
The anatomy and physiology portion of your training covers the subjects of:
human physical anatomy and physiology (systems of the body, organs, etc.),

energetic anatomy (chakras, nadis, prana, etc.),

the specific application of anatomy and physiology to yogic principles and group asana classes (benefits, contraindications, healthy movement patterns, etc.)
Yoga Philosophy/Ethics/Lifestyle
Minimum contact: 45 hours
Minimum lead trainer contact: 0 hours
Minimum total time: 60 hours
This section broadly covers yoga philosophy and how to incorporate it into your personal ethics and lifestyle as an instructor. Topics explored are:
yoga philosophy and ancient texts (Yoga Sutras, Hatha Yoga Pradipika, Bhagavad Gita),

ethics of student-teacher relationships,

how to serve others through yoga as an act of seva or selfless service.
Practicum
Minimum contact: 20 hours
Minimum lead trainer contact: 10 hours
Minimum total time: 40 hours
Training hours dedicated to assisting and teaching skills will include:
practice teaching as the lead instructor,

observing other trainees teaching,

receiving and giving feedback,

assisting students while others are teaching.
Committing 500 hours of your life to furthering your yoga education is a big decision!
If you know and love your teacher, prefer consistency in the learning process, want to fill in the gaps of your 200-hour training and to feel more confident while standing out as a teacher, a 500-hour training could be the perfect option for you.
Take time to find the right course for you so you get the most out of your training experience. Whichever path you choose, keep learning…
After all, teachers become excellent by being excellent students!
X
Sneak Peak into My 300-Hour YTT - FREE Videos, Info Session, Bonuses!