So, you're interested taking a yoga teacher training (yay!!)? Even if you're more than ready to dive into your YTT, you may still be wondering … is 200 hours enough to teach yoga? As an expert teacher-trainer who has graduated thousands of students just like you, I'm here to help. This post will provide you with a brief history of the origination of yoga, why a 200-hour teacher training can be sufficient to teach yoga, the different types of yoga teachings that exist, and how to align your interests with the various styles of yoga.
Why the Foundational YTT is 200 Hours (in the US)
For a practice that has existed for over 5,000 years, how did experts land on a foundational training of only 200 hours? As Patanjali's Yoga Sutras tell us, the eight limbs of yoga guide students to enlightenment, or Samadhi. Can the path to enlightenment be taught in a 200-hour teacher training program? Or even a 300-or 500-hour program? The obvious answer is 'no', and that's not what many certifications are designed to teach!

It's rumored that the early founders of Yoga Alliance (established in 1997) developed the 200-hour module as a complimentary training for MDs to offer cardiac patients, after publication of a peer-reviewed study by Dr. Dean Ornish in 1999 highlighted the positive effects of yoga and meditation on patients with heart disease.
What You Learn in a YA-Certified 200-Hour YTT
Today, Yoga Alliance-certified 200 hour teacher trainings are widely available to the general public. YA-certified trainings are standardized to include specific topics so students know what to expect from a 200 hour training, including:
Techniques, Training, and Practice
Yoga Teaching Methodology
Anatomy and Physiology
Yoga Philosophy/Ethics/Lifestyle
Practicum
Although these standards have been developed by the Yoga Alliance, it's not a standard that is adopted everywhere in the world. Remember, the Yoga Alliance isn't a governing body. It's really up to the venue if they want to adopt the standards of the Yoga Alliance. A benefit of integrating the Registered Yoga School (RYS) or Registered Yoga Teacher (RYT) standards is to provide US-based studios, businesses, or students with a basis of trust or a sense of regulation in case liability issues should arise. 
Let me repeat, there are many places around the world that adopt a similar curriculum without paying the Yoga Alliance fees, and you can teach without being certified by the Yoga Alliance.
Combining Certifications
After completing the 200 hour certification, many teachers find themselves wanting to learn more about a specific type of yoga practice or want to build their competence in a certain area. The best part about yoga is that it's a constant journey of learning and exploration AND there are many ways to combine certifications after you have completed your initial 200 hour training. Here are some examples to consider:
Yoga Anatomy
Meditation Instructor
Hot Yoga
Yoga for Kids
Power Yoga
Yin Yoga
Yoga Nidra
Chair Yoga
Restorative Yoga
Mindfulness Coaching
Yoga Life Coaching
One of the many benefits of the internet is that yoga schools now offer self-paced online courses. This option can make learning easier for your schedule, and can provide you with an opportunity to choose a program regardless of where you live in the world.
Fall in love with my 200-Hour teacher training or …

X
Experience 3 Training Videos from Inside My 200-Hour Online YTT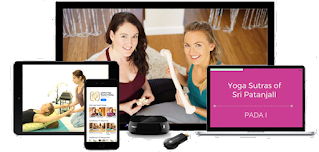 Is 200 Hours Enough to Teach Yoga?
Well.. yes! And, no. With discipline, planning and passion, a 200-hour certification will definitely get you started teaching yoga. Speaking as someone with multiple YA-certified trainings, I can also say that I didn't stop learning when I finished my first 200 hour YTT. Some of my most fulfilling teaching opportunities have come from studying under a variety of teachers, including Gurmukh, Rod Stryker, Elena Brower, Kia Miller and Guru Singh – both in YA-certified programs, and immersions totaling thousands of hours (I've honestly lost track!).
When asked if 200 hours of training is enough to teach yoga, I always encourage students to be more specific. Is 200 hours enough to teach… Who? In what setting? And what kind of yoga? If you have big dreams but are scared to teach… well, that's another post 😉 Here are some of the most common teaching scenarios and how a 200-hour certificate will prepare you for them:
Is 200 Hours Enough to Teach…
…In Yoga Studios
You can certainly teach in a yoga studio with your 200- hour certificate. If you have taken a YTT at a studio, ask them about their teaching requirements and expectations.
If you are new to a studio, take some classes to see if the vibe fits your teaching style. You can also offer to help the studio with assists and offer to provide some karma classes to get comfortable teaching in person or online. The best way to improve style is to practice; I always recommend offering karma yoga classes to friends and family for more experience.
…Private Yoga Clients
Absolutely, a 200 hour training is enough to teach yoga privately. If you are thinking about starting a private yoga practice, I recommend teaching at least 50-80 session hours before officially working with private clients. These group or private sessions will not only boost your comfort level as a teacher, but you can also attune your style and your attention to understanding how individual bodies move differently. I also recommend studying yoga anatomy in greater depth to familiarize yourself with client requests.
…On a Volunteer Basis
Absolutely! There are so many places that could use a volunteer yoga teacher!
As a new teacher, consider volunteering in a place that you feel comfortable in. A relaxed environment will build your confidence levels and will help you fine tune your style as a teacher. As you gain more experience, you might want to check out work-trade opportunities to teach in exchange for staying in a beautiful place (Yoga Trade is a great place to find these opportunities). Also consider the specializations of interest. For example, if you would like to teach at a school it's a good idea to obtain an additional certificate in kids yoga. For older populations, a knowledge of restorative or chair yoga may be needed. 
Next Steps
Check out my YouTube channel and find some yoga classes that you can try out for yourself!
Attend a 200 YTT info session to see what else you'll learn in my online teacher training.
X
Experience 3 Training Videos from Inside My 200-Hour Online YTT