It doesn't matter who you are. You could be an experienced yoga practitioner or complete beginner, hatha yoga has something to offer you.
There is no doubt that you've encountered one of the many yoga styles out there. But, if you really want to look deep and discover what yoga is really about, then hatha is for you.
It's hatha yoga that contains all of the traditional yoga philosophy and basic yoga poses that feed into every other style of yoga. Vinyasa yoga, ashtanga yoga, and yin yoga were all born from the philosophy and core postures of traditional hatha yoga.
As a current or aspiring yoga teacher, hatha can be adapted no matter what teaching style you have.
After all, learning the core of traditional yoga can only benefit you and your students.
Even if you never plan on teaching a hatha yoga class in your life, I would still recommend a hatha teacher training program. It can inspire your personal practice, deepen your connection to ancient yoga traditions, and inform your understanding of yoga philosophy.
Whether you teach yoga or simply study it, immersing yourself in classical hatha yoga is a worthwhile project.
Recommended Reading: Levels of Yoga Certification: What The Heck Is The Difference Between 200-, 300-, and 500-Hour YTT Courses?
What is Hatha Yoga?
I like to think of hatha yoga as a wise old grandmother. The one who passes down the traditions and ancient wisdom.
From her, all of the modern styles of yoga were inspired and born.
Classical hatha yoga is what was written in the ancient texts, like the Yoga Sutras of Patanjali, or the Hatha Yoga Pradipika. In these texts, different kriyas, or practices, were handed down for the purpose of achieving enlightenment.
Traditionally, there were 84 asanas, or postures, were developed to balance the body both physically and energetically. However, it's so much more than poses and postures.
Traditional hatha yoga includes an entire philosophy. As powerful as the yoga philosophy is in cultivating a life of abundance and health, it is quite involved and not exactly practical for modern day life.
After all, not many people devote hours a day to sitting in silent meditation, practicing each kriya, and holding each asana.
Because of this, many modern interpretations have been born. New schools and lineages have created something that is more applicable to life today.
In fact, one of these variations is likely what you will see at your favorite yoga studio, even in your favorite hatha yoga class.
But that doesn't mean that you can't study the traditional yoga practice on your own. Whether you sneak away to a yoga ashram in India or you join me in my online yoga teacher training course, you can dive into the study of classical hatha yoga too.
No matter how you plan to use it, I would definitely recommend studying hatha yoga in depth. It will not only help you deepen your own knowledge base for teaching others but also for deepening your own personal practice.
Recommended Reading: How to Be a Yoga Instructor: 6 Thing You MUST Know Before You Begin
Where To Get Your Hatha Certification
Most yoga teacher trainings out there will incorporate hatha yoga. In a multi-style teacher training, you will definitely learn traditional hatha philosophy.
It's hard not to when it's the very foundation of yoga.
Since the postures are carried over into all of the other styles, it's smart to begin here, anyway.
Even if you aspire to teach a different style of yoga, hatha will teach you the proper alignment of the postures that are fundamental to a yoga practice.
If you choose to study traditional hatha yoga, then you may find yourself in an ashram reading ancient texts like the Bhagavad Gita.
If you're looking for a more modern interpretation, you can find that as well. Isha or Anusara yoga are both schools which teach the traditional philosophy, but make it applicable to modern day life.
Before you sign up for a training program, though, do a bit of research into your potential yoga school. Many schools will boast of their registered yoga school status with Yoga Alliance USA but that doesn't necessarily mean that you'll have a quality training experience. Ideally, a registered yoga school will cover
yoga anatomy and physiology
yoga philosophy via ancient texts like the Bhagavad Gita, Hatha Yoga Pradipika, and the Yoga Sutras
teaching methodology and how to cultivate a personal teaching style
pranayama and meditation
Even so, not all schools registered with Yoga Alliance USA do a good job of teaching on these topics. Even if you become a certified yoga teacher with your RYT status, that doesn't mean that you'll actually be prepared for a career teaching yoga. Just be super aware as you are choosing the yoga school you'd like to study with 🙂
Recommended Reading: What is Yoga Alliance and Do I Need an RYT Certificate to Teach Yoga?
Fall in love with my 200-Hour teacher training or …

X
Experience 3 Training Videos from Inside My 200-Hour Online YTT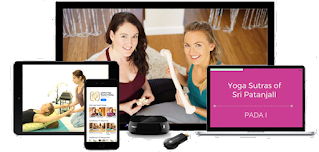 Here are the different ways that you can do a hatha yoga teacher training program:
Hatha Yoga Immersion
An immersion is a short, intensive program focused mainly on the physical postures of hatha yoga. If you're thinking about going for your 200-hour teacher training, an immersion could be a great preview to see if it is right for you.
Throwing yourself into an immersion program can give you a good idea of what a full teacher training program consists of.
Doing an immersion program could also be added at the end of your training for an even deeper dive into the practice.
Some immersions focus on advanced poses and are designed for teachers who have already completed the 200-hour training.
Hatha Yoga Teacher Training Online
In a perfect world, we would all have the time to explore and learn what we want. Unfortunately, real life doesn't work that way. We have jobs, families and responsibilities that make a teacher training, or even an immersion, impossible.
Luckily, there are options which make hatha yoga accessible to everyone. Learning online is perfect for people who can't take time off so easily.
For those looking to become registered yoga teachers, you will want to make sure that there is an in-person element to the training program as well. This is something that is required by the Yoga Alliance in order to become certified.
200-Hour Hatha Yoga Teacher Training
If you want to really dive in and go beyond the physical postures, then a 200-hour teacher training is perfect for you.
Along with the asanas, you will learn philosophy, pranayama, yoga anatomy and even some mantra chanting.
The Yoga Alliance requires a minimum of 200 hours of study in order to be a registered yoga teacher (RYT). If this is your goal, then you will want to do a 200-hour training program at a registered yoga school.
However, teaching yoga doesn't have to be your end goal. A full teacher training program can be suitable for anyone, even beginners. Nearly all 200-hour programs are suitable for beginners, so don't be intimidated.
A yoga teacher training can be life-changing. No matter where you are in your yoga journey, learning more about hatha yoga is definitely recommended. Having the knowledge of the roots of yoga can help you better understand this complex and beautiful ancient practice.
X
Experience 3 Training Videos from Inside My 200-Hour Online YTT