If you're reading this, you're likely considering an online yoga teacher training. You're doing your research (GOOD!). Now that you're here, considering joining our Uplifted campus, you may be wondering…
What makes Uplifted YTT better?
Why is it so expensive?
How is it different from other trainings I'm considering?
We're living in a post-pandemic era.
Before Covid, my Uplifted Online Yoga Teacher Training was the only one on the internet. Truly! I was the very first person to put a professionally filmed, community-centered yoga teacher training (with Zoom calls!) online back in 2015, practically when dinosaurs roamed the earth. 
Fast-forward to today – and there are HUNDREDS of online yoga teacher training options. No matter what yoga certification program you choose (even if it's not mine!) I LOVE that you're pursuing this life changing journey of YTT. And I'm proud that you're taking the initiative to do the work and find the program that will truly uplevel your yoga practice and your life… You deserve it!
Let's get started and unpack the Uplifted difference together 🙂
1. Proprietary Methodology
In the Spring of 2020, every yoga teacher training in the world was forced to come online. The method was "point a webcam at a yoga teacher" and deliver 200 hours of content like you would in-person, over Zoom. This is how almost all of the online YTTs you're looking at still operate today.
The problem with this method? It pretends online and in-person learning are the same (and as we all now know, they are not!). You're buying an online training that has the same methodology as an in-person training.
The result? You don't get the benefits of either one!
You survived the pandemic. I don't need to tell you that staring at a screen for hours on end is the WORST. You get eye-strain, mental fatigue, and quickly reach a point where your brain is physically unable to process more information.
In-person, 200-Hours of learning is naturally broken up, even in a 28-day intensive. You take snack and bathroom breaks, make friends, and joke around with your fellow students. Lots of time is devoted to Q & A.
So how does Uplifted YTT bring together the best of both worlds… instead of the worst of both worlds?
I've been doing this the longest. Even back in 2014, I knew that just filming an in-person 200-Hour yoga instructor training and putting it online would NOT be fun, efficient or effective. I knew a hybrid model would be best. In which you consumed content at your own pace, and then came together with students who had consumed the same content to put the principles into action.
I started by filming world-class experts in (highly-entertaining, if I do say so myself!) 20-30 minute videos. Why 20-minutes?
You need information in digestible chunks so you can go at your own pace and avoid information overload.

You're busy and likely fitting the yoga course in around other stuff. 20-minutes is perfect for people with busy schedules – Watch a video while your newborn is taking a nap, you're in the breakroom at lunch, or even while you're getting some R&R in a bubble bath.

These videos are quick and easy to download via our app to your mobile device for offline viewing (I used to work in tech, so the systems that power the Uplifted training are top notch!)
You receive dozens of hours of this professionally filmed yoga training content to watch as soon as you sign up. INSTANTLY. Like if you signed up for the teacher training course right now, you could begin watching our first module B.1.1 about Anatomical Individuality (part of the yoga anatomy requirements for your certification with Yoga Alliance) before you would have even finished reading this blog post.
What does this mean?
When we come together Live on Zoom in our Uplifted virtual campus, you're not listening to lectures. Our Live Calls are for connecting with fellow students, interacting with your trainers, getting personalized feedback on your own postures, and practicing teaching yoga. Our Mastery & Implementation Live Calls bridge the gap between the at-home self-study and the putting what you've learned into practice with real people (and compassionate support).
Think of it this way: A violin player wouldn't show up to a rehearsal and expect to be taught her part there. She'd know her notes from studying at home. The point of coming together with the rest of the orchestra isn't to LEARN something from scratch. That would be a waste of everyone's valuable time. Instead, it's to PRACTICE and expand what they've all all been studying individually. To make something new and amazing – music together.
At Uplifted, our Live Call format is about:
Confidence building:

Using your voice and sharing your ideas in a safe space with students

Forging friendships:

Creating a deep network of support that will extend post-graduation

Practicing teaching and reading bodies in real time:

I'm sorry to say that just passively consuming content, even if it's delivered "live" doesn't prepare you to teach

Personalized feedback:

We cap our class size, so you get our full attention and help with any yoga postures you may be struggling with practicing or teaching
Our Live Zoom calls rotate between these activities (personalized pose review, practice teaching yoga, Q&A sessions, and discussions in which everyone reviews the same pre-recorded material). Our discussions cover all of the yoga course material required by Yoga Alliance for you to complete your yoga teacher training certification. Think yoga anatomy, yoga philosophy, meditation, yoga sutras, and, yes, yoga postures. Instead of me just regurgitating it back to you, we discuss it all together.
Calls fly by! They never feel bored or stagnant.
Do you like to feel secure and prepared when in an academic environment? ME TOO! We provide you with a detailed Live Call syllabus for your unique training group. Receive this two weeks prior to Live Calls starting. You'll always know exactly what video material we'll be discussing on each call – no surprises! While we provide all the graduation and program guidelines in our Uplifted Yoga Teacher Training Guide, we know not everyone likes to read. Our live orientation week covers all the most important items required for certification and forges connection between you and your training buddies.
Figuring all this out took time… I spent close to a year in 2014 researching and designing this methodology so that I could create a truly interactive online yoga school. Because I'm a perfectionist, I've tweaked and improved the experience with feedback from my students after every single cohort. I've adjusted and improved everything more than 20 times! We set you up for success, based on close to a decade of student feedback, technical upgrades, and curriculum iteration.
2. Cohort Model (a.k.a. Community)
Most Online Yoga Teacher Training Courses have what's called an "open enrollment" policy. People enroll and start at any time, alone. When they show up to a Live Zoom call, their fellow classmates could be 2 weeks ahead of them in the program, or 20 weeks ahead. Yet they're supposed to be talking about the same material… Can you see how this doesn't make sense?
If you return to our musician analogy, this would be like the orchestra coming together for rehearsal, but each person having studied a different piece of music. How could this possibly be productive or conducive to advancing your learning?
The Uplifted Yoga 200 hour teacher training experience is offered just 3 times a year. The idea is for you to start and end the program with the same peer group and same trainers. Everyone will have watched the same pre-recorded yoga course content BEFORE the Live Calls begin.
Students always ask me if it's too early for them to enroll for a cohort… or too late. Earlier is always better (so you can give yourself the most flexibility with watching the 100 hours of pre-recorded content in time). But you actually can't be too late. I GOT YOU! We close registration a month before Live Calls start so all students have AT LEAST one month with the pre-recorded material. If you register right before the cut off date, pending how much time you can commit to watching/studying each week, you may be watching some pre-recorded content and attending Live Calls at the same time. This is totally fine! We help you prepare for each Live Call by telling you exactly what to watch beforehand.
If all this feels overwhelming, I promise that it's not as daunting as it sounds! You can email in anytime and communicate with your Lead Trainer directly, or tag them in the Facebook Group. Remember, all the videos are convenient to download, in digestible chunks, and designed with busy schedules in mind. You can do this! Thousands of successful grads have walked this path before you (including doctors, busy flight attendants, and a mom of newborn twins).
Fall in love with my 200-Hour teacher training or …

X
Experience 3 Training Videos from Inside My 200-Hour Online YTT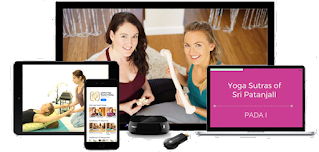 3. Lifetime Access, NO Renewal Fees
As you do your research into Online YTTs, PLEASE read the fine print! So many trainings sneakily give you access to all their content for only 6 months or a year. If you still want access after that time, or haven't managed to graduate, you get slapped with hefty renewal fees.
Before you buy, really ponder– what are you even getting access to? Is it the ability to attend Live Zoom Calls on random topics? Taught by WHO? Do you get actual downloadable replays of the calls YOU were in? Asking YOUR questions? Or is what's taught Live not provided?
At Uplifted, you get Lifetime Access to EVERYTHING. BOTH the professional pre-recorded content AND your specific cohort's Live Calls are yours to keep forever. This means you could come back and retake the full Uplifted yoga training years later if you wanted to. Many of our graduates do this and receive new insights! You WILL have modules and calls you want to pause, rewind, repeat, and refer back to. At Uplifted, you're investing in a lifetime asset.
Speaking of assets…
4. 600-Page Paper Manual Sent to Your House
Reading off of real paper and writing things down is essential for learning! My training comes with a gorgeous (full color) 600-page paper manual delivered straight to your door. (In this blog post I talk about the importance of a manual, and in this YouTube video I talk about a manual as one of the ways to tell if an Online YTT is legit!). Please DO NOT do a YTT that doesn't have a manual.
How could anyone possibly graduate as a certified yoga teacher without a manual that goes with the content? Back to our musicians, this would be like having no sheet music. No one would know what's going on, or have any source of truth to refer back to.
Our alumni tell us that once training ends, the manual becomes their most valuable resource. They're constantly looking things up to design classes, help students, or deal with an injury.
This means that you've got all of this material at your fingertips as you plan your yoga class, apply to teach at a yoga studio, or deepen your own yoga practice. ALL of it.
5. Verifiable Expert Teachers
As you sift through the seemingly endless sea of online training courses, please ask yourself… WHO is behind the training?!
Your teacher training is going to influence your teaching style greatly. Do they teach or include the style of yoga you're interested in? Do you like the way they sound? Do their cues make sense to you? Do you even like the way they practice?
For example: If you want to teach vinyasa yoga but your lead trainer only has experience teaching restorative yoga, then you may not be getting the yoga training you're hoping for.
And are you even studying with the lead trainer? How much experience do the other teachers have?
WHO leads the Live Calls? I'm aware of several online YTTs where the Live Call instructors are brand new alumni from the previous training round, with NO real world experience! Yikes!
At Uplifted, you get either:
Me, Brett Larkin!

My training faculty of two: Jen or Katrina (each 500 E-RYTs, each also teaching in the real world, each having been with me for close to 7 years).

A highly-regarded industry expert or author like Tom Myers, Kristin Leal, or Anodea Judith Phd – who many pay thousands to study or go on a yoga retreat with.
That's it. You are never taught by anyone who is not an expert at the top of their field or a core part of the Uplifted Yoga ecosystem.
Get to know me a bit more in this FAQ session all about Uplifted Yoga:
6. No Paperwork
You may be thinking – huh? Paperwork?
Be aware: inexpensive online yoga teacher trainings transfer the administrative burden of certification over to YOU. You'll be tracking each of your 200 hours in a spreadsheet and submitting dozens of forms to orchestrate your own graduation. It's so much busywork, that more often than not, students stop trying. In fact, most online yoga certification programs don't actually expect you'll graduate. The goal is for you to buy on impulse, because it's cheap, and then never follow through. They bury you in forms!!
On the Uplifted campus, we've streamlined everything. Focus on your inner transformation and become a certified yoga instructor within 4 months of your first Live Call. And I mean *actually* certify… we have a 96% graduation rate. Consistency in your trainers and peer group keeps you motivated and accountable from Day 1 to celebrating your graduation, just like an in-person yoga instructor training.
If you truly want to graduate and crave a connected, transformational experience, do not do a self-paced program. Motivation and accountability from a consistent trainer and peer group is critical to your success. Do not underestimate this.
In fact, it's so daunting that we've made an entire collection of resources for yoga teachers who want to stay on top of their Yoga Alliance certification:
7. Real Success Stories
Our training is a bigger investment than many other options, but as one of my students, you and I invest in each other. I get to know you as a real person I'm seeing in Live Calls… you're NOT just another number on a roster.
Part of the investment I put in is our crazy strong Alumni network. Uplifted alumni are constantly collaborating professionally and even traveling around the world together on yoga retreats!
And another BIG part of that investment is real-world business training. Other trainings don't talk about money. Like, at all. They give you vague recommendations to be active on social media, make a website, and then wish you luck.
But money is a MASSIVE component of being a successful yoga teacher. I always say that when you sign up to teach yoga, you're also signing up to be an entrepreneur. My YTTs have entire modules built around business strategy. I empower you to make educated decisions on things like email marketing and how much to charge your clients. Hint: Your services are worth more than you think!
This isn't just a yoga teacher training course. This is also a course on how to be a successful registered yoga teacher. Even if teaching is not your primary goal right now, I consider it my responsibility to ensure my grads know exactly how to earn money teaching yoga, both in-person and online, as part of our certification process.
Final thoughts
Phew!! That's a LOT to take in… but that's the Uplifted difference. It's my answer to the million dollar question of why my program costs more, and I wouldn't have it any other way.
Uplifted YTT attracts extremely high-caliber students because they want a transformational experience. Our trainees love yoga enough to know that this is something worth investing in for themselves. If my online yoga teacher training was less expensive, it wouldn't have our stellar training faculty, our high-level tech, or the organization that facilitates the intimate Live experience that our students love!
So which type of yoga teacher training certification are you looking for; 200-hour, or 300-hour? Not sure? Read this!
If you have questions about enrollment or just want to stay in the loop, you can always reach out via:
From my heart to yours,
Namaste.
Next Steps
Check out my YouTube channel and find some yoga classes that you can try out for yourself!
Attend a 200 YTT info session to see what else you'll learn in my online teacher training.
X
Experience 3 Training Videos from Inside My 200-Hour Online YTT