Life is all about balance. Taking the good with the bad. It's treating yourself to a massage after a stressful workweek or splurging on that dessert after you've eaten all your vegetables.
We have to find this balance in our physical bodies as well. This is where yoga, and its many forms, comes in. Did you ever wonder why there were different types of yoga?
Well, it comes down to balance!
In general, yoga styles can be categorized as either active or passive.
Active forms, like hatha yoga or vinyasa flow, are essential for strengthening and opening the body. Passive classes, such as yin or restorative yoga, give you the opportunity to explore the subtle energy within the body.
I know that we all tend to have our favorites, but incorporating a variety of styles in your personal practice is important. You challenge your body with the active classes, and give it the time it needs to recharge with more passive classes.
As a yoga instructor, it is important to be able to facilitate this balance to your students. With knowledge of different styles, you'll have a better understanding of how to achieve this.
Where Does Yin Yoga Come From?
The concept of yin and yang began in ancient China and was used in reference to the chi, or energy in the body. The energy flows along different meridians within the body, and yin yoga postures are designed to release any blockages along the meridians.
According to this meridian theory, a yin yoga practice is especially helpful in balancing the chakras.
Yin yoga is a passive style of yoga where poses are held for longer periods of time, and many of them are done seated. For someone starting out, the holds may be around 1-2 minutes. A more advanced practitioner may hold poses for 10 to 15 minutes.
This may sound easy, but it is not!
Going that deep into the muscles can release some tension that may have been building for a while. These can create some intense physical and emotional reactions.
They say that thoughts and emotions manifest themselves as tightness in the body. So it's not uncommon for certain emotions to surface during one of those long holds.
With such a long time spent in each of the yin yoga poses, you could also look at yin yoga as a form of meditation. Holding the yoga poses gives you the stillness to relax your mind and settle into the body.
It is a slow, delicious form of mindfulness, a moving meditation practice.
No matter what comes up in a yin yoga class, the most important thing to remember is to breathe. Staying focused on the breath will get you through challenging postures and bring your mind back to the present moment.
Besides the yoga mindfulness aspects of a yin yoga practice, it's also a great yoga practice to support your overall health and well-being. As you settle into the yoga poses, you are slowly releasing the connective tissue in the target areas, giving your body great flexibility and mobility.
It also teaches you how to surrender to the present moment, making your yoga and meditation practice a powerful one.
Whether you are a yoga teacher or practitioner, you may find yourself interested in learning more about yin yoga. For this, a teacher training program may be the right step for you.
You Might Like: What to Expect at a 200-Hour Yoga Teacher Training Program
Where To Get Your Yin Certification
Getting a yin yoga certification is a great move for both existing and new teachers. I would recommend it even if you never plan on teaching.
There is so much to be gained for your personal yoga practice that whatever training you decide to do will not be wasted.
Most 200-, 300- or 500- hour training programs will teach a variety of yoga styles.
In fact, it's common for programs to teach hatha yoga and ashtanga vinyasa together.
However, it is less likely for active and passive styles to be taught together. After all, the yoga postures are slightly different in the two styles of yoga.
Luckily, there are so many different options out there for gaining experience in yin yoga.
Yin yoga teacher trainings can be found anywhere from the Himalayan foothills to your neighborhood studio. Training online is even an option. Depending on your schedule and budget, you can definitely find a training to suit your needs.
Yin Yoga Certification Immersion
An immersion course is a shorter, accelerated teacher training program. Yin yoga immersion programs consist of 60 contact hours. It will provide a focused and in-depth study of yin yoga. This is a good choice for current yoga instructors or students looking to deepen their practices.
During the training, students will be taught the specific yin yoga sequences. Along with this, anatomy and the meridians will be taught to give a deeper understanding of how each pose works.
Keep in mind that this is not a substitute for a 200-HR certification. But, it can be taken before or after a 200-HR course for those who are on a teaching path.
Even those who don't plan on teaching yoga may greatly benefit from an immersion program. People who work as massage therapists, artists and social workers might also find this training helpful as it's an excellent yoga practice to support overall health and well-being.
You Might Like: What is The Yoga Alliance And Do We Really Need It?
Yin Yoga Teacher Training Online
Again, this is a training that is meant to be supplemental. It is not a replacement for a 200-hour yoga teacher training, where you learn more dynamic forms of yoga.
But that doesn't mean that you can't attend a workshop or teacher training program online.
This would work best for current teachers with a busy schedule or with limited access to training due to where they live.
An online program will grant you the flexibility of where, when and how long your training will take place. To facilitate the training, you will be presented with instructional videos, notes, practical assignments and teacher support.
Even if you never intend to teach a full yin yoga class, learning this style can help you cultivate yin elements for a more balanced yoga class.
200-Hour Yin Yoga Teacher Training
200 hours is the minimum number of hours to teach, required by the Yoga Alliance. Along with yin yoga, the training modules will cover the many forms of yoga, the history of yoga, anatomy, teaching techniques, pranayama and mindfulness meditation.
If you are looking for something more comprehensive or are not a teacher yet, then a 200-hour yin yoga teacher training is a good option for you. While this is more of a financial and time commitment, you will be trained in the principle of yin yoga and be certified to teach at the end of it.
Whether it's for your teaching or your personal practice, doing a yin yoga training will only benefit you. After all, I think we could all use a bit of calm and balance in this crazy, fast-paced world.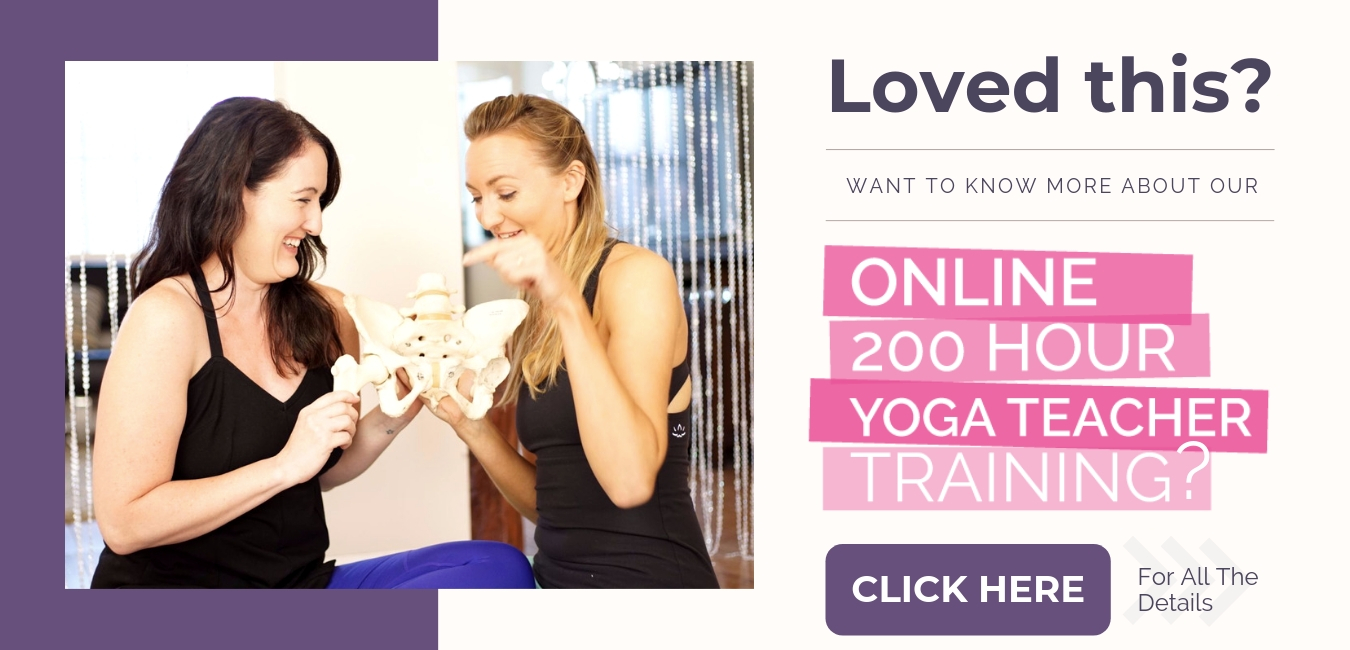 X
Experience 3 Training Videos from Inside My 200-Hour Online YTT