So you've finally decided that you wanted to become a yoga instructor and now you're searching for a yoga teacher training course.
Great, let's do it!
But, like, what actually goes on at a yoga teacher training retreat? And how do you know if you're even ready for it?
Believe me, these are questions that we've all had as we embark on our yoga certification journey.
A serious case of Imposter Syndrome is ubiquitous with exciting new ventures
But it doesn't have to feel that way.
In fact, I'd argue that the very experience of feeling that way is essential to the entire training.
Those nerves, that mental chatter, the buyer's remorse…
…it will all melt away as you begin to peel back the layers of your ego and stress.
A yoga teacher training course has the potential to change your life, from the way you earn money to the way you view the world.
As magical as that may be, that means that it often comes with a lot of hard work. So be afraid, but also be emboldened.
A yoga instructor training may be just the thing to shake things up in your life in unimaginable ways.
5 Hard Truths About Yoga Instructor Training
Okay, okay. You've heard about the many good reasons to take yoga teacher training, but that's not why you're here. You're here for the nitty-gritty, so that's where I'll start. I tried to think back about my hesitation and experience as I first signed up for my 200 RYT certification program.
I remember feeling like maybe I wasn't ever going to be the expert. I remember feeling like I wanted to be the expert rightaway.
And then, the layers peeled back. Here are the five hard truths about a yoga instructor training that all of us must learn.
1. You're Always A Student
You're going to be a student forever, sorry! There is a lot to learn, it takes time, and doesn't stop on your TTC. The truth is there is so much to know about yoga that you're never going to know it all. Yoga is something that you can study for a lifetime. 🙂
2. You'll Feel Unprepared
You're going to feel unprepared no matter what. There is just so much to learn from anatomy and physiology to yoga philosophy and Sanskrit… It's normal to feel overwhelmed, I know I did. I hadn't learned so much in a long time, but you can do it. 🙂
3. You May Not Feel Ready To Teach
Some people don't feel ready to teach yoga afterward. It's natural to be nervous to teach after you earn your teacher certificate, but the sooner you do it the easier it is… and the sooner you'll get to practice, gaining teaching skills and finding your teaching style.
4. It Will Change Your Life
It will be a life-changing experience. I mean it! It's a process of getting to know yourself. It's like you're going on a journey with yourself through yoga. Prepare to be vulnerable and feel all the feelings, seriously, it's an emotional rollercoaster! You might feel angry, sad, anxious and happy, all in one day.
5. You Might Not Make That Much Money
It's hard to make a living teaching full time. But the teachers in the yoga studios seem so happy and busy, right? The truth is it's competitive out there and you'll likely have to do other things like teach private classes, offer special events and workshops or even do admin work for studios or gyms.
What's In The 200 Hour YTT Curriculum?
So much more than asana practice, yoga teacher training courses include the understanding of yoga tradition, teaching methodology, yogic philosophy, anatomy and physiology.
Any YTT program associated with Yoga Alliance will likely follow the curriculum as outlined by YA.
And you know what?
Most of the others will follow the same curriculum, too. Here is what to look out for on your training syllabus for your teacher certification course.
You might also like: How to Choose a Yoga Teacher Training (That Won't Rip You Off)
Techniques, Training and Practice
This is where you will learn about the physical practice (asana), pranayama (breathing exercises), kriyas (cleansing methods), maybe Yoga Nidra, mantra, and meditation. It's the bulk of what you practise and you'll also learn how to teach it.
Teaching Methodology
You will learn about the student learning process, the qualities of a teacher, teaching styles, yoga sequences, the business of yoga and how to teach yoga for different needs or populations. You'll learn how to demonstrate, as well as observe, assist, and correct.
Anatomy and Physiology
So not only are you going to get re-acquaintanced with human biology and physiology (remember that at school?), but there is also this whole other world of yogic anatomy to delve into. You'll learn how the principles of both applying that knowledge to yoga practice and the benefits and precautions of each pose.
Yoga Philosophy/Ethics/Lifestyle
You know when you don't have any expectations for something and then it turns out to just blow you away and you love it? That was yoga philosophy for me. It turned out to be one of my favorite sessions. I found the yamas and niyamas of Patanjali's eight limbs of yoga so interesting and loved the opportunity to take my yoga practice throughout my whole day. You will also get to finally learn all of those yoga terms that you hear your yoga instructor mentioning in class.
You might study Patanjali's Yoga Sutras, the Bhagavad Gita or the Hatha Yoga Pradipika.
When you learn about yoga lifestyle it's basically the yoga philosophy of how to live your life.
Yoga ethics covers student-teacher relationships and the yoga community as a whole.
Practicum
You won't graduate an experienced teacher, but you will experience teaching yoga! Your training program will include sessions where you teach, observe, as well as give and receive feedback. You may even assist while someone else teaches. It's all great practice for you. 🙂
Fall in love with my 200-Hour teacher training or …

X
Experience 3 Training Videos from Inside My 200-Hour Online YTT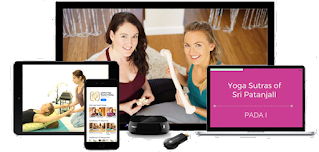 What To Expect With Teacher Training Program Costs
Where to do your yoga teacher training? There are so many choices it can feel overwhelming and you just want to pick a good one to invest your heart and soul in.
There are all different options with different prices for 200-hour yoga teacher training courses, and it's just about finding the right one for you.
The cost of yoga teacher trainings range due to the yoga school, location, or even style of yoga. High-end schools like Jivamukti or CorePower Yoga will put you back a bit more than a traditional Hatha Yoga course.
Hatha Yoga and Vinyasa Yoga are more affordable, as well as versatile yoga styles that will give you a good foundation for most other styles.
Unless you're training with a world-famous yoga teacher, the cost of your training will mostly be determined by the location.
You can find immersive yoga teacher training courses in India, Nepal, Mexico, and some parts of the US for as little as $1000-3000, including food and accommodation.
It's true, some Indian TTCs are half the price of TTCs in the States. But there's usually a reason, you know? If you're paying less then you must be compromising on something, be it accommodation, food, or quality in general.
Still, it's worth knowing there are budget options.
Maybe, you'd like to do a yoga teacher training program in Rishikesh, the 'capital of yoga'. Surrounded by ashrams, alongside the Ganges, you could experience yoga in a deeper way.
If you feel like warmer weather, there is also affordable training in Goa. Or if you feel like going to the Himalayas (and who wouldn't?!) in Nepal, it's about $1400-2000.
It all depends on your budget and how much luxury you're looking for. What a nice problem to have!
if you felt like really splurging there are more high-end options from $3000 upward in dreamy destinations like Bali and Costa Rica. I know right.
That said, you don't have to break the bank to do your teacher training on a paradise island! Thailand dishes up affordable luxury, as well as a solid yoga community, alternative healing modalities and… coconuts!
Yoga teacher training courses in Thailand start from $1900, with some private huts available at $2500. Paradise isn't as far away as you think 😉
Regardless of where you would like to go for your training, you also need to think about what your schedule is like, how much time you need to give to this and how you work best.
You might not suit an immersive training where you cram 200 hours into less than one month and that's okay.
These days many studios offer teacher trainings where you learn and practice in the evenings or on the weekends over a much longer period of time.
The advantage to studying like this means you have more time to properly study and absorb the teachings and it's easier to fit into most people's routines.
The final option is actually to study online, like with my online teacher certification course. Studying online allows you to not only study with different teachers, it allows you to study at… your… own… pace.
As well as being flexible, they're generous too. Most of the best online yoga teacher training courses throw in lifetime access to resources, which is great!
You get to be in the comfort of your own home on video calls and study and practice according to your schedule. The flexibility sounds amazing, I've gotta say.
What Is A Typical Yoga Instructor Salary?
Despite what some people might have you believe, you're probably not going to become rich teaching yoga. Your life will be rich and abundant in many other ways.
As a certified yoga teacher, you'll be spreading the knowledge of this ancient practice, doing what you love. And that time, energy and attention does deserve compensating.
You've got to live too, right?
A yoga instructor salary varies a lot, depending on where you're teaching and how often. You could get between $30-50 per class if you're teaching in a big studio or gym. It depends on how many students you get and how many classes you can get really.
It also depends on the level of yoga certification that you hold.
The chances are you'll have to look beyond your classes to support yourself. Organizing workshops and events are a great way to supplement your income. Teaching private yoga lessons will also increase your earnings per hours and that includes online yoga Zoom classes.
You could even gain insights into the industry by doing admin for a yoga studio, retreat or company.
And if you do want to make a lot of money teaching yoga?
Then you can start teaching yoga online, like me. Begin by creating a YouTube channel and then grow your audience. Invest in yoga booking software to help you organize your class schedule, accept payments, and even secure repeat customers with ease.
The main thing is what you do and how much you care counts. If you're dedicated to your personal practice, are present in your classes, and what you share is coming from an authentic place in you, you can thrive as a yoga teacher.
You might also like: 20 Awesome Ways To Make Money As A Yoga Instructor
How to Prepare For Your Teacher Training
You're probably filled with excitement about finally taking your yoga teacher training, whether you're jetting off to Bali or taking your course from the comfort of home. You can't stop thinking about it, and want to do something about it.
Here are five things to get you ready for your teacher training:
Prepare any recommended reading. Your school will be able to provide a list if there is one.
Begin to prepare your body for the physical practice in your training by practicing asana. Nothing excessive, just gentle asana, and regularly.
Prepare your schedule and life so that you can be fully present and dedicated during all of your training. Plan time for study and rest.
Consolidate your intention: why you are doing the training and what you want from it.
Stay humble. Most importantly, go into the experience with an open mind about what you can learn from it.
X
Experience 3 Training Videos from Inside My 200-Hour Online YTT