The last time someone threatened to sue me, I panicked (understandably).
I had provided services to a client and though my services were impeccably offered according to our contract, the client was upset that she didn't have the expected outcome.
And with that, she sent me a few nasty emails that were co-signed by her lawyer friend, threatening to take legal action.
Though the claims were unfounded, this threat rattled me.
I had not expected our business deal to turn so sour and I was terrified of the legal fees I would be burdened with even though I thought I was doing a good thing.
Luckily, our original contract was airtight and it turns out that she didn't have a leg to stand on in her threats.
That's the power of a legal binding document.
And that's exactly why you should have a legal binding document, such as a yoga liability waiver, to protect you and your services when you teach your next yoga class.
What is a yoga liability waiver?
A yoga liability waiver is a waiver that minimizes the risk of liability for yoga instructors and yoga studios in the event that a participant experiences emotional or physical injury during your yoga class. New students or participants are usually asked to sign this waiver before their first yoga session with a yoga studio or instructor, or a liability waiver is included in the yoga class description.
The waiver form typically releases either the yoga teacher or the yoga studio from any responsibility in the event of an injury. It is also a great opportunity to ask for consent in hands-on modifications during the yoga class.
While a liability waiver form does not necessarily totally protect the yoga teacher or studio in extreme cases, such as with gross negligence, it does provide enough protection for general physical activity and instruction given during a yoga session.
A liability waiver form can be signed by participants at the yoga studio, on a yoga retreat, at a yoga teacher training, during a yoga workshop, and as part of an intake form for private yoga instruction. A generic liability waiver statement can be used in online yoga classes, which serves the yoga instructor in a similar way.
Basically, whenever and wherever a waiver is used, it reduces the risk of assuming responsibility for any personal injury that may occur during your student's yoga practice while you are teaching.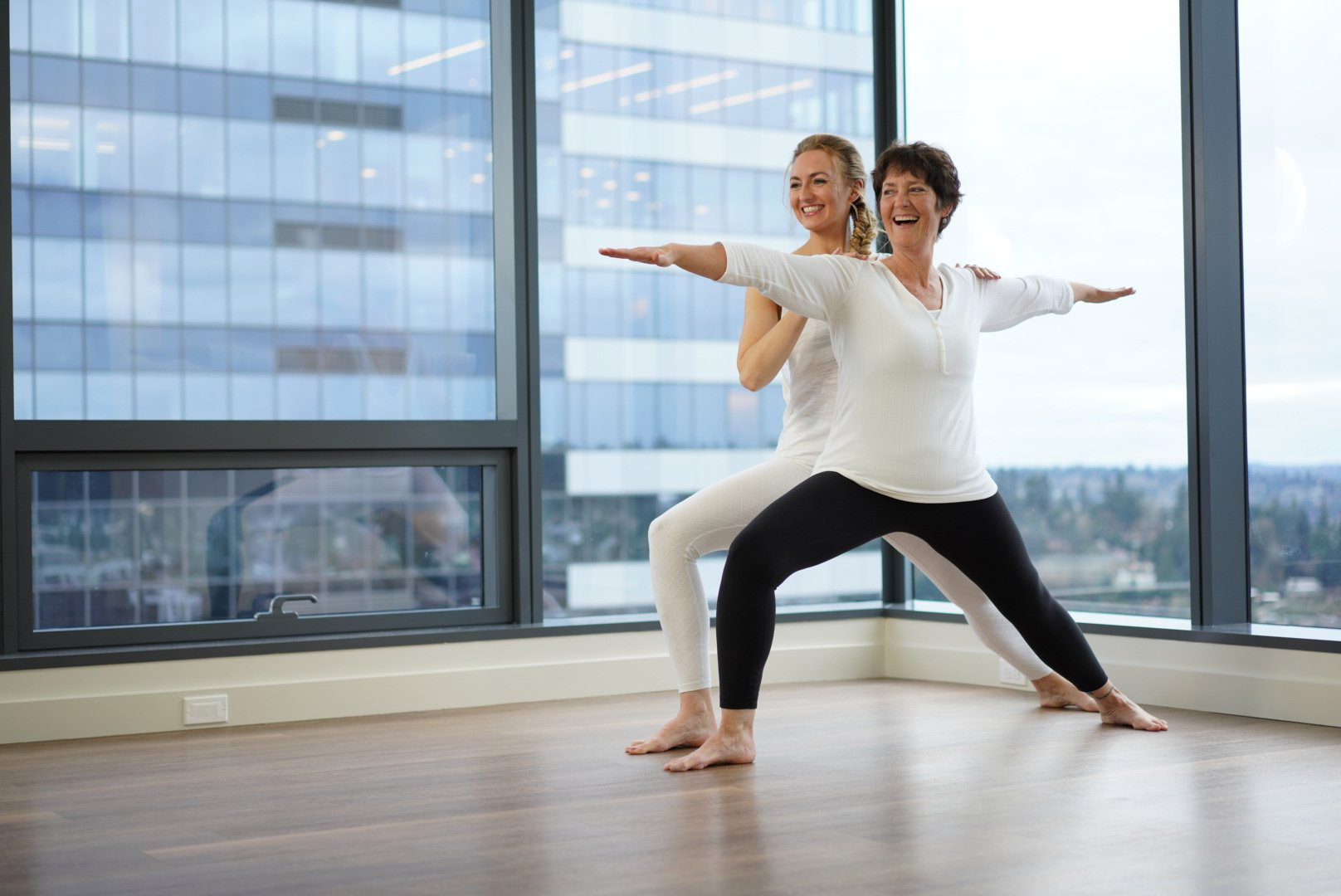 What are the benefits of having a yoga waiver form?
A yoga waiver form is kinda like taking a multivitamin. The truth is that you probably won't ever need it. You can probably have a long life as a yoga instructor without ever running into liability issues for a physical injury sustained by your student…
…but if you do ever need it, then, boy, is it super handy to have.
Otherwise, you run the risk of assuming full responsibility for any injuries that may occur as a result of taking your class. And in such a litigious society as ours, you better believe that this an important little thing to have on hand.
It's important to note that having a yoga waiver does not replace having liability insurance. Instead, it complements it well and reduces the risk of having to rely on your liability insurance to pay for any damages.
You must have liability insurance as a yoga instructor. I recommend purchasing yoga teacher insurance through BeYogi.
What makes a good yoga waiver?
So, what should you actually include in your liability waiver form? Here are a few key points to include and consider as you draft your first waiver.
It doesn't ask about previous injuries and health risks.
As tempting as it is to ask about previous injuries (and as common as it is on those free waiver templates you see online), it's best not to ask about these things.
Why?
Because once you gain this knowledge, you are legally held to a higher standard of care and consideration. Instead, put the full responsibility back on your students by providing contraindications, warnings, and details about what they can expect in your class.
It is more than two sentences long.
Simply writing a statement on a piece of paper that presumably passes responsibility off to your students is simply not enough to protect you against legal action. Be sure to make your waiver form detailed and clear, covering all potential paths to injury. Otherwise, your agreement will leave a lot of room for interpretation and may not "serve as a sufficient barrier" to legal action, according to practicing attorney Gary Kissiah.
It includes details of the class or program.
In the theme of passing responsibility off to your students, be clear about what your yoga class will include and what kind of physical condition students should be in before participating. This serves as a 'practice at your own risk' kinda statement and will help protect you in the event that someone actually does become injured.
It warns people who should not participate.
Just like you learn about contraindications for different yoga poses and postures, you much share these same contraindications in your waiver. Recommend that students not in good physical health exclude themselves from the class so that if they choose to participate anyway, then they can assume responsibility for any injuries they incur.
X
Sneak Peak into My 300-Hour YTT - FREE Videos, Info Session, Bonuses!