In this post:
Core Strengthening Exercises for Beginners
Yoga for Core Strength and Flexibility
10-Minute Yoga Core Training
45-Minute Slow Flow Yoga Sequence Plus Core Yoga Workout
Did you miss the memo?
Your core is where it's at. It's the group of muscles that holds all of the strength to move you through all of the postures and poses that challenge you the most. It is the spot that your yoga instructor refers to regularly throughout each class. It is where you get butterflies when good stuff happens and it is where life hits you hard when it gets rough.
Now, I like to use yoga as a metaphor for life. I tend to romanticize things like that.
But it's true that yoga makes my life better OFF the yoga mat and it all begins with the core.
Don't believe me? Think of it this way…
… Having a strong core means that you have a BACKBONE.
You know what you stand for.
You're living in alignment.
You're not afraid to say NO to anything that's not 100% helping you move toward your big, meaningful goals.
Yes, getting in shape for summer is fun, but for me, it's 110% more motivating to think of strengthening my core as a way to strengthen my inner resolve.
But let's be honest about something: sometimes it's challenging to get myself to take the time to work on building core strength.
It's a major test of mind-over-matter and, as you can imagine, translates well to a wide variety of life experiences both on and off the yoga mat.
So how do I convince myself to work on yoga core strengthening exercises during my yoga practice?
By remembering what my core can provide me, day in and day out.
I remember that my core muscles connect my arms and legs together, allowing me to do all the things I love most. It helps carry my weight both in basic yoga poses and in daily life.
And a strong core helps keep pain at bay, from your legs all the way up to your neck.
So yeah, building core strength is a pretty big deal.
How to Make Yoga Core Exercises a Priority in Your Yoga Practice
1. Think of core work as physically fueling you toward your big dreams and goals as you feel the burn. Ab work is all about IGNITING your inner flame and motivation. And it's literally connected to the element of FIRE, Manipura Chakra.
It is the perfect way to sharpen your motivation and resolve in daily life (looking at you, college students!) and can offer you a boost of energy to get through the duties of the day.
2. Core work centers you and when you're centered you have more POWER. Do some core work, and every yoga pose you do after will feel different. Your alignment will be stronger. Your resolve will be stronger. Then, walk out into the world, and notice if you're less reactive to things. You can handle anything that comes your way.
You will feel more peaceful and practice kindness more easily. Honestly, strengthening your core makes loving people a whole lot easier!
3. Make your core exercises a positive experience! How do you do that? Start by taking the neck out of it. I hate traditional crunches and sit-ups, they hurt and don't work the core so much as place under strain on the neck. That's why many of my core classes take variations on these traditional movements, offering options where you don't move or lift the head at all. When I know my head and neck get to relax the whole time, I'm much more interested in working my core.
CLICK HERE to get my fully illustrated Core Training Guide eBook that details all my subtle cues to take your core work to the next level (without straining the neck), taken from my years of teaching The Bar Method & yoga.
It comes with 8 downloadable videos in a training plan that are a hybrid of core workout / yoga flow.
(Secret Side Note: you can get the book and the downloads for FREE inside my new membership community. I'm not fully promoting it yet, but if you want personalized feedback from me on your practice and all my classes synced and downloadable to all your devices, learn more here.)
Also, I believe in "no man left behind," so I will also be posting the videos that are public on Youtube into our Private Facebook Group so that absolutely everyone can rev up their core with us, no matter what.
Core Strengthening Exercises for Beginners
If you'd like to strengthen your core but don't have much experience yet, no worries. You can easily incorporate some of these yoga postures and exercises into your regular yoga practice several times a week to improve your core strength and stability. Combined with deep breathing, physical activity, and a little rest in between, you will be on your way to improved muscle tone in no time. (And then it's hello handstand) Here is one of my most popular core strengthening yoga videos for beginners. I use modified plank pose (where you bend the knees) for a gentle variation, downward facing dog, and chaturanga to help strengthen your core, stretch the hamstrings, and get a good workout in the arms. Give it a try!
Yoga for Core Strength and Flexibility
If you've already got a regular yoga practice and now you'd like to improve both your strength and flexibility, then this video will be super helpful for you. Rather than turning to weight training, this routine uses your own weight to improve the muscle tone in your pelvic floor and build overall core strength and stability.
Remember to engage your core as you move into each posture and to lengthen your spine. As you bring awareness to each body part in each posture (asana), you will naturally strengthen your core muscles along the way.
10-Minute Yoga Core Training
If you're short on time but you'd still like to improve your core strength and stability, then give this quick 10-minute routine a go. You can easily add it to your regular yoga practice several times a week for serious toning and sculpting.
After all, strengthening your core doesn't have to be a literal pain. The easier it is to incorporate into your daily life, the more likely you'll do it!
45-Minute Slow Flow Yoga Sequence Plus Core Yoga Workout
For those of you who are really looking for a fitness routine designed specifically to strengthen your core in big ways, then this 45-minute yoga sequence is right up your alley. I suggest having a little bit of experience with yoga to begin with as you'll need some strength in your arms, thighs, and pelvis to move through this yoga sequence. You'll cover basic yoga poses as well as core strengthener exercises like plank pose and boat pose.
Though flexibility in the hips isn't absolutely necessary, it helps with this flow as well. It's a challenging routine for sure! But it will help you reach your core goals 🙂
X
Experience 3 Training Videos from Inside My 200-Hour Online YTT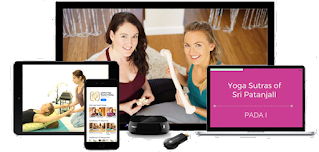 X
Learn how to do 11 of the most popular yoga poses correctly. Free video + PDF download.