Your Name: Stalene Hall
Where You Live: I live in Fishkill, NY, which 70 miles north of NYC, but I grew up in East Tennessee and will always be a southern girl at heart!
Your Current Profession: I'm a CPA by day, but I'm also a Certified Integrative Nutrition Health Coach.
Brett: What's Your Big Dream?
My big dream is to help other by combining yoga with my health coaching training to build a successful online holistic wellness practice. I have a form of ulcerative colitis and, in addition to eating clean, yoga has been instrumental in controlling my disease, as both a form of exercise and stress management. I'm creating my signature program, The Radiant You Project, and I'm so excited to help others with IBD and digestive issues manage their symptoms through holistic nutrition, exercise and stress management, with yoga being a key part.
Brett: What Brought You to Yoga?
The mind-body connection is definitely what initially brought me to yoga. I struggled with depression when I was younger and I found yoga really helped me be in the present moment and be more accepting of myself.
Brett: What do You Hope to Get out of Yoga Teacher Training?
I'm looking forward to a deeper understanding the body, movement, breath, and philosophy of yogic living. I'm also really looking forward to digging deep into the anatomy and poses that we will have the knowledge to create sequences that appreciate and honor our unique bodies. Lastly, I'm looking forward to the process of finding my own voice as a teacher. I'm fairly introverted and I'm looking forward to challenging myself to embrace the teacher inside.
Brett: How Long Have You Been Practicing?
I've practiced yoga on and off for the past 20 years.
Brett: What's Your Favorite Style of Yoga?
Wow, picking my favorite style of yoga is like asking a mother to pick your favorite child – so not fair. LOL! Hatha yoga is my first love, so if I had to pick one that would be it, but I also love kundalini and yin yoga. Kundalini is so different from our standard yoga flows, it's so great to mix it up – it's so energizing. On the flip side, modern life is so busy and hectic, it's such a nice treat to slow it down and melt into some yummy yin yoga.
Brett: What's Your Favorite Class (or two)?
Brett has so many amazing classes on YouTube and especially in Uplifted, I'm constantly finding new favorites all the time, but right now I'm loving Date with the Wall. It is one of my favorite things to do on a Friday night to unwind from the work week.
(https://brettlarkinyoga.vhx.tv/videos/yoga-stretches-at-the-wall ).
Also, with having a desk job, I can never get enough hip and hamstring stretches in, so another favorite is the Hips and Hamstrings class (https://brettlarkinyoga.vhx.tv/videos/cut01-flowforhipsandhamstrings-generic-060216 or https://www.youtube.com/watch?v=t4nuU6WOFqo).
Brett: What's Been Your Biggest Struggle in Your Practice?
My biggest struggle is consistency. My time at home through the week is very limited between work and commuting to NYC. I'm not always the best at getting up early, so it can be a challenge to make it on the mat every day.
Brett: What's Your Big Advice for Others?
My big advice to others is that we are exactly where we need to be, when we need to be there. All we need to get to where we want to is contained within us. As Rumi said, "Everything in the universe is within you. Ask all from yourself." Remember this because we can all use a little more self-love and self-kindness. We need meet ourselves where we are now and just show up. We are magnificent and our journey is our own, no one else's. This means never comparing where we are to someone else's journey. Honor yourself by being present and grateful for the gifts of today.
-Lightning Round-
Favorite Mat: I've used a Lululemon The Mat for the past 3-4 years, but recently bought the Manduka eKo travel mat to take on a business trip and I was instantly smitten with it. The Manduka eKo full-size is now on my wishlist.
Favorite Prop: My favorite prop is definitely a toss up between blocks and sandbags. I use my blocks everyday and definitely wouldn't want to live without them! I'm also super in love with the deeper stretch or stability I get when I use my sandbags. There's just something so grounding and comforting about them; they're like a big hug.
Favorite Place to Practice: My favorite place to practice is at home. After living in tiny NYC apartments for more than a decade, where I would wedge a mat between the hallway and the dining room table, my husband, Lewis, and I bought house in the 'burbs. Now, I have my very own yoga studio and it's blissful. I'm so grateful everyday.
Favorite Yoga Hack: Seated Pigeon. I love to use this hack to get some extra stretching in on my train ride home.
Favorite Smoothie Recipe: This green protein smoothie is so yummy and is one of my favorites for breakfast in the morning, especially on yoga mornings.
Green Protein Smoothie
1 cup water
1 banana, frozen
2 cups spinach
½ teaspoon vanilla powder (or 1 tsp. vanilla extract)
2 tablespoons almond butter
1 scoop protein powder (I use unflavored hemp protein)
Combine in blender and blend until smooth.
Favorite Food Recipe: I absolutely love this chicken recipe with tomato, fennel and olives. It's definitely a family fav around here. We affectionately refer to it Eric Chicken because it's a simplified version of Eric Ripert's Chicken Paillard.
Eric Chicken (Serves 2)
2 skinless boneless chicken breasts, butterflied and lightly pounded flat
2 tablespoons shallots, minced
1 clove garlic, minced
1 can diced tomatoes, drained
½ cup thinly sliced fennel
¼ cup green olives, pitted and sliced
1 tablespoons capers
2 sprigs thyme, leaves removed
⅓ cup olive oil
2 tablespoons chopped parsley
sea salt and freshly ground pepper
DIRECTIONS
Preheat oven to 450° F.
Season the chicken breasts on both sides with salt and pepper. Place the chicken in a lightly greased baking dish.
Combine together in a bowl the shallots, garlic, tomatoes, fennel, green olives, capers, thyme leaves, and olive oil. Season to taste with salt and pepper.
Cover the chicken with the tomato, fennel and olive mixture and drizzle a little more olive oil over and around the paillards. Bake the chicken in the oven for 15-20 minutes, until cooked through. Sprinkle with parsley and serve immediately.
Favorite Book: Pride and Prejudice by Jane Austen
Favorite Quote: For me, this sum up what yoga I find in yoga and the reason I get on the mat.
Your task is not to seek love, but merely to seek and find all the barriers within yourself that you have built against it. -Rumi
Anything else you want to share… My website and blog are coming next month! http://stalene.com.
X
Experience 3 Training Videos from Inside My 200-Hour Online YTT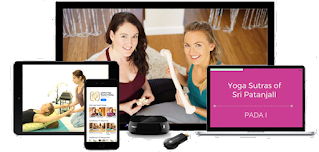 X
Learn how to do 11 of the most popular yoga poses correctly. Free video + PDF download.