Best Yoga Mat Reviews by Durability, Weight, Price, and Grip

Whether you're new to yoga or a seasoned practitioner, we've all experienced those moments when you're in the zone but suddenly become distracted by your yoga mat: the odor, the pool of sweat beneath your forehead, the uncomfortable feeling of the hard floor beneath you.
Maybe you're wanting to try a new pose but you're afraid of slipping on sweaty hands.
Maybe you want a deep stretch in your hips but your knees can't handle the hard floor pushing up against you.
Maybe you want to take your yoga mat with you to the yoga studio, on vacation, or anywhere else other than your cramped living space.
Maybe you just don't want any bad smells coming up from your most essential yoga product of all.
At a minimum, your mat should not distract you from the important things in your yoga practice. Ideally, with a bit of knowledge you can choose a mat that actually enhances your practice and helps you go deeper both into your internal space as well as into the physical postures.
Well, I'm happy to say that I've reviewed hundreds of yoga mats.
Literally. Hundreds. Of. Mats.
So I know the ins and outs of all yoga mat types, from sustainable cork yoga mats to biodegradable non-slip rubber mats, from super thin travel mats to extra cushy thick mats. From the most popular trending brands to up-and-coming brands
I've tried them all. And by all, I mean all yoga products that exist.
But I'm here to talk about the best yoga mats so that you can make the best decision possible when you invest in yours.
How to Choose the Best Yoga Mat For Your Practice

When we're new to yoga, we tend grab the most convenient or cheapest mat we can find. Often times, those don't last long and as we continue to practice we are ready for an upgrade. While we might be drawn to a certain mat for its fun pattern or color, there are several factors to keep in mind that can elevate your mat from a piece of rubber to a tool that can help take your yoga practice to the next level.
Let's look at some of the important things to think about: durability, grip, material, price, and weight.
Durability
Since you want the financial investment of your yoga mat to last as long as possible, you will want to consider its durability!
After all, yoga mats aren't cheap.
The material, type of construction, and intended use will all contribute to your mat's longevity. Other than the lowest price point mats that you find in grocery and discount stores, most mats these days are created with fairly durable materials.
Often you can tell by the feel of the mat whether it will be at least somewhat durable (which doesn't necessarily always correspond to thickness!)
Want a tip for checking durability.
If you can easily leave indents with your fingernails or it feels like you could even pull out a small piece of the surface, it's a sign the mat might not withstand the test of time.
Whether the mat has an open-cell or closed-cell construction can also impact how durable it is. Open-cell construction means the mat is more porous and better able to absorb moisture, which is great for wet conditions.
However, this porous construction allows the mat to absorb more dirt and bacteria as well as stretch more, all of which can shorten the lifespan of the mat. It also can make room for bacteria growth, causing bad smells over the course of time.
Closed-cell mats are not absorbent and tend to have less give and stretch. While this might not feel as comfortable to some, it can extend the life of the mat. The type of yoga you do and whether your mat is made for the conditions you are using it in will also impact its durability. For example, buying a mat that doesn't absorb moisture and then attending a lot of Bikram yoga classes may shorten the lifespan of the mat. Buying a mat that is designed for your intended use can help you get the most out of your investment.
Grip
Not only does a sticky yoga mat keep you safe, but it also aids your focus throughout your practice. Rather than getting distracted by sliding and feeling unable to try certain poses for fear of slipping on sweaty hands, you can feel confident that the grippy material of your mat will hold your hands and feet in place.
The material and surface texture of your mat will contribute the most to its grip. Unless you have specific reasons for wanting a slippery surface (for example, some Ashtanga yoga practitioners like to be able to slide their toes back easily during the many vinyasa transitions), you're going to want a non-slip yoga mat. If you practice Bikram yoga or tend to sweat a lot in class, good grip when the surface is wet is key to choosing the best mat for you.
Another factor related to grip is break-in time. Some mats will have great traction right out of the packaging while others will take a few weeks for the factory finish to wear off and provide a dry grip.
Eco-Friendly
As you'll be spending a lot of quality time on your mat, it's important to find a mat that's both healthy for you and for the planet. An eco-friendly mat will be made with renewable natural products that will biodegrade in a normal landfill when the mat is retired.
You might also want a mat that doesn't contain chemicals that might be toxic for you or the environment. (You know the kind, some of these mats have that chemical smell that just won't quit.)
Look for renewable non-toxic materials such as jute, cork, natural rubber tapped from rubber trees, eco-polyurethane, and cotton (cotton mats are great as they can be thrown in the washing machine!) Look for a PVC-free mat as PVC has been found to be toxic both through inhalation and skin contact.
Many environmentally friendly are naturally very sticky mats, thanks to the materials used. So if having a non-slip mat is important to you, then you may consider getting one with natural materials just for good measure.
Price
Knowing the price range for this investment can help you narrow your choices and ensure that you're spending within your means. If you practice regularly or are a yoga instructor, you might be comfortable spending a bit more as your mat is a tool that you use daily.
If you only occasionally practice and you're looking to practice more frequently, investing in a mat at the higher end of your budget might incentivize you to practice more consistently!
As with most activities, the more dedicated we become the more we see the value in investing in quality tools. We often continue to upgrade our equipment over time as our taste refines.
And as with most things, price can be connected to quality.
But don't worry. You can also find quality mats that are perfect for your needs at lower prices as well. As a general range, expect to pay $35-$59 at the lower end, $60-$99 for a moderately priced mat, and over $100 at the high end.
Weight
Whether you're a yoga instructor, a student who regularly attends public classes, or a home practitioner will determine what kind of mat you want. If you travel with your mat a lot, whether locally or via plane, you will want a lightweight travel yoga mat that fits in your suitcase. If you're looking for something for your home practice or you will be doing a lot of floor poses, such as with a restorative yoga sequence, then you may want something a bit heavier.
A heavy mat might feel nice for your body when you're on it, but might not feel so nice for your body to carry around if you typically are on the move with it. You don't want something that's such a pain to carry that you choose to leave it at home and borrow a yoga studio mat instead!
But there is nothing so sweet as the extra cushion that a high-density foam mat provides.
Generally, 3 lbs. or under is lightweight and makes a great yoga mat for travel, 4-5 lbs. is a moderate weight, and over 6 lbs. will likely feel heavy.
Reviews of Top Yoga Mats on the Market
Manduka Pro Yoga Mat Review
View my full Manduka Pro Yoga Mat Review
Experience
This mat has a nice texture, good grip when wet even in downward facing dog, and feels wide a roomy.
Pros
Fabric-like texture, great grip when wet, thick and cushiony and nice on the knees, rubber and latex-free, two inches wider than the average mat, closed-cell fabric helps keep out bacteria, has a lifetime guarantee.
Cons
Expensive ($108, $98 at yogaoutlet.com), heavy (7 lbs.) so not nice to carry back and forth to the yoga studio, longer break-in time until it feels sticky, not as water resistant as other Manduka mats.
Final Take
A great mat for the yogi who practices mainly at home and wants a sweat-proof, hybrid mat with good texture.
Jade Harmony Yoga Mat Review
View my full Jade Harmony Yoga Mat Review
Experience
The springy and malleable texture can help you feel like you're getting deeper into poses and it has a good balance of comfort and grip.
Pros
Doesn't need to be broken in, open-cell construction lets it stretch and move with you, eco-friendly rubber from rubber trees, PVC-free, absorbs sweat, moderate grip when wet, light enough to carry around (4.5 lbs.), you can choose from 68, 71, and 74 inches long.
Cons
Contains latex so not appropriate for people with allergies, strong rubber smell for the first two weeks so distracting when face down as in child's pose, porous fabric causes it to dirty more easily (especially the lighter colors), open-cell construction can lead to quicker wear and tear, open-cell design absorbs more bacteria, only a moderately dry grip when wet so not as good for hot yoga.
Final take
One of my top three favorite mats. An eco mat that is comfortable and sticky for those who practice once per day or less and infrequently practice hot yoga.
Yoloha Cork Yoga Mat Review
View my full Yoloha Cork Yoga Mat Review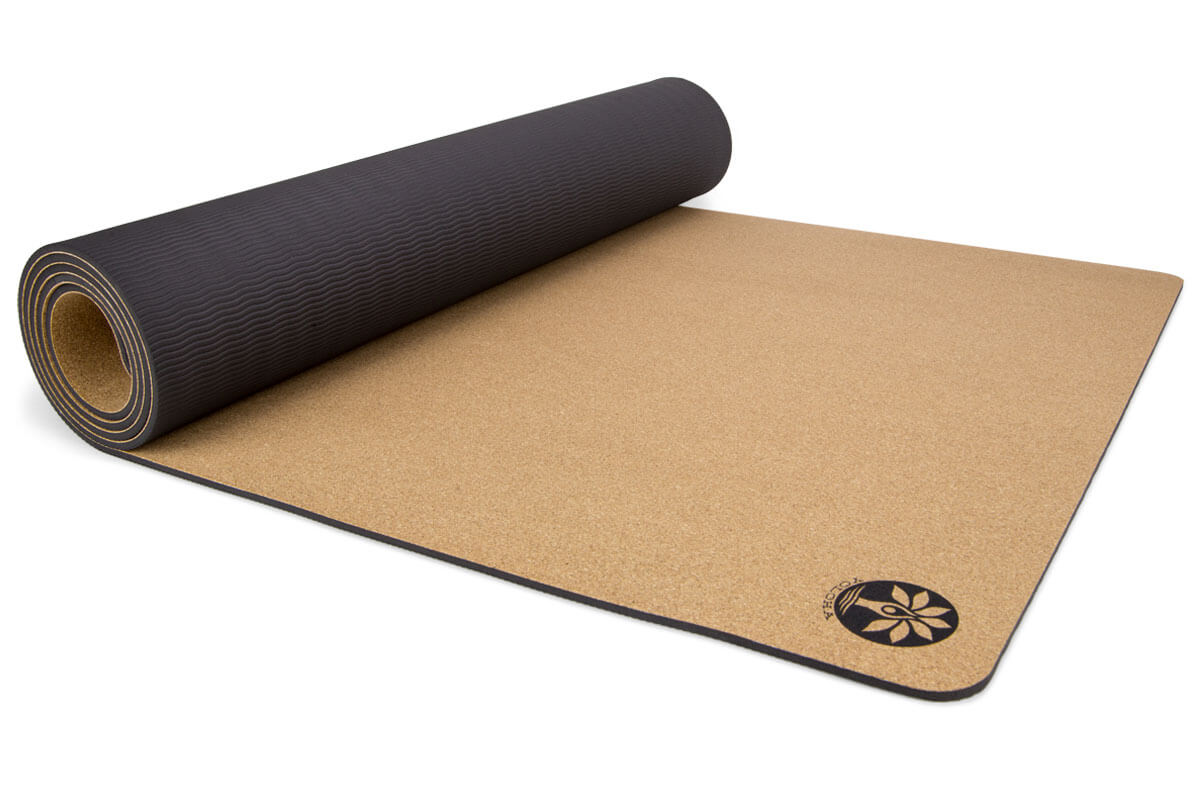 Experience
Designed for stand-up paddle-board yoga, this mat has less cushioning but feels stable when wet even in downward facing dog.
Pros
No rubber smell, no break in period, sweat and slip resistant, traction gets better with increased moisture, cork material is naturally self-cleaning, made of recycled rubber tires so environmentally friendly.
Cons
Heavy (6 lbs.), expensive ($119), less cushioning so not great for restorative yoga.
Final Take
This eco mat is an investment best made as an additional non-slip yoga mat for those who want to practice in wet conditions without needing a yoga towel.
Gaiam Sol Dry Grip Yoga Mat Review
View my full Gaiam Sol Dry Grip Yoga Mat Review
Experience
Feels dry like the desert in sweaty and humid classes but lacks texture and padding.
Pros
Secure and slip-free when wet, rubber and latex-free, lightweight (2.5-3 lbs.), good price ($64 at yogaoutlet.com).
Cons
Lacks texture, feels like a rubber tire, little stretch and give, minimal cushioning might not be enough for non-hot yoga class, a bit shorter at 68 inches long.
Final take:
Gaiam's Sol Dry Grip mat is an affordable hot yoga mat that's also light enough for your suitcase.
Hugger Mugger Tapas Performance Mat Review
Experience
Nice and sticky, feels good on the hands and feet, and is portable.
Pros
Inexpensive ($35 at yogaoutlet.com), antimicrobial, heavy metal free material, great thickness (6mm) makes it nice for restorative yoga, very sticky, lightweight (2.5 lbs.) so an excellent travel yoga mat, on the shorter end at 68 inches long so not ideal for tall people.
Cons
Slippery when wet so not a good hot yoga mat.
Final Take
The Hugger Mugger Tapas is a great mat for beginners on a budget who are either not doing hot yoga or are happy to use a yoga towel.
Lululemon The Reversible Mat 3mm Review
Experience
This mat has a stable feeling while being comfortable and sticky.
Pros
Great grip when both dry and wet, easy to wipe clean, good price ($58-68 at Lululemon), antimicrobial additive in the top layer, PVC-free, balance of moderate cushion and weight (3.9 lbs).
Cons
Strong odor, easily scratched, absorbs oils from hands and feet.
Final take:
A great choice for those want a sticky yoga mat with moderate price, cushion, and weight.
Liforme Yoga Mat Review
Experience
Lacks texture but the padding feels good on the knees and in child's pose and the alignment lines help you refine your practice.
Pros
Raised alignment lines, good cushioning, slip-proof when wet, made with natural rubber and eco-polyurethane, good yoga mat for travel, comes with its own bag.
Cons
No texture, expensive ($115 travel, $140 regular), rubber odor when new.
Final take:
One of my top three favorite mats. The Liforme yoga mat is a quality mat for experienced yogis looking to refine their alignment.