We've all been there.
You like to push yourself when you're practicing yoga, moving through your asana as if your life depended on it. You're sweaty, steamy, and buzzing with all those yogic endorphins.
And then your hand slips just when you move through your sun salutation. Or your foot slips when you move through your flow.
You get that tingling sensation in your feet, making it hard to continue to practice yoga without the fear that you'll just slip again.
And again.
Believe me, I get it.
I've been through my fair share of yoga mats and have even tried throwing a yoga towel over the top just to accommodate all of the sweat.
Even so, there are a few mats that provide enough traction to prevent slipping no matter the circumstances (or the sweat level).
I'm sent dozens of yoga mats each year, all with the promise of providing a better workout, a better flow. And to be honest, they rarely do.
But these three mats?
They hit the nail on the head every.single.time.
And since I get a lot of these mats for free, I thought I'd share my experience with my favorites just so that you don't have to waste your money on empty promises and false marketing.
Instead, you can grab yourself one of these tried and tested yoga mats and start practicing yoga right away.
(NOTE: For a full review of all of my favorites, non-slip or otherwise, check out my Yoga Mat Reviews of top brands like Jade, Manduka, Yoloha, Gaiam, and Hugger Mugger)
What Makes The Best ?
There are many different factors that make a good yoga mat, like grip, durability, texture, environmentally friendly, comfort, whether or not it's reversible or lightweight, and even that rubber smell factor.
But when it comes to a non slip yoga mat, it really just comes down to grip.
Meaning, does it grips the palms of your hands or the soles of your feet when you most need it to?
Or does it make you reach for a towel in hopes of creating your own makeshift traction right in the heat of your practice?
Only then can we move into the other factors, like whether or not it is environmentally friendly or lightweight.
And when we do that, these take the cake.
These are my three favorite non-slip yoga mats currently on the market.
A lot of big time yoga teachers use Jade mats. This mat has a strong foothold among yogis along with Manduka, though Jade mats are far superior when it comes to grip and traction.
Thanks to the environmentally friendly all natural rubber, Jade yoga mats excel when it comes to non-slip performance.
And Jade knows it.
Jade claims they're "the best slip-resistant yoga mat on the market" because of this rubber material.
Aside from being non-slip, Jade also has what it calls "compression set resistance", meaning that the mat is really cushy and soft at the same time. This gives it extra comfort for those tricky poses that put a lot of pressure on the knees.
The natural rubber is a renewable resource from rubber trees! I've never heard of rubber trees, but apparently they exist. As a bonus, for every mat you buy, Jade plants a tree. And all that rubber texture that is exactly perfect to prevent slipping also naturally composts over time, making this an especially eco-friendly yoga mat.
There are no PVC chemicals in this eco-friendly yoga mat. So this mat is not hurting our ozone layer 🙂
A Jade mat costs about $80 – so not cheap. It's a good investment though as these mats last forever.
Also, when you first unroll the mat, it has a strong rubber smell because, well, it's made of rubber. But it fades pretty quickly so it's not too bothersome. Just be sure to air it out before heading to a packed yoga class.
In sum, Jade's a really established and well-known for being a great non-slip mat.
Pro tip from me: If you're getting a Jade mat, I recommend getting a darker color. My first Jade mat was orange, and while it lasted forever and was in great shape, it just got dirty because it was a lighter color.
This mat is for you if: an eco-friendly, durable, and flexible mat is what you're looking for.
Best Cork Yoga Mat: Yoloha Yoga Mat Review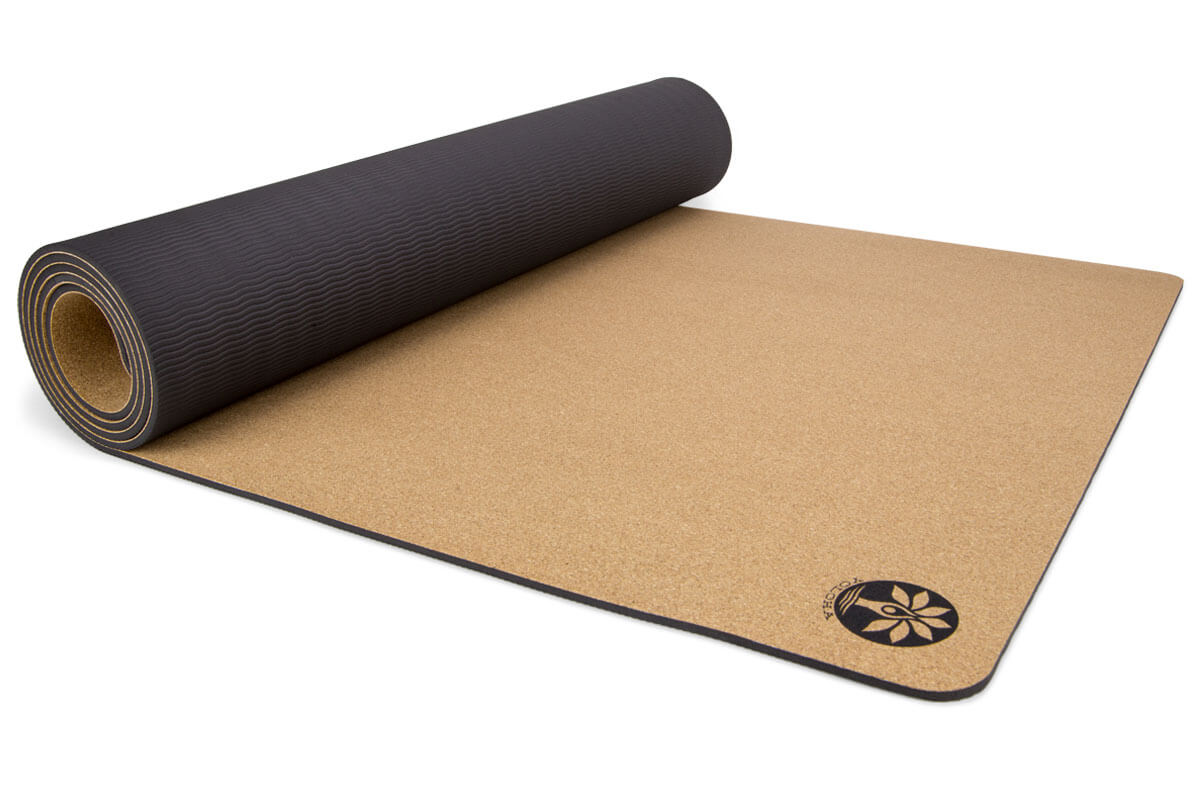 On the other hand, we have the Yoloha yoga mats.
Yoloha has been on the market for a few years now and has been one of the leading brands in the US to create a yoga mat completely made from cork.
The cork mat is backed with domestically recycled car tires, giving it a comfortable thickness I haven't experienced in any other lightweight yoga mat.
And unlike Jade, there's no rubber smell whatsoever.
This is also a completely green "eco-friendly" yoga mat, thanks to its recycled materials.
It's made in America. It doesn't use any trees. It's comfortable. It is cute. And it's ultra non slip.
I personally love Yoloha because the way the mats came into existence was purely out of necessity.
The inventor of the Yoloha mat first started out making paddle boards and surf boards. He started doing yoga, sweating a lot and was slipping and sliding all over the place. He had an epiphany that when cork is wet it doesn't slip at all. That led him to make these cork yoga mats.
If you do SUP yoga (which stands for Stand Up Paddle Board Yoga), where you're in the water, this is an amazing option for you because even as it gets wet the mat stays extremely slip resistant and sticky.
This Yoloha yoga mat also comes with a lifetime guarantee, retailing at a higher price often over $100. Their travel yoga mat is only $60, though, and is much easier to carry around, so it's probably the best mat to choose out of their entire line.
The lifetime guarantee is really a testament to how well this mat is built. On Yoloha's site, they say that this mat is literally "built to last decades."
One extra really cool thing I've learned in doing research about Yoloha, is that cork is actually a self-cleaning surface, meaning it's cleaning itself. Any nasty smells, germs or bacteria isn't going to stick around on your mat since this is a completely self-cleaning surface. I don't know how many other yoga mats out there can claim to be self-cleaning.
I've loved my Yoloha yoga mat from the moment I got it.
One thing I have to say is that it isn't all that compact. It is a bit difficult to fit into any carrying bags that I had and is too bulky to really travel with.
That being said, it is SUPER lightweight.
I was surprised when I first started using the Yoloha mat because it wasn't as slip-resistant as I was expecting. But after doing a little reading on their website, I learned that the cork is even grippier when it's wet.
I'm not doing stand up paddle board yoga right now (I'm mainly practicing indoors) so I've invested in a little spray bottle so I can spray the mat just around where my hands and my feet are. This really increases the grip for a really fantastic non-slip surface.
This mat is for you if: you're expecting to have wet surfaces during your practice and an eco-friendly option is especially important to you.
Best : Lululemon The Mat 3mm Review
I have to admit that I was a little resistant to fall in love with the Lululemon Reversible yoga mat…
…after all, major corporations really just suck the fun out of practicing yoga. But when my yoga instructor friend showed up to class with her Reversible mat by Lululemon, was hooked.
It is ultra lightweight, making it super easy to tuck under your arm or toss into your luggage to take with you anywhere. It's so lightweight that I don't even use a carrying strap when I take it with me to the yoga studio. It's a lot like the Manduka Prolite Mat but for a fraction of the cost.
And it is a super sticky mat. Honestly, it's probably the stickiest mat I've ever used, making downward dog, balancing poses, and child's pose alike an absolute breeze.
The only thing that I don't like about it is that there isn't much cushion because the thickness maxes out at 3mm. But if a good grip is your main priority, then you won't mind because you can just lay this mat over one of your cheaper mats for some extra comfort.
This mat is for you if: you travel a lot and need a reliable nonslip surface no matter where you practice yoga.
Which Is The Best, Then?
While the Yoloha cork yoga mat has the bonus of being self-cleaning and being a mat that you can actually use in the water, it's not as cushy as the Jade mat. If feeling like you're on a really thick mat is important to you, Jade might be a better option.
When I looked at the mats side by side, they actually do have the same amount of cushioning. They appear to be the same thickness. The Yoloha mat may been even thicker with the rubber backing! But for whatever reason, the Jade mat just feels cushier and softer.
If you're especially keen on having a super grippy mat that can last a lifetime (plus even go in the water with you), I think the cork mat is a really great investment. Plus, the antimicrobial factor makes it even more attractive the longer you have it. (This is especially true if you're into hot yoga and expect to have sweaty hands throughout your entire practice.)
However, if your priority is to not slip and to have the freedom to take your yoga mat with you everywhere you go, then the Lululemon mat is my favorite.
What is your favorite non-slip yoga mat? Share in the comments and let's share our experiences with each other!
Note: I don't get compensated for any reviews I write, they're just my way of sharing with the community.