When I first practiced Kundalini Yoga in 2007, it triggered a panic attack. FOR REAL.
I felt angry, emotional, and above all, confused. 
WHY THE…



Teachers wearing Sikh turbans?

"Rules" around Kriya sets and timing?
Deep into my Kundalini journey, even after studying with some of the best Kundalini teachers, I had this nagging feeling that I had somehow missed the fundamentals.
WHAT
makes this practice and philosophy so powerful? 
HOW
does it harness and elevate your energy? 
WHO
was Yogi Bhajan and what are the true origins of this practice? 
I wanted to know "the
WHY
" behind the postures, kriyas and movements.
Years later, I cautiously tried Kundalini again, only because I wholeheartedly believe that what you're avoiding is where the magic happens…
… and I was right! Kundalini helped me step out of "victim-hood," marry the love of my life, give birth at home (unassisted!), and discover my inner super powers.
After a decade of practice, and through the process of developing my own Kundalini Yoga Teacher Training, I slowly gained clarity around the aspects of the practice that troubled me. Now, I want to share those "lightbulb moments" with YOU!
My Kundalini Demystified course offers:
Tutorials on the fundamental Kundalini poses (make sure you're "doing it right")
Breakdowns of Kundalini mantras, bandhas, pranayama and philosophy
Presentations on "taboo" topics around Sikhism, the origins of the practice, and the controversy surrounding Yogi Bhajan
Years ago, I would have been TERRIFIED to birth this course. I had all of these nagging fears and doubts about my ability – even my right – to pass on what I had personally found empowering.
Today, I know it's time for a paradigm shift and a new perspective. More yoga students are curious about Kundalini than ever before!
Don't go through another Kundalini class wondering:
Is my Root Lock engaged?
Is my Breath of Fire correct?
Where is my Third Eye?
...And why on earth do I need to focus on it!?
Empower yourself with the knowledge that will change your Kundalini practice, forever.
DID YOU KNOW…?
Kundalini yoga actually has a core set of alignment principles you want to be using in every single exercise – just like our hatha and vinyasa practice!
Once I figured out how to put these principles into action, my Kundalini practice became ten times more powerful (and enjoyable!) literally overnight.
These powerful Kriyas uncover how we unconsciously react to stress, and are designed to empower and protect us. 
Once I understood how Kundalini Yoga uses polarity and chaos to spark transformation, I stopped feeling angry and triggered in my practice, and fell in love with its challenges.
If, like me, you've had NEGATIVE experiences with Kundalini Yoga in the past, this course will help you understand why and what to shift. 
If you've already FALLEN IN LOVE with this style of yoga, this course will deepen and enhance your experience, elevating you to a new level of awareness.
It's time! 
Together, let's:
Demystify what Kundalini energy is and how Kundalini Yoga works
Debunk the common myths around alignment and adaptations
Discover the origins of this practice
A beautiful synthesis that distills the complexities of Kundalini Yoga and makes this practice accessible to everyone.
Guru Singh
✨SUPERCHARGE YOUR PRACTICE, SAFELY!✨
20 hours of high-quality video lectures & tutorials that are easy to digest, and downloadable to your mobile phone: iPhone & Android app (+ your computer, AppleTV, Roku, AndroidTV, FireTV).
Gorgeous printable manual for students & teachers
Suggested classes by level, outlining how to safely evolve your Kundalini practice from home
Chant sheet of all common mantras
$120 BONUS GIFT 40 Day Kriya course included FREE
Download Everything to Mobile Phone or Tablet for Offline Viewing
Easy On-the-Go Access through the Uplifted™ App
Kundalini Yoga doesn't have to be intimidating or frustrating. Let's demystify the "mystery" of this ancient science and
INSTANTLY
reap the benefits!
STUDENT EDITION
$395
Includes 40 Day Kriya Course ($120 value!)
TEACHER EDITION*
$595
+ YACEP Credit & $400 KU Voucher
*Teacher Edition also includes 20 Hours of Yoga Alliance continuing education credit + a $400 coupon toward Kundalini University, my full 200-Hour Kundalini program.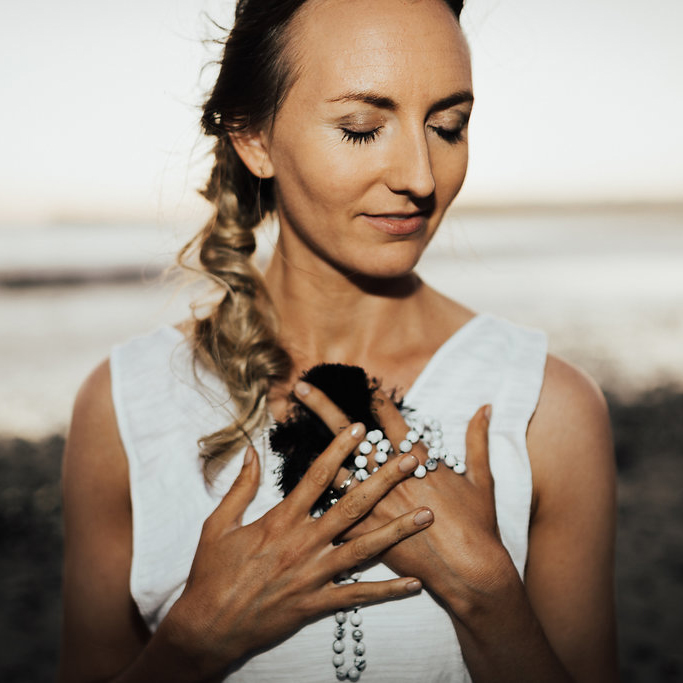 I can't wait to share the AHA moments that helped me master this magical and momentous practice.
Kundalini, something I once hated, transformed into one of my major life-long LOVES -- something I can't live without.
Empower yourself! Incredible breakthroughs are available through this sacred style of yoga. I can't wait to see you inside!
About Brett Larkin
Brett's an accredited Vinyasa and Kundalini yoga teacher with a global student base of over half a million people. She certifies other yoga teachers in Kundalini Yoga. Brett's been practicing yoga for 18+ years, teaching for 12+ and has graduated over 1500 yoga teachers in her Uplifted Yoga™ Teacher Trainings. Brett's award-winning yoga Youtube channel has 5 million minutes watched a month. Kundalini yoga for beginners is a cornerstone of her offering.
What happens immediately after I order?
Look for an email from "info@upliftedyoga.com" in your inbox with a link to the content within minutes after placing your order. You can watch on a computer, or through our Uplifted mobile app for iPhone & Android app, AppleTV, Roku, AndroidTV, FireTV. Note: if you purchase the Teacher's Edition of this course, it will be available on the Uplifted Yoga Teacher Training speciality app. 
Do I have lifetime access to the course?
Once you purchase, the videos are yours to keep forever. There is no expiration date on this course.
Is there a "Live" component to the program?
No, this is a home study course for you to complete at your own pace. For live instruction, consider Brett's full 200-Hour Teacher Training Program with Guru Singh.  
What level of Kundalini do I need to be?
This course is appropriate for beginners who are curious about Kundalini Yoga, as well as for seasoned students who still don't feel like their Kundalini questions about philosophy, Sikhism, asana and alignment have been answered yet. Highly recommended as a prerequisite to Brett's full Kundalini Yoga Teacher Training with Guru Singh. 
Is Kundalini Demystified included in the Uplifted™ membership?
Kundalini Demystified is a standalone, comprehensive course for students wishing to dive deeper into understanding Kundalini energy, and elevating their at-home Kundalini Yoga practice. A small portion of the Kundalini Yoga class experiences Brett provides in the course are in the Uplifted membership, however, the course content (eleven 45-minute presentations + 8 hours of asana breakdowns) are available only through this program. Kundalini Demystified also includes 3 unique yoga practices that are completely specific to this course, and can't be found anywhere else (15 minute morning and evening routines as well as a full 90 minute masterclass of one of Brett's favorite kriyas). These classes (as well as the actual 15+ hours of course content) are exclusive to this training.  
Can I get a refund on this course if I don't like it?
All digital product sales are final and non-refundable.
Should I pursue this course before or after your Online Kundalini Yoga Teacher Training?
Before! It sets the stage to go deeper. The Teachers Edition includes a $400 coupon for the full YTT.
Should I pursue this course if I've already taken Kundalini Yoga Teacher Training?
If you've already completed a 200-Hour Kundalini Teacher Training with another yoga school you can take the Teacher's Edition of this course for Continuing Education credit, and then optionally choose to apply the $400 coupon to Brett and Guru Singh's Bridge program (which is the 200-Hour Online Kundalini YTT at a reduced rate for those who are already hold a 200-Hour certified in the Kundalini style of yoga). Download the Online Kundalini YTT brochure here for more information on the bridge program.  
I'm a Kundalini University 200-Hour graduate. Should I still take this course and are there discounts?
Yes! It will be a great integrator as Brett shares her own insights and takeaways from Guru Singh's teachings and her own experience in easy-to-understand presentations. While the asana portion is the same as what you have in your Pathways material, 11+ additional power point presentations and many Kundalini classes are unique (different than Pathways) and available ONLY in this course. As a KU YTT 200 or Bridge alum, you can take the Teacher's Edition for just $195 ($400 off). Email info@upliftedyoga.com to request your a coupon code. 
Can I get Yoga Alliance Continuing Education Credit for this Course?
Yes – this course qualifies for 20 hours of Continuing Education with Yoga Alliance. Completion of a short quiz is required to obtain your certificate. 
Is this course teaching Kundalini Yoga as taught by KRI / 3HO / Yogi Bhajan?
Brett has completed both KRI Kundalini teacher trainings and sought out instruction from independent Kundalini teachers. Together with Guru Singh, she's co-created Kundalini University – a Yoga Alliance approved, NON-KRI affiliated Kundalini Yoga teacher training that stands independent from the teachings of Yogi Bhajan. The content shared in this course is purely her own, derived from her own direct experience with Kundalini Yoga. 
What is the difference between kriya yoga and kundalini yoga?
A kundalini yoga practice, or sadhana, is similar to kriya yoga in that it incorporates certain fundamental elements of yogic philosophy, like pranayama breathing technique and kundalini yoga meditations. So a kundalini yoga class might incorporate a certain kundalini kriya along with asana.
The key difference is in what the main goal of kriya yoga versus kundalini yoga. Kriya yoga is a spiritual practice that accelerates spiritual growth by providing actions, such as a breathing technique or mantra, that support the last three niyamas of the 8 limbs of yoga.
A kundalini yoga practice, on the other hand, focuses more on the physical and mental aspects of the yogic lifestyle and incorporates asana, meditation, pranayama, mantra chanting, and mudra for the purpose of cleansing the body and mind for total spiritual absorption.
You can read all about kriya yoga on the blog.
What is a Kundalini Awakening and can this course help me understand my experience? 
Yes! Kundalini awakening refers to when kundalini energy begins moving through our chakra system. Many yoga students can achieve kundalini awakening through a dedicated practice, or sadhana, that includes meditation, asana, pranayama breathing, mantra, and mudra. This course will not only help you understand the yogic philosophy behind kundalini energy but also develop your own yoga practice to facilitate kundalini awakening.
Can I take this course if I am Christian or have deeply held religious beliefs? 
Yes! Brett makes Kundalini Yoga accessible for everyone in this program. Many of her presentations compare/contrast Kundalini Yoga philosophy to other world religions and include quotes from the Bible and other religious texts.