When I first found out I was pregnant, I felt terrified and overwhelmed with emotions.
I felt self-conscious about my body changing.
I felt anxiety daily about my baby's well-being… and my own!
I didn't yet know the best-kept secret about pregnancy:
During this time, we as women become more powerful than we have EVER been before.
NOW is the BEST time to unlock the superhero, feminine strength that lies within you.
You can embrace pregnancy as a catalyst for radiant health, well-being, and transformation.
Together, let's supercharge our intuition, sculpt our bodies, and step into a state of supreme serenity.
My Vinyasa and Kundalini yoga workouts go beyond sculpting and stretching.
I include mindset work, mantras, and affirmations so you can feel empowered throughout your pregnancy, and bold in labor and delivery.
This course has given me courage and confidence to face labour head on.
I feel myself getting stronger and more flexible.
I've gone through mental and spiritual changes that have changed my outlook on pregnancy completely.
There are classes available for all ability levels. Even if don't consider yourself a particularly spiritual yogini, I think you will gain so much from this course.
Pregnancy provides us with a heightened awareness. No one ever talks about how your stamina, personal power and intuitive capacity actually increase during this time.
Together, let's learn more than just how to modify physical yoga postures. This course is designed to empower you with ancient teachings that made my pregnancy, birth and postpartum joyful. I want to share this joy with you!
Let me show you how in this moment, you are stronger than ever before.
Pregnancy, labor and delivery IS the ultimate fusion of body, mind and spirit.
EMBRACE your pregnancy as a catalyst for radiant health, well-being, and transformation
SUPERCHARGE your intuition, sculpt your body, and step into supreme serenity
INCREASE your energy, stamina, and prepare your body for labor
Beyond sculpting and stretching, these classes include mindset work, mantras, and affirmations to help you overcome any apprehension around pregnancy and the birthing process. Yoga during pregnancy is about more than strengthening the pelvic floor muscles and learning how to deepen your breath. Every aspect is grounded in keeping you and your baby safe and strong.
I always used to feel afraid of the exercises given to me as a pregnant woman.
Even when I subscribed to another prenatal fitness program and went to in-person prenatal classes, I always felt insecure with the exercises.
With Brett I feel so SAFE. Like I am guided by someone who really knows. She's pregnant and carrying herself in every video!
These are not only physical exercises but also amazing meditations that strengthen your spirit.
LEARN MORE FROM BRETT
▶
" allow="accelerometer; autoplay; encrypted-media; gyroscope; picture-in-picture" allowfullscreen>
YOU have grown your baby from a single cell to an incredible being thriving inside you.
YOU are the #1 authority on what feels best for the two of you.
YOU are strong, competent and amazing.
If you're pregnant, you are already a mother – right now.
This program is about tapping into the inner wisdom that's already deep within you.
From that grounded place, you'll innately know which experts and methods you want to follow.
Let's come together in this course to release judgment and fear, and learn how to embrace change and uncertainty.
According to the ancient science of Kundalini yoga, our babies share our aura, our energetic field, for the first three years of life. So there's never been a more important time cultivate a deep sense of calm. Lead by example RIGHT NOW.
This series has completely changed my view from thinking that labor is something that will happen to me, to the belief that labor is an adventure that I get to experience.  
Brett's totally unique combination of classes, meditations, birth stories, and from-the-heart tips really came together to make me feel better throughout my pregnancy, both mentally and physically.
6 Prenatal Yoga Classes for Trimesters 1 & 2
Awaken Your Intuition (40 min)
Access Your Power (35 min)
Arm & Core Sculpt (30 min)
Stretch Into Pregnancy (25 min)
Relax into Pregnancy (25 min)
Graceful & Grounded (25 min)
✨BONUSES✨
PREGNANT YOGINI RESOURCE LIST
Brett's Personal Resource List of Her Favorite:
Books
Podcasts
and Products
for a Zen pregnancy
PREGNANT & POWERFUL™ COURSE GUIDEBOOK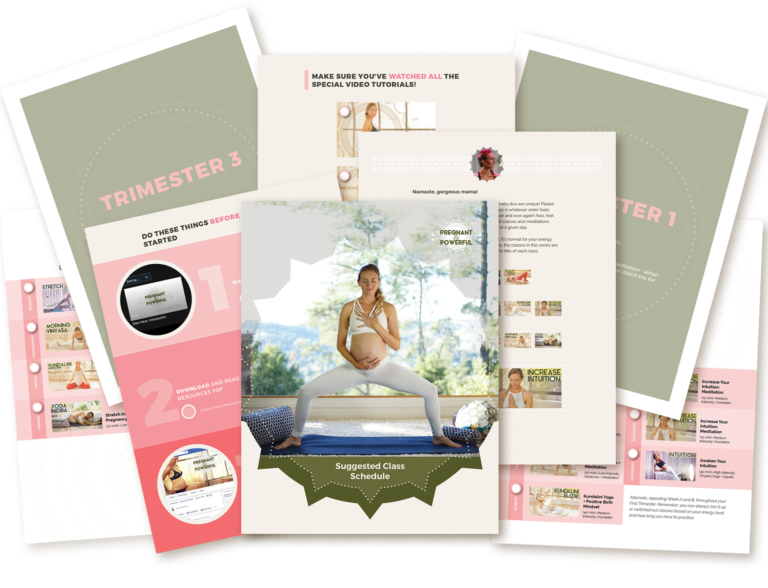 Based on early feedback from dozens of pregnant women in my community, this course now includes:
Weekly Practice Plan for Each Trimester
Special Course Checklist (don't miss a thing!)
Classes Organized by Energy Level
… So you can always pick the perfect practice based on how you're feeling.
"JUST THE SQUATS" WORKOUTS
Fit in your squats no matter what! Jam with my music picks, or rock out to your own!
4 Workshops on 
Posture, Breath & Labor Preparation
Pregnancy Posture Lab (5 min)
Optimizing Posture for Labor (5 min)
How to Breathe Fully During Pregnancy (2 min)
Mantras and Mudras for Pregnancy (5 min)
7 Yoga Classes & Meditations for Trimesters 2 & 3
Kirtan Kriya Kundalini Meditation (10 min)
Full Body Flow to Connect with Baby (45 min)
Morning Stretch + Meditation (20 min)
Sculpt & Tone Workout (15 min)
Banish Fear of Labor: Meditation (20 min)
Kundalini Yoga + Positive Birth Mindset (40 min)
Increase Your Intuition: Meditation (15 min)
✨BONUS✨ Brett's Birth Story + Labor Tips
Don't Forget About the 4th Trimester!
Prepare now for this magical, momentous time.
Let the principles of yoga and meditation guide your postpartum period as you cross the threshold into life with your new baby.
4 
Postpartum Audio Lectures
Ayurvedic Understanding of Postpartum
Living Your Yogic Postpartum
Sharpening Your Mother's Intuition
Rituals & Routines to Stabilize Lower Chakras with a New Baby
✨BONUS✨ Pre/
Postnatal Yoga Nidra + Postpartum Kundalini Practice
Post Natal Yoga Nidra (20 minutes = 4 hours of sleep)
40 Day Postpartum Kriya Practice Video Series
My rainbow baby boy came into this world this morning at 6:39am! I don't know what I would've done without this program! I was able to birth naturally and unmedicated. Thank you, Brett.
I wanted to share with you that we finally got to meet our little baby girl last Saturday at 4.52 in the morning. Active labor lasted roughly 10 hours. I cannot emphasize enough how much my yoga practice and foremost Pregnant & Powerful contributed to this great experience. The practice of relaxing parts of the body, despite immense pain, general body awareness and focus on breath were sooo essential and I believe speeded up my labor by many hours! The pushing phase itself only lasted 12 minutes!
About Brett
Brett's an accredited RPYT prenatal yoga teacher at the highest level with Yoga Alliance. She also certifies other yoga teachers in prenatal yoga. Brett's been practicing yoga for 16+ years, teaching for 10+ and has graduated over 1,500 yoga teachers in her Uplifted Yoga™ Teacher Trainings. Brett's award-winning yoga Youtube channel has 5 million minutes watched a month and close to 450K subscribers. Prenatal yoga is a cornerstone of her offering.
She's also a mom to her two beloved sons, to whom she gave birth in October 2017 and January 2021.
Brett's is the only prenatal course I choose to follow.
Her wisdom runs so deep.
Thank you, Brett, for bringing in the mental and spiritual preparation we truly need for labour and motherhood.
I'm so excited, I can barely stand it! I have had a 4 fingers wide diastasis recti since giving birth to my little boy. I checked it again this morning after 33 days of the 40 day kriya, and it is down to a 2 fingers width! Wahoo! Brett Larkin: Thank you! Thank you! Yes, I am going to continue to do this at least another 40 days.
Let's Embark on this Sacred Journey, Together
PRENATAL
Hatha, Vinyasa, & Kundalini Inspired Prenatal Yoga Routines
Meditations and Kundalini Mantras Specific to Pregnancy
Six-Class Series Designed to Strengthen the Physical and Subtle Body for Labor for Trimesters 1 & 2
Seven Additional Classes for Trimester 3
Pregnancy Posture and Prenatal Breathing Tutorials
Key Mantras and Mudras for Seated (or Walking!) Meditations
Kundalini Meditations to Prepare for Labor
My Pregnant Yogini Resource List of Favorite Books, Podcasts and Products
My Uncensored Personal Birth Story + Labor Tips
POSTNATAL
4 Audio Lessons
Pre/Postpartum Yoga Nidra to Rejuvenate Tired Moms
40 Day Postpartum Kriya Practice
Download Everything to Mobile Phone, Tablet or Computer
Easy On-the-Go Access through the Uplifted™ or VHX App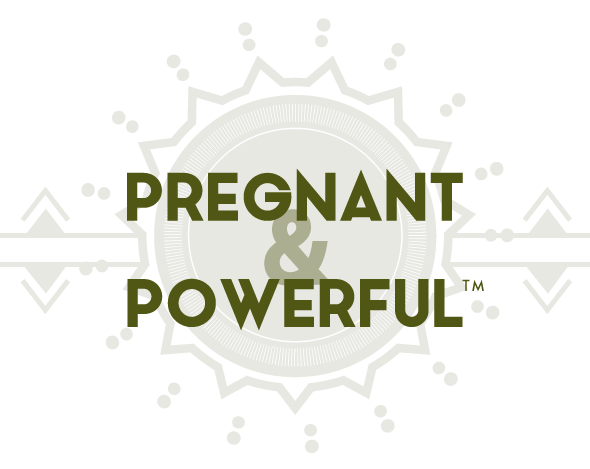 Cost: $187
$137 for a Limited Time!
To celebrate your conception and pregnancy journey enjoy 25% off (automatically applied at checkout)

Please always check with your healthcare provider before engaging in any physical fitness routine, especially during pregnancy.
Yoga Teacher?
Take the Teacher's Edition to enhance your own prenatal teaching and offering! Includes:
Access to everything in the full Pregnant & Powerful™ program above
Teaching Prenatal Basics Videos (for those of you who've taken the Uplifted™ 200-Hour YTT, this is the same material covered in our prenatal section)
Teaching Pregnant & Powerful™ Audio Tutorial for Teachers
Teaching Pregnant & Powerful™ Video Tutorial for Teachers
3 Pregnant & Powerful™ Yoga Sequences with all talking points and poses written out – teach these classes as your own
Teaching Prenatal Dos & Don'ts PDF
Uplifted Prenatal Yoga Certificate (upon passing final quiz)
10 Non-Contact Hours CE Credit for RYTs (Please note these are YCEP Continuing Education hours,

not

the RPYT designation which requires 85+ hours of contact-hour, prenatal, in-person study)
Cost: $199
$159 for a Limited Time
What happens immediately after I order?
You'll access to your course content right away. Look for an email from "info@brettlarkin.com" in your inbox with a link to the content within minutes after placing your order.
Do I have lifetime access to course? What if I'm not pregnant now, but plan to be later?
Once you purchase, the videos are yours to keep forever. There is no expiration date on this course. Even beyond childbirth and well into motherhood, mothers can continue to practice yogic breathing, maintain connective tissue health with deep stretches, and work on core strength. While prenatal yoga classes are designed to accommodate the pregnant body and to prepare you for motherhood, much of what is taught during the prenatal yoga course can be used in preparation for pregnancy and postpartum.
How can I watch the course content?
On your computer, tablet or mobile phone. Viewing via Roku and Chromecast is also supported. Downloading video and audio files for offline use is easy through our mobile app.
Can I buy just some of the videos instead of the full course?
Concepts in these classes and tutorials build upon one another. For this reason, they are sold together and cannot be purchased individually.
Do I need prior yoga experience to take this course?
This program is designed to be accessible to women of all levels, shapes and sizes. If you are new to yoga, welcome. Modifications are shown throughout these classes.
Even if you have never practiced yoga, this prenatal yoga course will help you learn yogic breathing techniques, safely improve your core strength, and learn relaxation techniques. These yogic tools can help you during your birthing process in a myriad of ways. Many of the techniques learned can help you reduce the perception of pain both during pregnancy and childbirth. Yoga during pregnancy is known to strengthen the muscles on your pelvic floor to support your labor and delivery.
What if I've never meditated before?
The Uplifted™ Pregnant & Powerful™ program emphasizes meditation as one of the best possible ways to prepare for labor, delivery, and life with a new baby. This course is designed to meet you where you are and deepen your experience of meditation with guided practices. If you've never meditated before, that's okay! This is your opportunity to start this powerful practice.
Breathing exercises, meditation for pregnancy, and relaxation techniques taught in this prenatal yoga course are tailored to help you throughout each trimester with discomforts such as morning sickness, back and pelvic pain, and the feeling of overwhelm that comes with preparing for motherhood and life with a new baby.
Can I teach prenatal yoga after completing the Pregnant & Powerful Teacher's Edition course?
Yes! The Teacher's Edition is designed to prepare you to teach safe, empowering prenatal classes. Included in the Teacher's Edition are teacher-specific video training modules, a special audio training for prenatal teachers, 3 Pregnant & Powerful™ prenatal-safe yoga sequences with all talking points and poses written out (teach these classes as your own), and a teaching prenatal yoga dos & don'ts PDF. Upon completing the coursework and passing the final quiz, you'll be sent an Uplifted Prenatal Yoga Certificate.
Note: This Uplifted Pregnant & Powerful™ Prenatal Yoga Certificate is not the same as the RPYT prenatal specialty track designation, which requires 85+ hours of in-person study. Many teachers who've been through this Pregnant & Powerful™ prenatal certificate program have told us the joy they've found in teaching prenatal yoga. Bring prenatal yoga to your studio or communities through this empowering program.
Can I get Yoga Alliance Continuing Education Credits for the Teacher's Edition of this prenatal yoga course?
Yes! Uplifted™ Pregnant & Powerful is eligible for non-contact continuing education training hours with Yoga Alliance. Yoga Alliance does not require a certificate, a receipt, or any documentation from you as a student when you log these hours. It's "honesty policy." They trust you've completed your coursework. 
To log your CE hours with Yoga Alliance:
Log in to your

Yoga Alliance

account (you must be an active member, choosing to pay continuing annual dues to this).

On your member page, follow the link for "Training Hours" and follow the prompts.

When prompted, list your instructor's name as "Uplifted Yoga." If you can't find us, also search "Brett Larkin." You may also look us up at YA ID 193636. 

When prompted, select the "non-contact CE" option, 10 hours, category Techniques, Training & Practice.
If you run into any difficulty in logging your hours, please contact Yoga Alliance directly by phone at 1-888-921-9642 or email at info@yogaalliance.org. 
Is Pregnant & Powerful™ included in my Uplifted™ membership?
No. Pregnant & Powerful™ is a standalone, comprehensive course for pregnant women and yoga teachers looking to deepen their knowledge of prenatal. Content in this course is not available anywhere else.
Are there Uplifted™ member discounts?
Not for this program, but Uplifted™ members are entitled to *many* product and course discounts. Look in the Uplifted Master doc for more details on all the discounts that come with your membership.
I've taken Brett's Online YTT and/or Bridge program – is it worth it for me to take the Teacher's Edition?
If you're looking to teach prenatal yoga or deepen your understanding of prenatal, yes. Two videos in the Teacher's Edition you will already have seen (the "Teaching Prenatal Basics"). The other audio and video tutorials, PDF handout, and 3 written-out prenatal sequences for you to teach, are all unique to the Pregnant & Powerful™ program.
Can I get a refund on this course if I don't like it?
All digital product sales are final and non-refundable. Please practice with Brett via our free prenatal resource center to ensure you'll enjoy the yoga offered in this program.  
I'm on bedrest or limited exercise during my pregnancy. Is there still value for me in this course?
Please always check with your healthcare provider before engaging in any physical fitness routine, especially during pregnancy. If you are on bedrest, you may enjoy the many meditations and informational workshops that are part of this video set, as well as the postpartum audio lessons. Consult with your healthcare provider if it's okay for you to sit upright in bed, on a chair, or cushion on the floor to practice meditation if you are on bedrest. The Mantra & Mudra class and third-trimester meditations are especially useful for women who want to practice yoga, but cannot physically exercise during pregnancy.
How is yoga while pregnant different than just being physically active during pregnancy?
Practicing yoga while pregnant is a great, gentle way to remain physically active during pregnancy. Many videos in this program include fitness-based yoga poses that build both lower and upper body strength. Many routines include squats, gentle, prenatal-safe backbends, and other poses that boost the heart rate. While yoga offers a fantastic pregnancy workout, it also teaches you techniques to help you reduce stress, connect with your baby, and improve flexibility and balance. This is key as your body evolves and changes, trimester-by-trimester.
This program teaches you pranayama breathing techniques, prenatal meditation, and is an opportunity for us to practice yoga and meditation together. Many exercises are designed to relieve common pregnancy discomforts, like pain or nausea. Many physicians encourage prenatal yoga. Women who practice yoga during pregnancy are supporting both their bodies and their babies. Please always check with your healthcare provider before engaging in any physical fitness routine, especially during pregnancy.
How is yoga for pregnancy different than a regular yoga practice?
As a pregnant woman, your body is changing rapidly trimester-by-trimester and you'll need to alter how you move through many yoga postures. The more weeks gestation into your pregnancy that you are, the more difficult it may be to do certain yoga asanas. This yoga for pregnancy course allows you to work with a yoga instructor who fully understands not only the changing shape of pregnant women (I'm pregnant in every video!), but also the ways in which yoga can support the birthing process. Learn how to strengthen the connective tissue in your hips, legs, spine, back, and glutes so that your body can accommodate both the pregnancy and the birthing process.
Also learn calming breathing practices, meditation exercises, and all-natural rituals that will allow you and your baby to stay connected throughout the entire process. Remember, your baby shares your aura, your electromagnetic field, for the first three years of his or her life! Dedicate yourself now to this enriching practice of prenatal yoga, and hope to see you inside!