Brett's introducing the chakras to a whole new generation of students, fusing yoga and online education in a way that's just magical.
Introducing Brett Larkin's
Uncover a yoga routine unique to you.
Custom-tailor your yoga to your EXACT needs, wants, moods and schedule.
Go from anxious to anchored with off-the-mat "Yoga Habits"
Which path will you take?
I feel humbled every week. Current and former students regularly email in to tell us how our training courses have not only ignited their yoga teaching careers, but also created a positive ripple effect into every aspect of their LIVES.
Our yoga teacher training courses combine fun interactivity, deep dives into yoga education, and proven tips and tools for building a profitable yoga business.
My head hits the pillow every night feeling excited, knowing that we're not only creating incredibly compassionate yoga teachers, but that we're also providing them with the tools, techniques, and teachings to create a profitable, impactful yoga career.
Many of our students are certified yoga teachers who have already gone through in-person trainings in the traditional yoga world and who currently teach yoga.
They tell me they come to OUR online training courses because they were disappointed in the scope, curriculum, or confidence-building after their first in-person training program.
Their response upon completing our Uplifted trainings has been over-the-top heart-warming.
100% of students say my training program met or exceeded their expectations
More than 9 out of 10 would recommend their training experience to a friend
Want personalized guidance?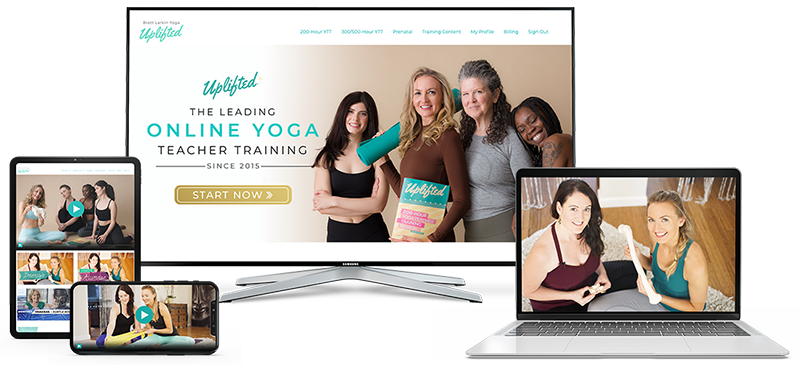 Training online is the best way to learn. Access top quality content from world-renowned instructors from the comfort of home. Invest in an asset in which you can pause, rewind, and own forever.
I signed up for Brett's YTT to deepen my practice… I liken Brett to the Tony Robbins of yoga, taking the best from different aspects of the Yoga concepts and packaging them into an easy-to-understand and fun process. Whether you are looking to teach or just learn more about yoga, this is a GREAT course.
I've done many previous in-person 200/300/500-Hour trainings and workshops, and have over five years of in-class experience teaching yoga and pilates. The Uplifted™ training gave me new techniques and understanding from the fascial perspective. I love using these in my classes and privates.
Brett has a unique flavor of Vedic wisdom, entrepreneurial spirit and massive heart. I leave every conversation with her inspired.
I remember when I felt too scared to teach yoga (and later, felt too scared to charge actual money for teaching).
I encountered resistance (often self-inflicted) at every step in my personal path toward teaching. But I soon discovered ways to overcome all these obstacles and create a successful yoga career and an abundant life.
You can overcome these obstacles too!
This is why I'm obsessively committed to helping all my students conquer their fear, attain confidence, and boldly take the next big step in their yoga journey. 
I hounded Brett to help me bring my teaching online. She's my go-to person for filming yoga classes, marketing, pricing, strategy. Get close to her! You'll leave energized, inspired and with concrete steps forward!
Read top posts from the
Uplifted

blog
Chakra Colors & Meanings: The Ultimate Chakra Guide (+Chart)
How to Be a Yoga Instructor: 6 Things You MUST Know Before You Begin
Try This 30-Minute Yoga Nidra Script for Deep Sleep and Relaxation [+ Video]
Big thanks to YOU for checking out our ever-expanding Uplifted universe on the internet. We're a community vibrating with energy, enthusiasm, support and joy for each other. 
I'm personally committed to providing the highest-quality, most interactive, live yogic education available online – and we have a TON of fun along the way. 
I'm eager to welcome you into one of our upcoming 200-Hour or 300-Hour Yoga Teacher Training Courses or into our ridiculously special Uplifted Yoga community. Just think –
WHO WOULD YOU BE, if you fully developed a powerful, personal, at-home yoga practice?
If you honored that small voice inside you that wants you to teach yoga?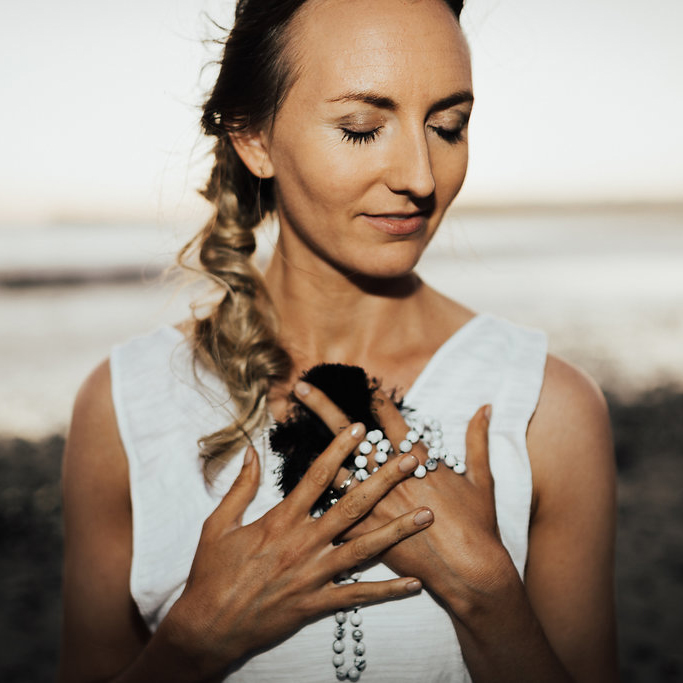 PLEASE JOIN US! Go here to learn more about my Uplifted Community, and here for 200-Hour and 300-Hour Yoga Teacher Training Courses.
See you on the mat!
From my heart to yours, namaste.
Brett